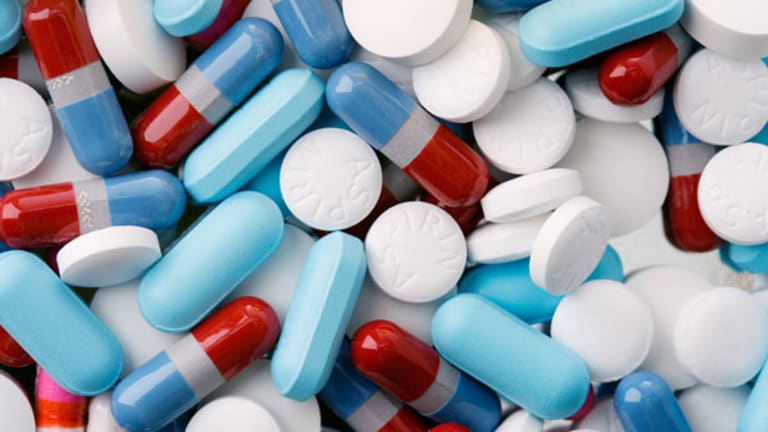 Biotech Stock Mailbag: Zalicus, Amarin
Biotech columnist Adam Feuerstein answers readers' questions about health-care companies.
Correction: The first version of this column stated incorrectly that Amarin has no composition of matter patents filed for AMR101. The company has both composition of matter and method of use patents. The column has been update to reflect the correct information.
BOSTON (
) --I have a lot more to say about
Amarin
(AMRN) - Get Amarin Corp. Plc Report
in this week's Biotech Stock Mailbag. The Hostile React-o-Meter spun outta control (!!!) in response to my column Wednesday discussing the
high-level meeting that took place in June between FDA and Amarin executives
.
Before I dive back into Amarin, however, let's discuss
Zalicus
(ZLCS)
and the announcement that's expected soon of results from a mid-stage study of its rheumatoid arthritis drug Synavive.
@delta4_98 tweets, "Adam, I am curious to hear your opinion on ZLCS Synavive AR."
Zalicus was formerly known as CombinatoRx, and as the old name implies, the company believed combining old, generic and seemingly disparate drugs into a single pill could yield new treatments for a variety of diseases.
Synavive, also known as CRX-102, combines a low dose of prednisone, a commonly used and cheap steroid, with dipyridamole, a drug first approved in 1961 that is usually prescribed along with other drugs to prevent blood clots after heart surgery.
Prednisone is a standard therapy for rheumatoid arthritis patients along with other medications to reduce the painful swelling of joints. The idea behind Synavive is that dipyridamole and prednisone act synergistically, allowing a lower dose of prednisone in the combo pill to be just as effective and better tolerated compared to the higher dose of the steroid prescribed today.
Zalicus will be announcing top-line results from a phase IIb study of Synavive in the third quarter, most likely in August. The study enrolled 250 patients with moderate to severe rheumatoid arthritis and randomizes them to one of five treatments: Synavive (2.7 mg prednisone/360 mg dipyridamole), dipyridamole alone, prednisone (2.7 mg) alone, prednisone (5 mg) alone or a placebo.
The study lasts for 12 weeks, after which patients will be assessed for response using the Disease Activity Score in 28 Joints (DAS28), a common efficacy measure used in rheumatoid arthritis clinical trials.
Obviously, Synavive shouldn't have a tough time beating placebo so the more important comparison will be Synavive's activity compared against the drug's individual components and the 5 mg dose of prednisone. The latter is probably the most important hurdle in this phase II trial. Prednisone literally costs pennies per pill, so if Synavive can't demonstrate better efficacy with fewer side effects, its commercial potential dwindles to nothing.
The clinical data generated from Synavive studies to date have been mixed.
A smaller, six-week phase II study in 2007 enrolled 59 rheumatoid arthritis patients and showed a mean DAS28 improvement of 1.6 for Synavive-treated patients compared to 0.7 for placebo -- a benefit that was statistically significant. ACR20 response (another common measure of efficacy in rheumatoid arthritis trials) was 63% for Synavive compared to 30% for placebo -- also statistically significant. No active control arm i.e. patients on prednisone alone, was included in this study.
It's important to note that the formulation and doses of Synavive used in this study were different than what's been used in the ongoing study.
Zalicus says more recent Synavive formulation work has improved the drug's therapeutic index and significantly reduced the incidence of headaches, a major side effect of dipyridamole. Also, the analysis was conducted on a per-protocol basis, with patients excluded who dropped out due to protocol violations like taking other pain-killing drugs.
In late 2007, Zalicus (then known as CombinatoRX) tried to follow through with a larger phase II study of Synavive with a goal of enrolling more than 600 patients. In mid-2008, this study, dubbed MARS-1, was discontinued due to slow patient enrollment and the company's cash shortage.
In 2008, CombinatoRx also conducted a failed mid-stage study of Synavive in 279 patients with osteoarthritis of the knee. Three different doses of Synavive failed to beat prednisone alone using a response endpoint that measured pain while walking after 14 weeks of treatment. The highest Synavive dose did perform better than prednisone numerically but just barely and the difference was not statistically significant.
A smaller 2008 Norwegian study of Synavive in patients with osteoarthritis of the hand demonstrated a statistically significant reduction in pain compared to placebo.
Zacks analyst Jason Napodano figures Synavive could be a $150-200 million drug if superior to current prednisone therapy in rheumatoid arthritis. The only thing I'd add is with prednisone costing pennies, Synavive needs to be a lot better to justify what I assume will be a premium price.
Oh, and one more item: Keep
Horizon Pharma
(HZNP) - Get Horizon Therapeutics Public Limited Company Report
on your radar screen. The company is expecting an FDA approval decision for Lodotra on July 26. The drug is also a new formulation of prednisone -- delayed release, specifically -- to be used to treat rheumatoid arthritis patients with morning joint pain. Not exactly the same indication as Synavive but similar enough to be considered competition.
I haven't looked closely at Lodotra at all so I have no guess on whether or not the drug is approved.
Back to Amarin. I received a ton of email, tweets and comments to
. Before I get to these, let me make some simple declarations, which I hope will clear up misconceptions.
I like Amarin and have for a long time. In fact, I first wrote about the high potential of AMR101, the company's prescription fish-oil pill in
.
I believe the FDA will approve AMR101 on July 26. On a conviction scale of 1-10, I'm at a 9. The June 22 meeting between Amarin and the FDA suggests the regulator has already decided to approve the drug.
I also believe the FDA will grant New Chemical Entity (NCE) status to AMR101. On the same 1-10 conviction scale, I'm only at a 6, so just slightly better than a coin toss. The June 22 meeting with top FDA officials adds risk to the Amarin story.
I have no financial stake in Amarin or any stocks, biotech or otherwise.
Exception: my 401k includes mutual funds. None of my family members have a financial interest in Amarin or any other biotech stocks. My dog, Max, does not trade stocks unless he does it at night when I'm sleeping. I receive no payment from hedge funds to write articles. No one asked me or paid me to "bash Amarin" so they could buy the stock lower. No one asked me or paid me to "bash Amarin" so they could cover a short.
I didn't "bash Amarin" at all in Wednesday's column. I wrote about an significant, under-reported event (the FDA meeting) that I believe adds risk but doesn't negate a positive outcome. Whether you're positive or negative on Amarin, it's important information to know and consider.
The ONLY income I receive is a regular, twice-monthly paycheck from
TheStreet
.
To your questions and comments:
Gordon Merritt asks, "Adam, aren't you neglecting the patents? Almost deliberately I might add. Instead focusing on the minor NCE decision. The patents are far more important than NCE and grant exclusivity to 2030 or so."
PatentSituation asks a related question: "Are
Amarin patents strong or weak? Yes, NCE was important without patents. But now patents are allowed and will be issued."
Amarin's AMR101 patents are definitely important. No question. The company's patent portfolio has been gaining strength after some past problems. The recent "Reason for Allowance"
granted to the so-called '889 patent'
was a big win for Amarin and will likely give AMR101 protection out to 2030.
Funny, when I write positive stories about Amarin, no one complains... so weird.
But, NCE status is also important because it will determine how quickly generic drug makers can file challenges to Amarin's patents in order to bring a cheaper version of AMR101 to market. Amarin has some composition of matter patents on AMR101, generally harder to challenge, but the company also relies on method of use patents which generic drug makers can find easier to get around or invalidate.
NCE status for AMR101 confers five years of market exclusivity. If NCE status is denied, market exclusivity is reduced to three years but generic drug makers can also file paragraph IV patent challenges immediately.
Regardless of whether you think Amarin's patents are strong enough or not, having to fend off patent challenges in court is a messy, time-consuming and distracting activity. It's particularly troublesome if the challenges are filed soon after drug launch.
This is why I view NCE status for AMR101 as being important. With it, Amarin and its marketing partner (or acquirer) have ample breathing room to launch the drug without distraction. Without NCE, AMR101 may be launched under a dark cloud of generic competition. If the latter occurs, potential Amarin acquirers may be hesitant to pull the trigger on a deal.
I spoke with two large institutional owners of Amarin yesterday; both expressed optimism about NCE status for AMR101. They think FDA grants it. They also agreed with me that the outcome is risky and that the June 22 meeting was likely Amarin's opportunity to make its case to top FDA officials -- implying that FDA may have been leaning no.
These AMRN holders are also less concerned about NCE status. They both believe the patents are more important and that potential Amarin acquirers won't be deterred by the lack of NCE status if their due diligence concludes the AMR101 patents can withstand legal challenge. I disagree with them on this point.
BugBunnyFun asks, "So, is Lovaza NCE? Your article should have clarified that, and what yes or no might mean for AMR101?"
Yes,
GlaxoSmithKline's
(GSK) - Get GlaxoSmithKline Plc Report
Lovaza, a currently approved prescription fish-oil pill, does have NCE status. This is precisely why Amarin is at risk for not getting same for AMR101. The active "drug substance" in Lovaza covered under its NCE is ethyl EPA. This is same active "drug substance" in Amarin's AMR101.
Amarin disputes this and believes the active drug substances in Lovaza and AMR101 are somewhat different.
According to FDA regulations, a new chemical entity (NCE) means "a drug that contains no active moiety that has been approved by FDA in any other application submitted under 505(b) of the act."
Active moiety? What the hell is that? It's a fancy word for the functional or active part of the drug substance. By this definition, AMR101 would not qualify for NCE status and the five years marketing exclusivity that does with it because of Lovaza. AMR101 would only be eligible for three years exclusivity.
Note: It doesn't matter that Lovaza consists of a mixture of EPA and DHA, another omega-3 fatty acid, while AMR101 is almost pure EPA.
What's the argument for NCE status of AMR101? The FDA has made exceptions to its NCE rule in the past under a "presumption in favor policy." I am unable to explain in my own words but Kurt Karst, an FDA lawyer at Hyman, Phelps & McNamara and a blogger with FDA Law Blog,
outlines what this all means here
.
Perhaps Jefferies analyst Thomas Wei summed it up even more succinctly in a note Wednesday:
"… senior FDA officials may ultimately trump the strict guidelines for NCE status in special circumstances, such as the case in which they want to reward extra effort to show clinical benefit, such as an outcomes study."
Recall, Amarin conducted a large and expensive, post-approval study to determine whether AMR101 provides important and significant cardiovascular benefit to patients.
Now, moving onto the fun stuff. My hate mail!
JM writes, "RE: AMRM your timing of a report of the nature that you released this a.m. regarding AMRN is absolutely rediculous and damn near criminal as your f--ked up opinionated article is relased to the masses instilling fear and concern in many and creating an unprecidented volume of stock to trade hands. Y Because you know there are people on both sides of this trade with news pending in the next few weeks.It obvious you could care less of what happens to the price of the stock just so long that your able to toot your own horn…Problems is: your research is inadequate and limited as your knowldege of the medical (Rx) industry appears elementary. I suggest you go back to the software industry where your opinion may be better recieved or possibliy even look into getting a job at Radio Shack!!"
Proud American echoes the sentiment: "AF, you are like the black crow that brings nothing but bad luck and news of death. Your usage of 'freedom of speech' should be cut off for good. You bring ill informed articles based on assumptions and here say, nothing solid, you and Cramer who bashed ARNA last night on CNBC should be arrested and brought to justice for insider trading, stock price maipulation and after you serve your time in jail, be deported to your home country...this country does not and should never have had people like you be part of its system, becuase you do nothing but abuse the system to your benefit.. What goes around comes around."
The Yazz Man yaps: "So the only real info in this article is that the FDA and Amarin met in June. The rest of your article is nothing but, speculation, your opinion or heresay. You speculate that Amarin and the FDA discussed NCE status. You say that was the likely topic. You have no way to know what was discussed Adam. You say that shares went down yesterday because of worry over this meeting. Really?? Charles Schwab website says AMRN shares went down because it was meeting heavy resistance around $15. Not because of an 'Orange book meeting.' So that info is all your opinion. Not based in any fact. Then you go on to talk about all the important people at this meeting yet you are assuming , based on heresay nonetheless, what they talked about. Plus, the timing of this article is very suspicious, seeing A.) this meeting took place weeks ago and B.) you know that '889 patent news can come at anytime thus shooting the share price ever higher. Sorry, but it sounds like you are doing some favors for some buddies who were holding short positions. Of course, that is not based in fact either much like your article here. So thanks for the info that Amarin had a meeting with the FDA because, that is only the real info in your entire editoral here."
Steve is a "basher" (of me): "You are a waste of human skin, I trust you as far as I can throw you and you need to be brought to justice. Someone needs to put an end to your greed and stick your greedy @#$#@ in jail to be some big boys friend."
I'm thinking of hiring a full-time editor whose only job will be correct the spelling and grammar of the people who send me hate mail. Any takers?
--
Written by Adam Feuerstein in Boston.
>To contact the writer of this article, click here:
Adam Feuerstein
.
>To follow the writer on Twitter, go to
http://twitter.com/adamfeuerstein
.
>To submit a news tip, send an email to:
.
Follow
TheStreet
on
and become a fan on
Adam Feuerstein writes regularly for TheStreet. In keeping with company editorial policy, he doesn't own or short individual stocks, although he owns stock in TheStreet. He also doesn't invest in hedge funds or other private investment partnerships. Feuerstein appreciates your feedback;
to send him an email.