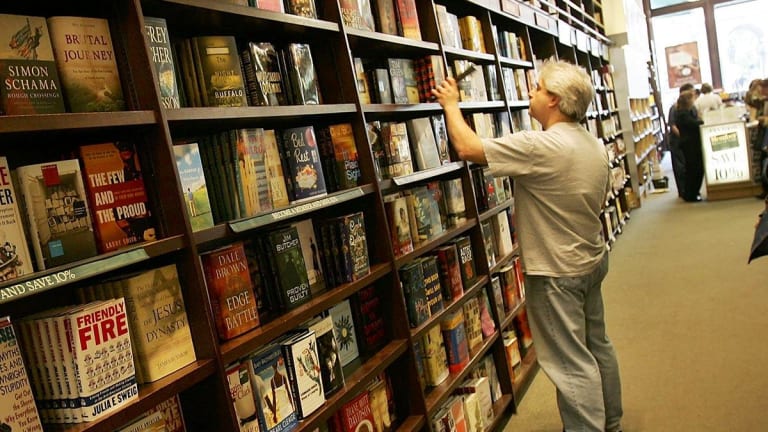 The 7 Best Personal Finance Books You Need for 2019
Most personal finance books aren't delivering for readers - but these are the exception.
What are the ingredients for a high-quality personal finance book?
For starters, it needs a clear and coherent message up front that has real-world meaning -  that is mandatory. Readers take their money seriously, and want to know what they're getting out of a book before shelling out $20 to buy it.
Whether that message is to embrace the idea of passive income or to cut out the financial clutter in one's life to create wealth, clarity is the key to optimizing the reader's experience.
A positive financial outcome is another "must have" for any personal finance book. After all, Americans rate dealing with their money problems right up there with a root canal and spending an afternoon at the department of motor vehicles. Thus, the potential for upgrading their financial status after applying the lessons learned in the book means a great deal to a reader. Without the possibility of a positive outcome from a personal finance book, why buy it in the first place?
Unfortunately, message, clarity, and a path to a positive outcome are in short supply with today's personal finance books.
Too often, marketing-oriented promotional propaganda and recycled ideas make it to the top of Amazon's (AMZN) list of best-selling books, with few exceptions. Also, too often, the goal is not to improve the reader's financial experience, but to make the author the star and to start booking him on CNBC as soon as possible.
The good news? There are a few exceptions to the rule - personal financial books that live in the real world, have a great message, lead a reader down the path to real wealth creation, and do so in a crisp, concise and compelling manner. If you're looking for books more specific to investing, check out our guide: 9 Best Investment Books for Beginners
If you're in the market for a book with those components, start your search with the personal finance books listed below (some old and some new), and see if they don't lead to a financial upgrade in life.
1. "Your Money or Your Life: 9 Steps to Transforming Your Relationship with Money and Achieving Financial Independence"
By Vicki Robin and Joe Dominguez
Even Oprah Winfrey, one of the most high-profile champions of literature in popular culture, calls this book "wonderful" and "life-changing."
"Your Money or Your Life" is constructed with a nine-step model that is designed for readers to take a more deliberate and holistic approach to money management, instilling financial values that can sustain a teenager curious about money for the rest of her life.
2. "Dave Ramsey's Complete Guide to Money"
By Dave Ramsey
Dave Ramsey is a living legend in personal financial circles, but this lively, helpful book seemingly takes a back seat to Ramsey's more famous book "The Total Money Makeover" - and it shouldn't.

While the latter tome does a great job of breaking down the consumer debt problem, "Dave Ramsey's Complete Guide to Money" is a more comprehensive 'A-to-Z' look at household money management.
It does include a substantial dose of debt management (and should), but Ramsey spreads the wealth, and gets into those real-world money scenarios that Americans encounter - things like insurance policy management, charitable giving, and trading and investment from a rational (and not pie-in-the-sky) point of view.

If you need one, single money management book, this is a good book to choose.
3. "Millennial Money Makeover: Escape Debt, Save for Your Future, and Live the Rich Life Now"
By Conor Richardson
 This new entry into the personal finance publishing market targets readers who are starting to experience serious money for the first time - people in their 20's. Another book that deals with real-life problems, "Millennial Money Makeover" is especially useful in helping young readers deal with debt - particularly student loan debt.
Richardson, a certified public accountant, certainly doesn't write like one. The book is a direct shot to the gut - a wake-up call and "how to" for millennials to shed those big student loan debts and get on to the business of saving money and living their best life.
4. "Get It Together: Organize Your Records So Your Family Won't Have To"
By Melanie Cullen and Shae Irving, J.D
This book does read more clinically than other top-level personal financial books, but the workbook style fits here.
After all, books that cover critical, but often-overlooked personal financial organizational issues, like where to keep financial account passwords and how and where to keep a will, often get short shrift. That's a literary crime, as there are few worse matters in an emergency or after a family breadwinner death, than where personal records are kept.
"Get It Together" shows how you to gather and store personal financial records in an efficient and effective manner - and most importantly, provides a solid road map to family survivors.
5. "All the Money in the World"
By Laura Vanderkam
Vanderkam is a wonderful, inventive writer who discusses a very underrated topic in money management circles - how time, like money, is a commodity, too. Better yet, she ties the themes of time and money together, to produce a book where the most important outcome is to use money and time as tools to produce value.
She weaves the "value" theme throughout her book, and does so in an engaging fashion. For example, instead of paying $5,000 for an engagement ring, Vanderkam is all about the idea of spending 10% of that amount on a shiny rock, and using the rest of that cash to travel, to invest, to curb debt, and send each other small "I love you" gifts when times get tough throughout married life.
"All the Money in the World" is chock full of analogies like that. Each one goes to show that the consumer takes spending for granted, and that the "Keeping up with Jones'" culture is one that should have expired a long time ago. Vanderkam is not wrong on that front.
6. "The Little Book of Common Sense Investing: The Only Way to Guarantee Your Fair Share of Stock Market Returns"
By John C. Bogle
Over two decades ago, golf instructor Harvey Penick wrote his famous (in sporting circles, anyway) "Little Red Book" - complete with the author's Zen-like musings on golf and life. The book was so little in fact, that it could easily fit in the palm of your hand, and leave room to grip a putter and make that nasty downhill seven-footer on the 18th hole.
Bogle, another legend in money management circles who recently died, uses pretty much the same model with his "Little Book of Common Sense Investing" and does so expertly. Readers may or may not know that Bogle made history as the founder of Vanguard Funds, the first big investment firm that offered index funds to the public - but they'll know a lot more after absorbing Bogle's take on investment management.
Most tellingly, Bogle talks about the futility of expensive investment advice, and how low-cost index funds, through performance and low fees, could level the investment playing field between Main Street and Wall Street. History has certainly vindicated Bogle on the topic, even though Wall Street slung a lot of mud this way as he spent decades making his case.
Here, Bogle makes his case simply and directly, without trumpeting his own grand accomplishments. As one Amazon reviewer aptly put it, "What Gutenberg was to the printing press, Henry Ford to the automobile, and Shakespeare to the English language, Jack Bogle was to finance."
That line alone should make anyone interested in getting their fair share from the financial markets pick up this book, and the sooner the better.
7. "The Millionaire Next Door"
By Thomas Stanley and William D. Danko 
This is the book that college finance majors and young Wall Street money managers kept by their bedside, dog-eared and well-thumbed throughout the past 20 years.
There's a good reason for that. The book paints a vivid narrative of millionaires not as show-boating, glitz-and-glamour materialists, but as flannel shirt-wearing, pickup truck-driving regular folks, who had a message to deliver to Americans yearning for material wealth.
Before the book was published back in 1996, Stanley had traveled the country interviewing Americans who have earned a million dollars. Quite simply, Stanley asked how they did it. Their common-sense answers were turned into "The Millionaire Next Door", structured by seven steps everyone should take if they want to earn $1 million or more - from living below one's means and choosing a lifelong occupation well.
Read it and you'll understand that most millionaires really do live next door, happily and without pretense (or any debt to speak of.)
A bonus - it's as much a book on the American spirit as it is a money management book, and that only helps shine a brighter light on its brilliance.
It's never too late - or too early - to plan and invest for the retirement you deserve. Get more information and a free trial subscription toTheStreet's Retirement Dailyto learn more about saving for and living in retirement. Got questions about money, retirement and/or investments? We've got answers.
Tax Tips: Videos to help you prepare for tax season