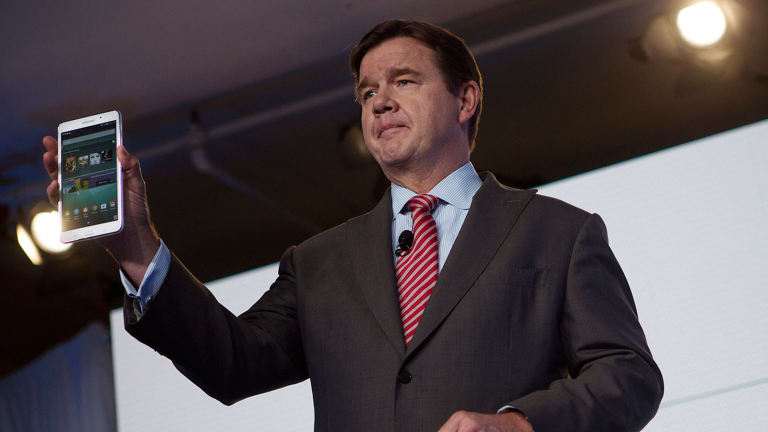 Barnes and Noble Education Spins Off, Looks for Growth in Digital Textbooks, Colleges
Barnes and Noble Education rang the opening bell at the New York Stock Exchange after spinning off from Barnes and Noble, and will have its own board and management team.
NEW YORK ( TheStreet) -- Barnes and Noble Education (BNED) rang the opening bell at the New York Stock Exchange after officially spinning-off from its parent company, Barnes and Noble (BKS) - Get Barnes & Noble, Inc. Report. 
Executive chairman, Michael Huseby spoke with TheStreet about what will change now that the education division is a publically traded company.
Formerly the Barnes and Noble College division, the separate board and management team will allow Barnes and Noble Education to "have much more focus on the things that are important to Barnes and Noble Education and our college customers," Huseby said. "The spinoff will help the education part of the business achieve access to the capital markets and be able to accomplish some things that it's been wanting to do for some period of time." 
Huseby says that one of the things that Barnes and Noble Education can heavily invest in now is their digital platform through their app, Yuzu. Yuzu allows students to rent and save eTextbooks onto their smart devices and to highlight and take notes directly into their digital textbooks. 
However Huseby sees digital textbooks as just the beginning for Barnes and Noble Education's digital platform.
"There are a lot of different media that can be brought into digital education once we work with the content producers to develop that content to populate our platform," Huseby said.
In moving higher education onto the digital platform, Huseby hopes to "improve education and make it less costly." But until those developments can be realized, Barnes and Noble Education faces tough competition when it comes to students choosing how to acquire their textbooks.
"The advantage that we have is that we're on site, on the campus and fully supporting not just the students but the faculty and the administration," Huseby said.
While Barnes and Noble attempts to expand their digital platform and app, Huseby says that "there is nothing that can replace that on-campus bookstore," and the company has been successfully growing its on-campus footprint.
On the concept of growth, Huseby said that Barnes and Noble Education had two options: organic growth and mergers and acquisitions and strategic partnerships. The organic growth will come from the running and managing of college's bookstores and their websites.
Last year the company added $90 million of annualized revenue and 48 new stores with an additional 24 stores this year.
Huseby says that with the spinoff completed, the company can now start "exploring some of the strategic opportunities we have with digital partners and also content partners to grow the company more significantly than just organically."¿