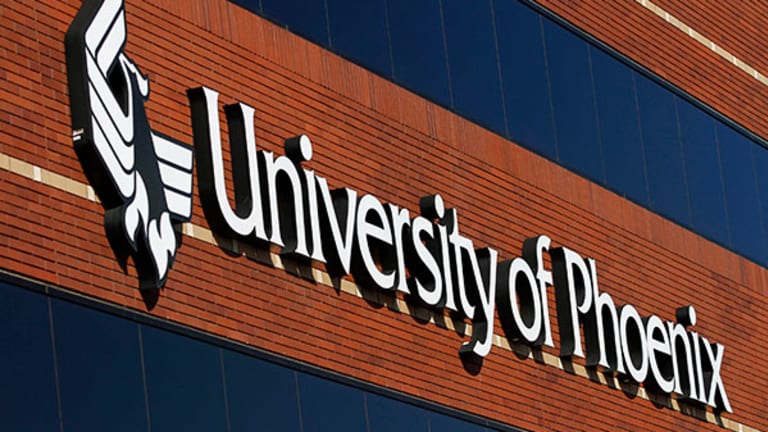 Apollo Education Is Cheap for a Reason, So Be Smart and Don't Buy
If you're wondering how much worse things can get for Apollo Education before it rebounds, you're asking the wrong question. The University of Phoenix operator faces even deeper troubles ahead.
NEW YORK (TheStreet) -- It would be a gross understatement to say Apollo Education (APOL) , the for-profit education company behind the University of Phoenix, has disappointed its shareholders in 2015.
With shares already down some 51% in the first six months of the year, against a small, 2.6% gain for the broader market, Apollo has been one of 2015's worst performers in the S&P 500 (SPX) index.
But ahead of the company's third-quarter earnings results, due out Monday after the close, bottom-feeders are wondering, "How much worse can things get for Apollo stock?" Its shares look too cheap to ignore at this level, they claim.
Nonetheless, there's nothing new here. Apollo Education, like other stocks in for-profit education sector, has been cheap for some time. But that's because these companies aren't making any money due to falling student enrollment. Given the number of schools competing within this space, and the spreading recognition that many of them aren't delivering on their promises to students, they just can't attract enough enrollment to make their business models work anymore.
Too much supply and not enough demand has always been among the industry's key challenges, which is, perhaps, one reason some of these businesses -- for example, Apollo -- have reported resorted to extreme and deceptive practices to pump up enrollment. This situation will only get worse if President Obama's proposal to make community college free to students for their first two years of college takes effect.
If President Obama's proposal becomes public policy, the federal government would immediately become the for-profit education industry's biggest threat. And as evidenced by the recent bankruptcy of rival Corinthian Colleges, one of the country's largest for-profit institutions, the outlook for this group was already grim.
In the case of Apollo, whose shares down are 65% in the past five years and and almost 53% in the past three, investors shouldn't waste any more time in thinking, "This is the bottom for APOL stock." Apollo had a tough enough time competing against the likes of Corinthian Colleges, which has closed its doors. And Apollo is currently under investigation by the Department of Education over how its University of Phoenix administers federal student aid. But investors will have to brace themselves further if Apollo has to now compete against "free."
All of this explains why Apollo stock has been under pressure lately. Sure, at their new 52-week low of around $16, the shares may appear too depressed. At just six time earnings, agains a P/E of 21 for the S&P 500 index, I will grant that the stock is incredibly cheap. But in this case, it's cheap for a reason -- and a low price should not be mistaken for "value."
Before placing a bet on Apollo stock, it's more important to consider the industry's overall situation, and its longer-term outlook.
In that regard, regardless of how cheap Apollo stock may look today, investors should resist the temptation. As evidenced by the 30% decline in analysts' average earnings estimates for the just-ended quarter, falling from 67 cents to 47 cents per share in the past three months, Apollo seems poised to answer the question, "How much worse can things get?" And that's not a response I'm willing to wager on with my own money.
This article is commentary by an independent contributor. At the time of publication, the author held no shares in any of the stocks mentioned.