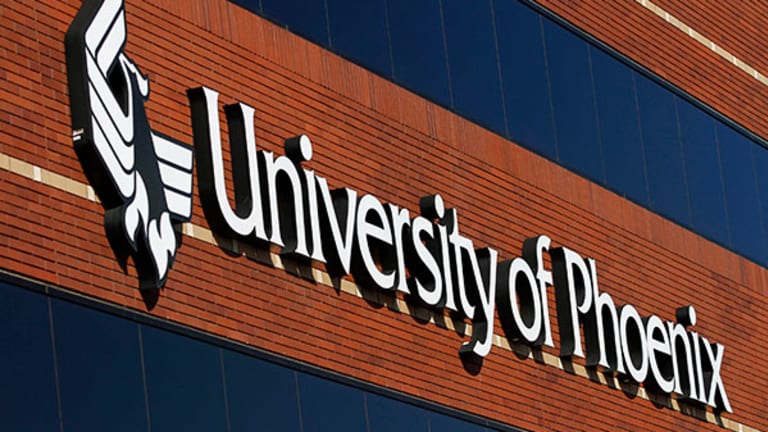 Publish date:
Apollo Education Investigates Selling Itself
Apollo Education, the for-profit parent of University of Phoenix, could garner interest from financial sponsors or international players.
Apollo Education, the for-profit parent of University of Phoenix, could garner interest from financial sponsors or international players.
Despite challenging headwinds in the for-profit education sector, the strategic review of Apollo Education (APOL) could yield interest from private equity firms, company followers say.
The University of Phoenix parent announced on Monday, Jan. 11, that it has decided to explore strategic alternatives and that it is in discussions that could lead to a change of control.
The Phoenix company also said it has retained Barclays Capital and Credit Suisse Securities USA as its financial advisers and Sullivan & Cromwell as its legal counsel.
Adam Nordin and Neil Meyer of Barclays and Todd Noffke and Sam Shah of Credit Suisse are offering financial advice, while Frank Aquila and Melissa Sawyer lead the Sullivan & Cromwell legal team, The Deal has learned.
The pool of potential buyers for the for-profit education company likely will center around private equity players, Robert W. Baird analyst Jeff Meuler explained, adding that the company's bigger attraction would be its international assets.
"Historically, Apollo's profitability has come from the University of Phoenix," Meuler said.
While University of Phoenix is seeing its profitability contract, Apollo Global has been generating revenue growth for its parent, he said, while noting it is difficult to gauge a potential valuation for Apollo Education when two businesses are in drastically different stages.
"They're a bit unique in that one of the bigger attractions to a potential buyer is the international assets," he said of Apollo Global.
Still, Apollo Global is much smaller than University of Phoenix. The former had net revenue of $391.2 million in the fiscal year ended Aug. 31, 2015, while the latter's net revenue was $2.15 billion, according to Apollo Education's Form 10-K filing with the Securities and Exchange Commission.
Corey Greendale, an analyst at First Analysis Securities, explained that a sale is the most likely outcome of the review, adding that international players with an interest in getting into the U.S. education market could be potential suitors in addition to financial sponsors.
Greendale added that Apollo Education has a dual-class ownership structure and the review could result in a sale of Class B shares, which aren't publicly traded.
"The industry has been under a lot of political pressure," Greendale further explained, noting that the for-profit education sector has been shrinking over the past several years for a number of reasons.  
Students' confidence in taking on debt decreased during the economic downturn, while regulatory changes have affected operations for for-profit education institutions, he said, adding that there also have been questions surrounding the value of for-profit education.
As a result, the pool of potential buyers is somewhat narrow, and it is unlikely that an Apollo Education peer would emerge as the buyer, Greendale explained.
He also noted that regulators will have an impact on the transaction, as the Department of Education and the University of Phoenix's accreditor -- the Higher Learning Commission -- would need to approve a change in control.
Though the industry has been challenging and will continue to be so, Apollo Education is still a relatively strong business that is generating cash, according to a source familiar with the company who requested anonymity.
Apollo Education had $1.26 billion in gross profit, $286.9 million in Ebitda and $2.45 billion in revenue over the past 12 months and has $43.3 million in debt, according to Bloomberg data.
If a sale of the company did occur, it could open the door for its peers, the person said, as a sale of Apollo Education would be more complex and could spotlight smaller players in the sector.
Apollo Education, meanwhile, on Monday also posted earnings for the quarter ended Nov. 30.
The company posted an operating loss of $45.2 million on net revenue of $586 million, down from $64.2 million in income on $714.5 million in revenue during the first quarter of fiscal 2015. New enrollment during the quarter also dropped, to 24,500 from 39,600 a year earlier.
Shares of Apollo Education were down 2.6% Monday afternoon to $6.42, giving the company a $696.1 million market capitalization. The stock shot up as much as 14% Monday morning to $7.54 before dropping later in the day. As of Tuesday morning it was up a further 14.4%.
Apollo Education officials declined comment Monday.