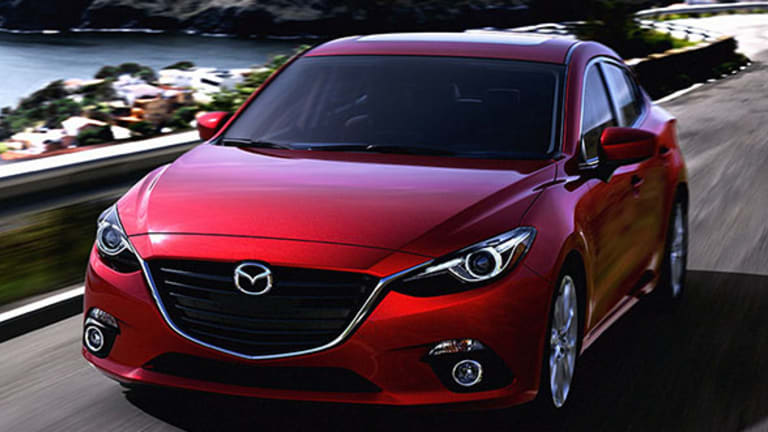 5 Best Back-to-School Cars 2015
Whether your little scholar is headed off to college or just high school, here are Kelley Blue Book's picks for which car to send him off in.
NEW YORK (MainStreet) -- It's almost back-to-school time: and if you want to send your little scholar back to high school or college in style -- and within your budget --  here's a look at Kelley Blue Book's five best car picks to do so.
"All of these cars offer great affordability, reliability, safety and economy in not only purchase price, but in fuel economy and insurance costs, too," says Jack Nerad, executive editorial director of KBB, which recently issued its 11th annual Best Back-to-School Cars list.
KBB editors compiled this year's rundown by analyzing all 2015 models (plus 2016s already on dealers' lots) that are priced at or near a student-friendly $20,000 or less.
Editors graded each car on everything from fuel efficiency to interior space.
But Nerad -- who has three teenage daughters -- says judges also factored in whether a given car offers the sexy styling, sporty performance and cool tech features that young drivers want.
"We tried to look at it from both the parents' point of view -- 'I want my kid in something safe and economical' -- and the kids' point of view: 'I want something that's fun to drive and has the right features,'" he says.
Eric Lyman, vice president of industry insights at car-buying site TrueCar.com, says KBB's picks are good choices not just for students, but for any auto buyer on a budget.
He says manufacturers know their entry-level models must appeal to both young drivers and their parents, so automakers typically make sure cars have generous warranties, impressive amenities, plenty of safety equipment and good crash-test results.
"The good thing about these vehicles is that while they're economical, they're not the traditional 'econoboxes,'" Lyman says.
5. 2015 Nissan Versa Note
Base price:$14,180
This tiny hatchback hits just the right Note for students.
"The Versa Note is exceptionally economical to both buy and own," Nerad says. "You're getting an amazing amount of tech, significant safety features and more for a fairly low price."
Base Versa Notes are fairly plain but do come standard with power mirrors and a four-speaker stereo with Bluetooth connectivity.
Under the hood, a modest 109-horsepower, four-cylinder engine and manual transmission team up to provide a good 27 miles per gallon in city fuel efficiency and 36 mpg/highway.

4. 2016 Honda HR-V

Base price:$19,115
The Honda HR-V is an all-new model for 2016, marking the Japanese auto giant's first foray into the booming subcompact-SUV segment.
Subcompact SUVs are a hot commodity these days, combining small size with a sport utility vehicle's "high-up" road view and flexible interior space. Rear seats usually fold down flat to provide a surprising amount cargo capacity relative to models' diminutive sizes.
The HR-V is basically a smaller version of the Honda CR-V, one of the market's bestselling compact SUVs (as opposed to subcompact ones.)
"The HR-V is less expensive than the incredibly popular CR-V, but has a lot of similar features," Nerad says. "It's a taller vehicle -- so you have better command of the road from behind the wheel -- and it's got some good stuff as standard equipment."
Entry-level HR-Vs feature rearview cameras, Pandora Internet radio and other higher-end amenities often lacking in lower-priced cars. Base models also include a 138-horsepower, four-cylinder engine and manual transmission rated at a decent 28 mpg/city and 34 mpg/highway.


3. 2015 Mazda3

Base price:$17,845 (sedan)
The Mazda3 not only made KBB's 2015 Best Back-to-Schools Cars list, but has placed No. 1 in the publication's Coolest Cars Under $18,000 rankings for 12 years running.
"The Mazda3 is a car that we've loved forever and ever, and it just keeps on getting better," Nerad says. "It stays in our hearts every year, because it's so much fun to drive. It also gets good gas mileage and has a fairly luxurious interior, which is rare in a car as inexpensive as it is."
Base Mazda3s are pretty barebones but do come standard with a four-speaker audio system and power locks and windows (something low-priced cars often lack).
Entry-level Madza3s also come with a 155-horsepower, four-cylinder engine and manual transmission that generate an impressive 29 mpg/city and 41 mpg/highway with the model's sedan version. (The base hatchback only gets 40 mpg/highway.)

2. 2015 Kia Soul

Base price:$15,190
Students who roll up to class in the popular Soul should seem as hip to their peers as those Kia Hamsters are. 
That's because even base versions of this youth-oriented model combine a trendy, boxy look with Millennial-friendly features such as Bluetooth and SiriusXM radio.
Mom and Dad will also appreciate the model's modest price, generous interior space, ten-year/100,000-mile powertrain warranty and good fuel efficiency. Base models come with a 130-horsepower, four-cylinder engine and manual transmission that generate 24 mpg/city and 30 mpg/highway.
"The Kia Soul is another one of our favorite cars, because it's got a lot of interior space -- you can fit actual adults in the rear seats -- and great warranty coverage, too," Nerad says.


1. 2015 Honda Fit
Base price:$15,790
This little Honda is a perfect Fit for students, which is why KBB has named it 2015's best back-to-school car.
Nerad says the model offers pretty much everything that young drivers need.
"The Fit has all of the exceptional reliability and fuel economy of a Honda, but it's also a lot more fun to drive then you'd expect with such an inexpensive vehicle," he says. "It's really kind of a blast to drive, and it's also super-practical in terms of interior space."
Entry-level Fits feature a rearview camera, a 5-inch display screen and other amenities rare in low-cost models. Under the hood, the car comes standard with a 130-horsepower, four-cylinder engine and a manual transmission that produce a solid 29 mpg/city and 37 mpg/highway.