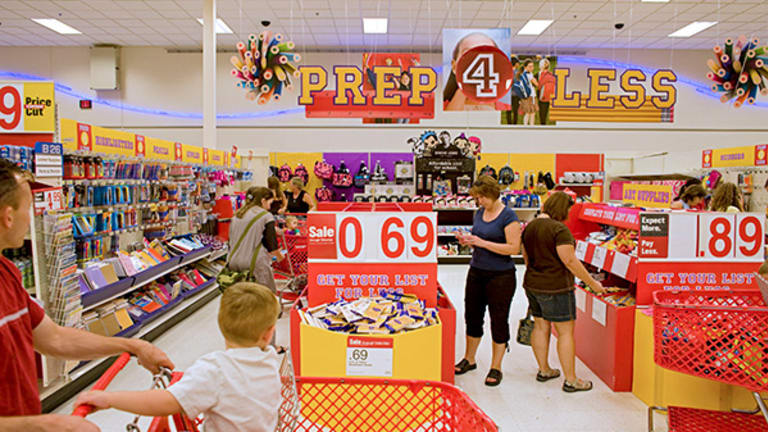 3 Best Ways to Save on Back-to-School Shopping
More parents are postponing their back-to-school shopping or cutting back entirely. But there are still ways to snag some great discounts, if you follow these crafty tips.
NEW YORK (MainStreet) -- Beaches may be more crowded than usual this August, as more parents postpone their back-to-school shopping. According to a recent survey from Deloitte, 31% of parents will wait until the school year has already begun to finish checking items off their shopping list.
"Consumers are sending a message to retailers that says the back-to-school shopping season just isn't that important anymore, and that could dramatically disrupt an industry that traditionally relies on this defined period for a significant portion of annual sales," said Alison Paul, Deloitte LLP vice chairman and retail and distribution sector leader.
An increasing number of families are willing to reuse school supplies, with 39% planning to do so this year, compared to 26% in 2011. "If consumers are content with the items they already have, the two-for-one promotion may no longer get them to the register," Paul added. "Instead, retailers will have to provide something more meaningful or exclusive that fits their customers' needs when they are ready to buy."
Back-to-school shopping jumped 5% in 2014, with Americans spending $74.9 billion on K-12 and college supplies, according to the National Retail Federation (NRF). For comparison, 2015 spending is expected to shrink slightly, to an estimated $68 billion. A surplus of supplies from previous years is one explanation for the declining spending, especially with Americans reporting a willingness to reuse what they already have on hand.
"As seen over the last 13 years, spending on 'back to school' has consistently fluctuated based on children's needs each year, and it's unlikely most families would need to restock and replenish apparel, electronics and supplies every year," said Matthew Shay, NRF president and CEO. "Parents this summer will inventory their children's school supplies and decide what is needed and what can be reused, which just makes good budgeting sense for families with growing children."
Discounts and sales may be less of a driver this year, with a reported 14% decrease in coupon clipping since 2011. A majority of parents (80%) will turn to their smartphones to research products and deals before heading to the stores. Good deals can be found, and parents should continue to look for ways to save on whatever supplies they are planning to buy. Here are the top three ways parents can keep their budget in check as summer comes to a close and the kids head back to school.
Price Matching
Smartphones make comparison shopping quick and easy, and more consumers are likely to engage in this tech-savvy shopping technique before heading to the register. RedLaser is the gold standard when it comes to comparison shopping apps, and smartphone users should rely on it before making an in-store purchase. The Amazon app is another good option, as Amazon prices tend to be lower than those at local retailers. If a competitor has a lower price on an item, Walmart's Saving Catcher will find it, and send an electronic gift card for the price difference paid.
Amazon is offering back-to-school sales exclusively to Prime members. Non-Prime members can avail of the discounts by signing up for a 30-day free trial.
Most retailers are willing to match a price if an item is found cheaper somewhere else. Some stores are going one step further this year by offering 110% price matching. This means the store will meet the lower price, and then discount it another 10%. Brandsmart does this year round, and Staples is promoting the offer during the back-to-school shopping season. This can come in handy when shopping for big ticket items like backpacks and calculators.
Rotating Discounts
Retailers offer sales to get shoppers in the door, and then expect that their overall shopping basket will make up for any price reductions. Savvy consumers can save by making multiple trips to the store and only buying the items that are currently on sale. That might mean pens and pencils one week, notebooks and folders the next.
The best way to stay on top of the various sales is to follow local retailers on social media, or sign up for their email list. Use an app like Wunderlist to stay organized and avoid making duplicate purchases.

Delegate--and Teach--Budgeting
Budgeting fatigue can set in, especially for families experiencing an increase in their disposable income as wages edge slightly higher. Rather than paying full price out of convenience, parents can delegate the responsibility of finding a good deal to their children. Kids as young as eight years old can understand simple budgeting, and teenagers are particularly good at stretching a budget when it comes to shopping for new clothes. Parents should give children a spending maximum and let them shop on their own or with help. Added bonus? It's also an effective lesson in financial literacy.
To make the most of the teachable moment, download a simple budgeting app like Wally, Dollarbird or Spendbook. Back-to-school shopping is a good place to start teaching cash flow to children, but these apps can also be used year round with older kids to help them manage money from allowances, gifts or part-time jobs.
Given the strong correlation between financial literacy and financial independence, this might be the most valuable part of the back-to-school shopping season -- an education in and of itself.