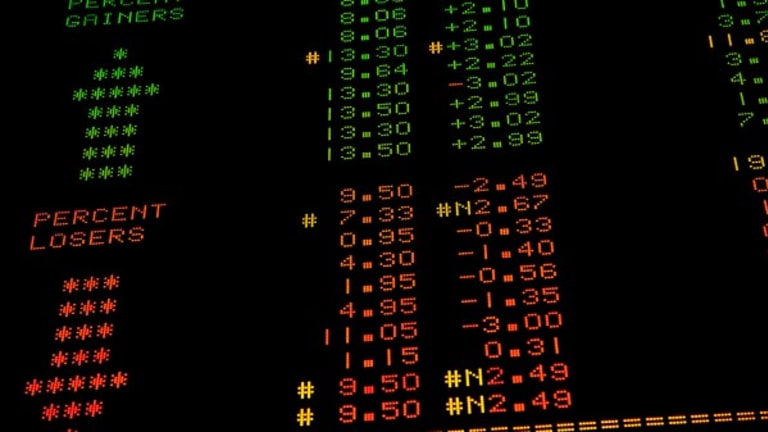 12 Names of Christmas, Part III
Our look at the final four brings up education, networking, energy and consulting.
This commentary originally appeared Dec. 23 on RealMoney -- the popular investors' source for comprehensive financial coverage and insightful analysis. Click here to learn more.
NEW YORK (
) -- On Wednesday, we
for the
freshest, most-interesting long names
that should be on your Christmas vacation research list. The latest run of my idea screen (pictured above) gave us 12 names with the strongest upward trend in earnings estimate revisions, combined with incredibly low valuations.
The idea is to find names with great earnings momentum, but low expectations. Where the fundamentals outperform the expectations, profit is sure to follow. While these names may or may not ultimately work out, we are looking where the odds are most in our favor. There is no better starting point.
>>12 Names of Christmas, Part I
>>12 Names of Christmas, Part II
Today we will look at the final four names in our screen. My screen ranks the whole universe of stocks and I am usually starting with a hundred or so to choose from, but for our purposes we are looking at the best of the best. All of the ideas have equally strong earnings trends, so the ranking is by forward P/E. Nonetheless, all of the names are cheap even though our final four are a bit more expensive than our top four.
Bridgepoint Education
(BPI) - Get Report
may be bucking the trend in the for-profit education space, which is riddled with morally suspect organizations defrauding the lower-middle-class customers hoping for a leg up in the world. Unlike the mega-names, BPI runs just two schools -- one each in Clinton, Iowa and Colorado Springs, Colo. -- as well as online offerings. The momentum is clearly here. In the latest quarter, revenue rose 27% and they blew away EPS, beating by $0.21. That marked the tenth-straight quarter of outperformance. About 52% of the float is sold short, so if this company continues to blow away numbers the short squeeze is going to be immense.
Extreme Networks
(EXTR) - Get Report
is our token tech name, a beacon of promise in a sector that is struggling at the moment after misses from
Intel
(INTC) - Get Report
and
Oracle
(ORCL) - Get Report
. (Pun intended, if any of you old-timers remember token-ring networks). EXTR makes stackable ethernet switches, as well as a variety of other enterprise/data center networking products. The company blew up in earlier years and completed a multi-quarter restructuring of the entire business, which started to bear fruit in early 2011 as they started regularly beating expectations. There is little coverage and the analysts are lukewarm at best, which provides the platform for performance as they are forced to upgrade.
>>Learn about this premium service that hands investors investment strategies from veteran Wall Street pros.
Newpark Resources
(NR) - Get Report
is an oil and gas exploration services company that provides fluid management, waste disposal and well-site prep. They are leveraged to the boom in horizontal drilling, as well as difficult new projects in deep water. About 80% of revenue is from drilling fluids and new water-based fluids that are more environmentally friendly are driving demand. They also rent or sell highly profitable interlocking mats used to create temporary access roads to well sites.
CACI International
(CACI) - Get Report
provides IT consulting to the U.S. government, specializing in cyber security and military mission support, as well as general IT services to commercial customers. Recent results were strong, with solid organic growth and expanding margins. Book-to bill was 1.7, indicating a solid pipeline of deals. The company's IT-centric offerings distinguish it from the run-of-the-mill defense contractors that are suffering from impending budget cuts in D.C.
We will revisit these names in six months to see how they did. After all, our business requires some accountability.
Meanwhile, for those of you celebrating Christmas, I wish you the merriest of holidays. For our Canadian readers, remember that we Americans have Boxing Day envy, so enjoy that bonus. For all of our readers, I wish you health and prosperity in the New Year.
At the time of publication, the author had no positions in any of the securities mentioned.
Gary Dvorchak is a managing member of Channel Island Partners LLC, a Los Angeles-based hedge fund that manages large cap growth and growth-and-income funds. Dvorchak holds a master's degree in business administration from Northwestern University and a bachelor's degree in computer science from the University of Iowa.