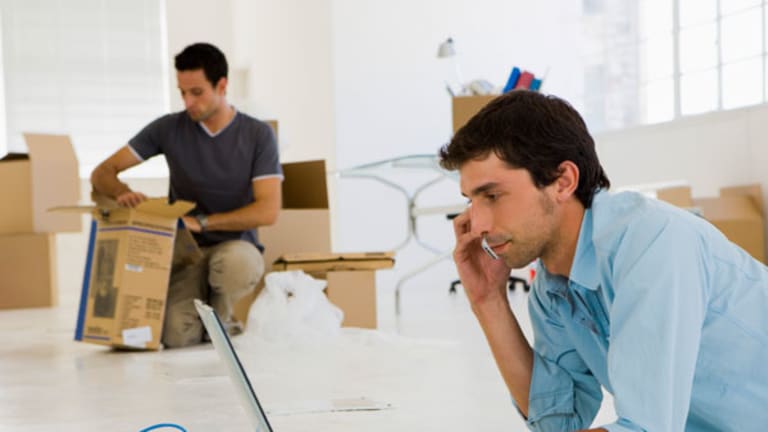 BOSTON (
) -- Wall Street, the Federal Reserve and the Obama administration say the worst of the economic malaise is over, but U.S. entrepreneurs beg to differ, according to a survey by
The Ewing Marion Kauffman Foundation
, the largest entrepreneurship group in the world.
A total of 68% of more than 250 entrepreneurs and 150 would-be entrepreneurs said the economy hasn't begun to recover, and 59% believe conditions are getting worse. The poll, which included overlap in responses, was taken Sept. 8 to 12. (Entrepreneurs were defined as those who started a small business and are still running it, and would-be entrepreneurs are those who want to start a business but haven't yet.)
More than a third of the respondents said they've shed jobs in the past year, 5% have added employees, and over half said business volume and profits have decreased. Their findings come as the U.S. slogged through the longest recession since the 1930s, hobbled by financial and housing crises that have doubled the unemployment rate. Nevertheless, Fed Chairman Ben S. Bernanke has signaled the recession is all but over, and investors have sparked a stock-market rally.
Economic downturns historically have been good to one-time entrepreneurs, according to the Kauffman Foundation, which also reports that more than half of the companies on the 2009 Fortune 500 list were launched during a recession or bear market. During the bear market that lasted from 1973 to 1982, entrepreneurs Bill Gates and Paul Allen founded
Microsoft
(MSFT) - Get Microsoft Corporation (MSFT) Report
, and Bernie Marcus and Arthur Blank founded
Home Depot
(HD) - Get Home Depot, Inc. (HD) Report
. One-time startups
Micron Technology
(MU) - Get Micron Technology, Inc. (MU) Report
and
Amgen
(AMGN) - Get Amgen Inc. Report
were also founded during that period.
The Ewing Marion Kauffman Foundation conducts research and policy, and represents entrepreneurs. The group, which funds organizations that support entrepreneurs, has an endowment of $2.1 billion.
"In America, entrepreneurial activity is a leading force in the health and growth of our economy," said Carl J. Schramm, chief executive of the Kauffman Foundation, in a statement. "These results confirm that we've got a long way to go before we're in the clear."
To that end, the Kauffman Foundation last week launched an online entrepreneurs'
, encouraging dreamers and small-business folk to influence, or at least stay apprised, of federal policies that might influence entrepreneurs.
The launch of Kauffman's "Build a Stronger America" movement coincides with the Obama administration's "Innovation Strategy." Loosely divided into three parts, that strategy seeks to do the following: "Invest in the Building Blocks of American Innovation" (including a focus on research and the education of future entrepreneurs, with hopes that kids will pursue careers in science, technology, engineering and math), "Promote Competitive Markets That Spur Entrepreneurship" (encouraging the promotion of American exports) and "Catalyze Breakthroughs for National Priorities" (such as biotech and advanced vehicle technologies).
An executive summary of the plan, complete with a diagram reminiscent of the food pyramid, can be found
here
.
-- Reported by Carmen Nobel in Boston.