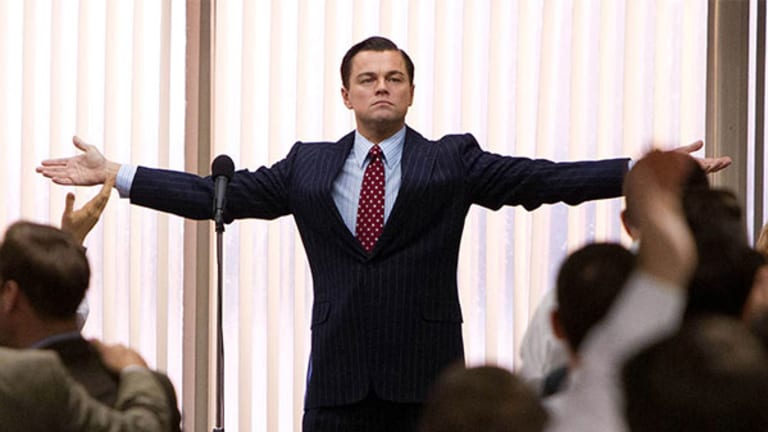 Publish date:
Don't Bother Going to The Movies in Winter
All the good stuff was released more than a month ago and Hollywood is spending the next month dumping its trash. Don't let the Golden Globes and Oscars sway you.
All the good stuff was released more than a month ago and Hollywood is spending the next month dumping its trash. Don't let the Golden Globes and Oscars sway you.
PORTLAND, Ore. (TheStreet) -- We know what some of you are thinking: The Oscar nominations were just announced and the Sundance Film Festival is underway, so it's a great time to go to the movies.
You could go into a showing of 12 Years A Slave expecting an uplifting comedy and still not be more wrong.
January and winter in general are the movie industry's landfill: a dumping ground of costly disappointments, Oscar snubs and cross-your-fingers comedies. What was the biggest film of last January? That would be the Spanish-Canadian horror film Mama and its $71 million take -- a surprise considering it was bumped from its October 2012 release date by Universal Picture and got mixed reviews. The biggest overall film of last winter: The Melissa McCarthy/Jason Bateman comedy Identity Thief, which took in $135 million through March despite being a nearly two-hour running fat joke that still comes in at a paltry 19% on Rotten Tomatoes. That film was originally slated for mid-May until someone at Universal thought better of it and stuck it square in one of the movie industry's "dump months."
Movie studios routinely toss out their worst dreck in January, February, August and September, when they know you're not going to be in theaters. Last year's January releases took in only $327.7 million in the U.S., which was the industry's lowest total for that month since 2007. It was also the lowest total of any month last year and just a fraction of the more than $1 billion a month the industry generates during the summer months and holiday season.
But what about the Golden Globe winners and Oscar nominees, you ask? Well, if those films have Viacom or Sony money backing them -- as Wolf of Wall Street and American Hustle have, respectively -- there's a chance their 2,500-theater run will include one near you. But even that's no guarantee. Viacom's Paramount is behind director Alexander Payne's Nebraska, too, but that was in only 571 theaters when nominations were announced. That's fewer than the Weinstein Co.'s British comedic drama Philomena (600) and exceeds only Fox Searchlight's 12 Years A Slave (114), Warner Brothers' Gravity (155), Focus Features' Dallas Buyers' Club (125) and Sony's Captain Philips (114) because those films have been out for roughly three months or more.
The latter two will be available on-demand or on disc before the Academy Awards air. Fox is already taking pre-orders for 12 Years A Slave's March 4 home release date, two days after the awards broadcast.
To provide some perspective on just how wide a gap that places between those films and U.S. box office reality, just consider that Warner Brothers' The Hobbit: The Desolation of Smaug and Paramount's Anchorman 2: The Legend Continues were playing in more than 3,000 theaters apiece when the Oscar nods were announced. Meanwhile, low-budget horror sequel Paranormal Activity: The Marked Ones, Mark Wahlberg war epic Lone Survivor and Disney's big ol' underperforming pat on the back Saving Mr. Banks were all playing in more theaters than any Best Picture nominee.
America's best bet for seeing an Oscar-nominated picture comes in the form of Frozen, a Disney film that's been out for more than two months and is up for Best Animated feature.
And that's the issue every year around this time: The best offerings have either been out forever and been seen or are hiding in niches, and reinforcements aren't coming. Instead, moviegoers get Grudge Match, 47 Ronin, The Secret Life Of Walter Mitty, The Legend of Hercules and Walking With Dinosaurs taking up thousands of screens, with Jack Ryan: Shadow Recruit, I, Frankenstein, Nut Job and other fare that fills the holiday/summer need for star-studded, action-packed and kid-friendly fare, but doesn't come with any of the support or quality.
It's not all that much better for independent film fans. Unless you're in Park City, Utah, for Sundance, you're either stuck hoping that one of the nine towns visited by the Sundance U.S.A. traveling film series is near you, or you're staying out of the cold and streaming Oscar-nominated documentaries online -- where our Leon Lazaroff notes a lot more independent film is living these days.
The Act Of Killing, Cutie and the Boxer, Dirty Wars and The Square are all available through Netflix streaming. The Square and its account of the 2011 Egyptian revolution were helped through Netflix backing, which makes it Netflix's first Oscar nomination. The only full-length documentary nominee not on Netflix -- the rock doc 20 Feet From Stardom -- is available through iTunes and YouTube.
The entire Oscar documentary category is implying what the current box office slate should already be saying: Stay home. If the studios want to fill theaters with castoffs and reruns in the hope that you won't be there, just give them what they want.
-- Written by Jason Notte in Portland, Ore.
>To contact the writer of this article, click here: Jason Notte.
>To follow the writer on Twitter, go to http://twitter.com/notteham.
>To submit a news tip, send an email to: tips@thestreet.com.
RELATED STORIES:
>>5 Craft Beer Brewers Who Need A Super Bowl Ad
>>1NFL Sponsorship Is A Thankless Trap
>>Super Bowl Home Rental Is A Tempting Gamble
Jason Notte is a reporter for TheStreet. His writing has appeared in The New York Times, The Huffington Post, Esquire.com, Time Out New York, the Boston Herald, the Boston Phoenix, the Metro newspaper and the Colorado Springs Independent. He previously served as the political and global affairs editor for Metro U.S., layout editor for Boston Now, assistant news editor for the Herald News of West Paterson, N.J., editor of Go Out! Magazine in Hoboken, N.J., and copy editor and lifestyle editor at the Jersey Journal in Jersey City, N.J.