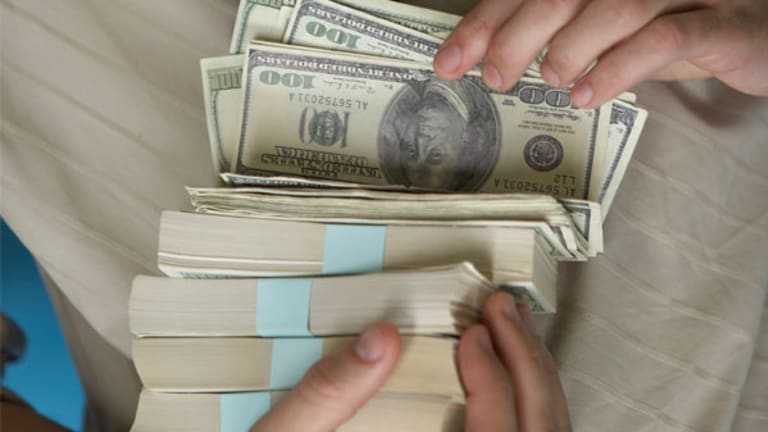 Don't Be an Investment Sucker
A recent complaint filed by the SEC against an investment adviser offers tips on how not to be an investment sucker.
NEW YORK (
TheStreet) --I recently read
a complaint about another investment advisor who allegedly defrauded his clients.
According to the Securities and Exchange Commission, the person involved was purportedly running a Ponzi scheme. So what was the hook the advisor used to lure investors? If you guessed investor's greed you would be correct.
The investment advisor reported high investment returns of 17% to 25% every year. For example, the firm's marketing materials claimed a 24% return during 2008, a year in which the S&P 500 declined by 38.5%. Unfortunately for investors, the returns were a work of fiction and were completely made up.
So what could investor's have done to protect themselves? The single most important protection from my standpoint is avoid investing with firm's that self custody (remember Bernie Madoff?). I recommend working with an advisory firm that has an independent custodian (Fidelity, Schwab, and TD Ameritrade). The firm's clients all receive a monthly statement directly from the independent custodian. The statement will show exactly what the client is invested in and whether the investments have gone up or down.
The advisor involved in this case was able to carry out his scheme because he created false account statements showing made up performance. Remember a statement from an independent custodian is only useful if you flip through it!
Another way investors can protect themselves is to make sure they understand the purported investment strategy. Allegedly this firm had 75% of the investments tied to major stock market indices. If that were really the case it would be very difficult for them to generate a +24% return in 2008. Why is that? A 75% allocation to equity indexes in 2008 would likely have generated an almost 30% loss. A strategy starting almost 30% in the hole is not likely to produce a total return of 24% for the year.
How do I know this? Assuming the remaining 25% of the portfolio returned 100% the fund still wouldn't be break even. To get anywhere near a 24% return the other 25% of the portfolio would have needed to return over 200%. My math is clearly an oversimplification but directionally I think it makes the point.
If investing due diligence is not your thing, hire a third party to assess a firm's investment strategy. The professional you hire can assess the strategy and assess whether it makes sense or not. If the advisory firm is unwilling to explain their strategy and magical black box thank them and walk away..... no, better yet run as fast as you can!
--By Michael Maye
Michael Maye is the founder and president of MJM Financial Advisors (www.mjmfinadv.com), a registered investment advisory firm in Berkeley Heights, N.J. He is a member of the National Association of Personal Financial Advisors (NAPFA) and has been a speaker covering tax topics at NAPFA's national and regional conferences. Maye has also been a frequent contributor to the Star Ledger of New Jersey's "Biz Brain" and "Get With the Plan" articles. In addition to NAPFA, he is a member of Financial Planning Association, American Institute of Certified Public Accountants, New Jersey State Society of CPAs and the Estate Planning Council of Northern New Jersey.
Follow
TheStreet
on
and become a fan on