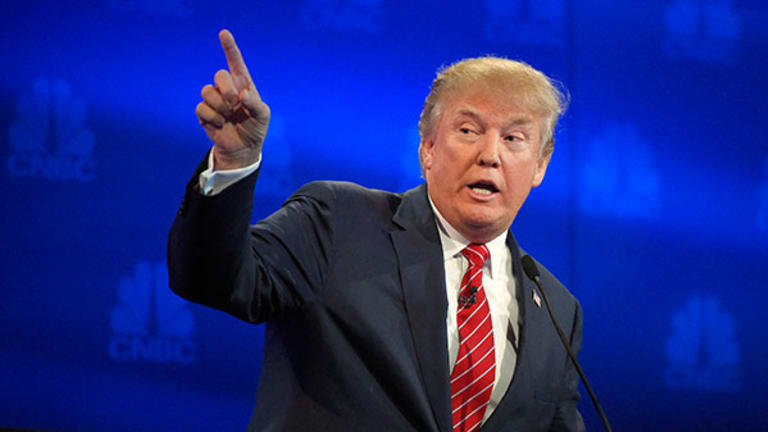 If you're sitting on $18.4 trillion in debt, your best way out of it is to find someone who has gone into debt many times. At least, that is what Republican presidential candidate Donald Trump would want you to think.
During Wednesday's Republican debate, moderators posed a question about Trump's integrity because businesses backed by him have declared bankruptcy no fewer than four times since 1991. For most people, bankruptcy is indicative of poor money management skills and a lack of integrity as failure to pay debts is essentially breaking a promise. 
Using the age-old job interview technique of spinning a negative into a positive, Trump offered a different view of his repeated decisions to allow his companies to declare bankruptcy. He claims that his use of the country's bankruptcy laws was savvy and eventually led to positive outcomes for his Atlantic City resorts.
"That's what I can do for the country: We owe $19 trillion," Trump said. "Boy, am I good at solving debt problems. Nobody can solve them like me."
Of course, while the Trump brand emerged relatively unscathed, the bondholders of his endeavors were none too pleased. Part of the restructuring deals for Trump's various casinos and resorts in Atlantic City meant bondholders were either repaid with less interest than initially stipulated, or saw the total amounts owed to them slashed.
There's need to complicate the matter with business jargon. If you lend a friend $100 and they pay you back $50, not only are you angry, it's quite possible that your ability to meet your financial obligations is also at risk.
Employing similar debt-restructuring tactics in the U.S. would likely put the country on par with Greece or Argentina. Both are lovely places to visit, but the former's credit rating as measured by S&P is in junk bond territory and the latter is in default. The result for both countries has been political and economic unrest, crippled financial systems and high unemployment.
Running a business is not the same as running a country, and even if it were, it should be noted that many businesses face hard times without having to declare bankruptcy.
"I used the laws of the country to my benefit," Trump said. "I'm sorry." But not very much.