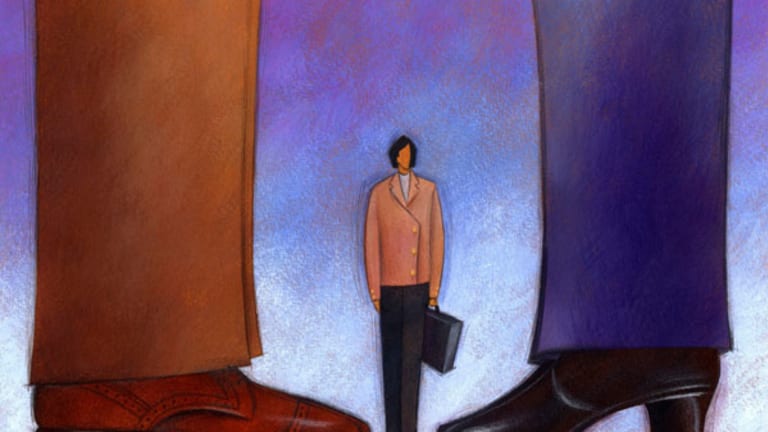 DIY Wireless Networks Could Rattle Industry
Meraki dramatically lowers the cost of offering wireless, but the system demands some techno smarts.
Listen up, Verizon (VZ) - Get Verizon Communications Inc. Report, AT&T (T) - Get AT&T Inc. Report, Sprint (S) - Get SentinelOne, Inc. Class A Report, T-Mobile, Cisco (CSCO) - Get Cisco Systems, Inc. Report, Nortel (NT) and all the rest of you wireless networking heavies: You have a big, bad new competitor. Me.
Of all the strange digital twists of the networking age, this has got to be the strangest: a new generation of wireless networking devices that tries to enable even the smallest of firms to become legitimate wireless data providers.
San Francisco-based
is in the thick of this market, offering a line of high-end, low-cost, enterprise-grade wireless data access modules. Entry-level units start at $173, or a fraction of what a Cisco charges. And having one, the company says, lets even a little guy provide not just a best-effort Wi-Fi hotspot -- like with just any old wireless router -- but a legitimate, 600-megabit-per-second, dual-band wireless network support with the potential to reach an entire office, campus or even large retail location.
To get a feel for a how a small firm might unwire its businesses or use Web access as a means to dial up on-site customer loyalty, I installed a Meraki demo unit, the MR 14 ($549), in my six-person digital content firm.
WHAT YOU GET
The MR 14 gives you the ability to offer first-quality Web access to your customers, clients or community.
Considering how complex wireless access can be, setup for this thing was almost comically simple. Take the unit out of the box. Plug one Ethernet cable into your router and the other into the device. Plug it into the wall. Then install computer-mouse-sized repeaters -- each with a range of 150 feet -- that can be daisy-chained to cover even a few city blocks. Finally, log into the company website, match the device ID numbers to your network, and -- at least for basic connectivity -- the system assembles itself into its own wireless, so-called mesh network. Voila, you are a service provider.
Performance in my shop was dramatic. Downloading and data rates were a step faster, and coverage was improved over my traditional Linksys business-class wireless router. And network controls were excellent. I could see my hotspot on a map along with how many users I had, and got excellent Web usage statistics.
Pretty darn impressive for a home-installed, do-it-yourself network.
WHAT YOU DON'T GET
For most small firms, the cost of Meraki's full-service plans are prohibitive, meaning you are on your own for deploying the thing.
For all its jaw-dropping capabilities, Meraki is still a serious networking endeavor. I know what I described sounds pretty easy, but I do this for a living. It takes practice to install Meraki just right: How you place your repeaters, for example, takes some trial and error.
Because customer support in the company's enterprise products gets pricey fast, most firms will also have to manage service issues for their own customers. I would recommend some sort of professional IT support is needed, although an average-level networking professional can manage it.
You are being handed the keys here to a high-powered networking tool, which might just be too much for some small firms all on their own.
BOTTOM LINE
If you have ever considered saving the fortune of hard-wiring your office with Ethernet cables, or toyed with the idea of offering a robust high-traffic Wi-Fi hotspot to customers at your shop or cafe, Meraki without question is worth a test drive. It dramatically lowers the cost of offering legit wireless access. Yes, it requires some techno smarts to manage. But for a reasonable investment, you, too, can offer access to the Web as part of your business model.
Meraki, you are disruptive stuff, indeed.
>To submit a news tip, email:
.
RELATED STORIES:
>>Intuit Makes Quicken Minty Fresh for Web 2.0
>>Facebook Groups Elbows Its Way Into Crowd
>>Epson Puts PCs On Walls, Lets You Work There
Follow TheStreet.com on
and become a fan on
Jonathan Blum is an independent technology writer and analyst living in Westchester, N.Y. He has written for The Associated Press and Popular Science and appeared on Fox News and The WB.