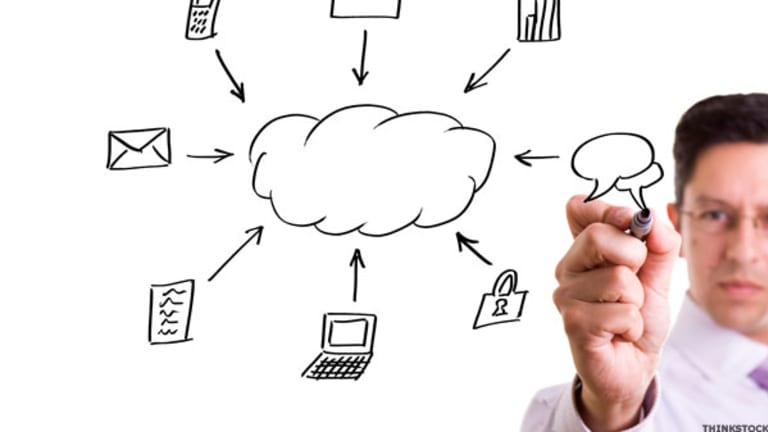 Dirt-Cheap HP Printer Rivals Laser Quality
Hewlett-Packard's Officejet 7000 printer costs only $300 and makes high-quality prints, a boon for a small business.
Hewlett-Packard's Officejet 7000 printer costs only $300 and makes high-quality prints, a boon for a small business.
PALO ALTO, Calif. (TheStreet) -- Here's a sleeper pick for the late-summer, early-fall productivity hit: a dirt-cheap, large-format desktop printer.
The desktop computer revolution has always been just half the small-business story. Sure, a PC or a Mac is nice and all, but getting one's work out on a real piece of paper for a real person to deal with is, in actuality, the money shot for the average small business.
Until recently, developments in desktop printing have been limited to a battle between lux, but pricey, laser printers and cheaper, usually lower-end, inkjet printers.
Xerox
(XRX) - Get Report
,
Brother
,
Canon
(CAJ) - Get Report
,
Oki Data
and many more makers have tried since the age of Reagan to make laser printers cheaper, ink jet printers better and both technologies less expensive per printed page. And the small business has made big time: Perfectly reasonable high-volume laser printers can be had for well below $500.
Staples
(SPLS)
, for example, has a perfectly good
for $300.
But one niche of the printer market has gone unserved: cheap, larger-format printers that can handle bigger paper than standard 8.5 x 11-inch sheets but don't cost thousands to buy. Now, printer makers have addressed that market.
and
Hewlett-Packard
(HPQ) - Get Report
, for example, now make wide-format, low-cost ink jet printers in the $300 range.
To get a sense of the values in play here, I took HP's riff on the desktop wide-format printer,
, for a spin. It costs $299.
What you get:
A great little printer that makes big prints.
If there were such a thing as a cute large-format printer, it would be the Officejet 7000. The unit is basically a $70 cheapie inkjet job you would get down at
Wal-Mart
(WMT) - Get Report
-- plastic parts, single tray, not many features -- but bulked up on steroids. It prints up to a 19-inch-wide image.
And let me tell you something: It does the job in style.
Setup is a 15-minute affair. Pull it out of the box (despite its bulk, it weighs just 15 pounds). Plop it on a desk, take off the packaging, run the setup software and plug in the USB or ethernet cable (it can support both formats). That's it; you're printing. The company claims a top speed of 33 pages per minute for draft prints, which I suppose is possible. But I found it took, on average, about 10 second to print a mixed color and black-and-white image. Now, certainly, you wouldn't want to be doing high volumes at those speeds. But for an average small office, the performance was fine.
Quality is what you would expect from HP. Eight-point type, even in tricky fonts like Niagara Solid, was laser quality. Photo prints, which held a 4,800 x 1,200 dots-per-inch resolution, were crisp and professional enough for most uses.
But going large is the point. And large the 7000 goes. Even 19-inch-wide photo images are dead easy to make. Simply select your sized format from HP's full list of larger standards, then sit back and let the thing work. Sure enough, out came brochures, small posters, sales material. And it even handled off-the-wall paper stock. Recycled paper, full linen stock -- I even tried butcher paper in the thing ... which actually looked pretty interesting.
HP claims cost per page is 40% less than laser prints. I still don't understand what forces otherwise sensible companies to say silly stuff like this. That number is almost impossible to quantify. But based on the price of replacement ink charges, you are probably talking about 3 cents per page for black-and-white and about a dime for color. Which is comparable to better lasers.
All in all, the 7000 was big hit at making big images.
What you don't get:
This box won't get you true out-of-house professional-quality prints.
The Officejet 7000 is an impressive unit for $300. But let's be honest: It's THREE HUNDRED dollars. It is not going to compete against professional machinery down at your local print shop that costs 10 times the price. I found slight banding in the full black sections of some brochures I tested. I found a heavy application of black ink would warp thinner stocks. When I broke out my maximum snob factor on ink quality and color, there was a blandness to some of the colors unless you were careful. And the 7000 unit really can be veeeery slow. One larger-format photo took north of two minutes to print. Even small batches at those speeds will drive you nuts.
And, most importantly, we are talking about a printer here. Not a multi-function fax, scanner, copier or whatever. So what is considered standard functionality for the average small businesses --- handling documents -- is not what the 7000 does.
Bottom line:
If you are looking at some shocking printing bills from earlier this year, by all means give this unit a try. The 7000 brings large-format images within reach of even the smallest of firms. With a little tinkering, you can achieve excellent results. Just don't expect it to compete with a true professional imaging system.
The 7000 was a pleasant printing surprise. By all means take advantage of it.
Jonathan Blum is an independent technology writer and analyst living in Westchester, N.Y. He has written for The Associated Press and Popular Science and appeared on FoxNews and The WB.