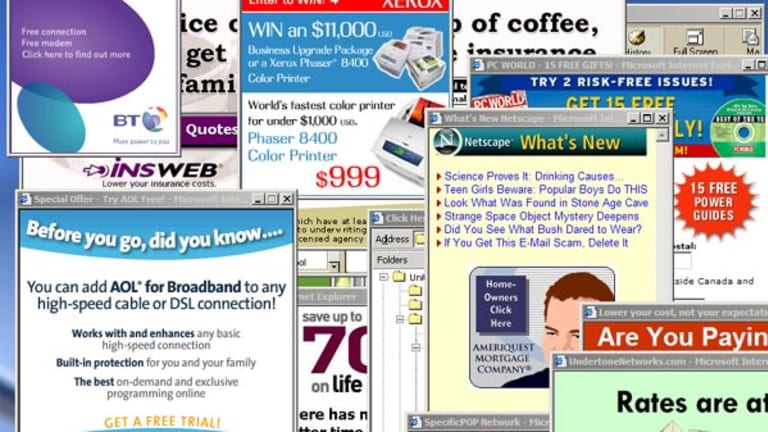 #DigitalSkeptic: The Targeted Web Ad Is a Lie
It has taken a decade and half to realize it, but here's the truth: Half of all Web ads go unseen. Now what?
NEW YORK (
) -- Remember the old advertising saw that half the ads anybody runs are a waste -- and it's just anybody's guess which half?
Well,
can explain exactly why that joke is still sadly funny when it comes to the Internet.
"The majority of display ads served today on PCs are not seen," said Hunter, a pro numbers nerd -- specifically, senior vice president for global marketing strategy at
ComScore
, the Reston, Va., Web data and analytics company.
"We are not talking about engagement or how long people look. That's something else," she said. Rather, it's the ads people can actually view online. "We've measured it, and just over 54% of Web advertising is not being given the opportunity to be seen by human beings."
She is not guessing. Hunter has more than a decade of serious ad-data jujitsu at firms such as
AOL
(AOL)
and now ComScore, where she and
, senior director for marketing, worked as a part of a team that has created several deep-dive studies into what's what with the missing ad impressions. It's part of a larger effort branded as
Validated Campaign Essentials
.
After digging through
and spending and nearly an hour on the phone with them, it's pretty clear there's a whole lot of Web ad dollars bleeding all over the floor.
The Invisible Web Ad
The blinding flash of investor insight Hunter and Vollman reveal is how, even after 15 years of trying, the key organs of the Web advertising body still aren't anywhere close to efficient.
Also see: The Digital Skeptic: Celebrate eBay -- the Web Parade's Only Winning Float>>
"It's not that technical," Hunter said. "It's ads served in places where simply nobody can see them."
The big, black, value-sucking holes on the Internet turn out to be dumb stuff such as ads on the bottom or top of the pages that nobody scrolls up or down to see, or banners served up in a second or third window that opens behind the page being viewed. Then there are the extended family of traffic bots, automated malware and click-fraud tools that trigger an ad in the process.
"There are things like cross-domain, nested iFrames" that are even more complex. That's when one ad or video is served in a small window inside one Web page, but imported from another domain. "That can eat up impressions as well."
What's noteworthy here is that the hunt for missing impressions is no secret among the Web advertising community. In fact, a multi-year, industrywide consortium of advertising agencies, publishers and advertisers is wrestling with solving these stubborn Web ad dysfunctions. It even has a brand and Web page all its own called
. A who's who of Web advertising, publishing and ad agencies lend their names to the cause: Barry Salzman, managing director of media and platforms at
Google
(GOOG) - Get Alphabet Inc. Report
; Marie Devlin, senior vice president for global advertising, media and sponsorships at
American Express
(AXP) - Get American Express Company Report
; and Jack Haber, vice president of global advertising and digital at
Colgate-Palmolive
(CL) - Get Colgate-Palmolive Company Report
, just to give you an idea.
"You can definitely fix this," Vollman said. "We are seeing that once people use the right tools, you can improve ROI, make better ad choices and starve the sites that are not creating quality content."
But when I asked the obvious tough question of why on earth it has taken a decade and half to realize that half of all ads go unseen, Vollman and Hunter had to reach for answers.
Hunter said the information age has been very much in its infancy, and that it takes time for the right tools to come along.
Also see: The Digital Skeptic: Software Sales Are Over. We're All Concierges Now>>
"Validation is the first step," she said. "Then you can convert that into traditional media metrics, and that is what marketers want."
Both agreed, though, that the rate of change on the Internet age is only accelerating, and new challenges loom. There is device proliferation, including the shift from PCs and tablets to immersive displays such as Google Glass. There are the challenges of managing unstructured data that make up the majority of the consumer information Web advertising is based on.
"It took 10 years for us to realize that click-through rates do not translate into ROI," Hunter says. "But we figured that out. It's a process."
No better than skywriting
To these jaundiced eyes, however, the bottom line is clear: Web advertising, for all its glitz and glamour, is no more or less unique or effective or efficient as radio, TV or print -- or skywriting, for that matter.
The Web does some interesting things, but just as much is wasted. Just as much is guesswork. And just as much is unknown.
Any investor who doesn't live in that reality is living in a bad advertising joke.
This commentary comes from an independent investor or market observer as part of TheStreet guest contributor program. The views expressed are those of the author and do not necessarily represent the views of TheStreet or its management.