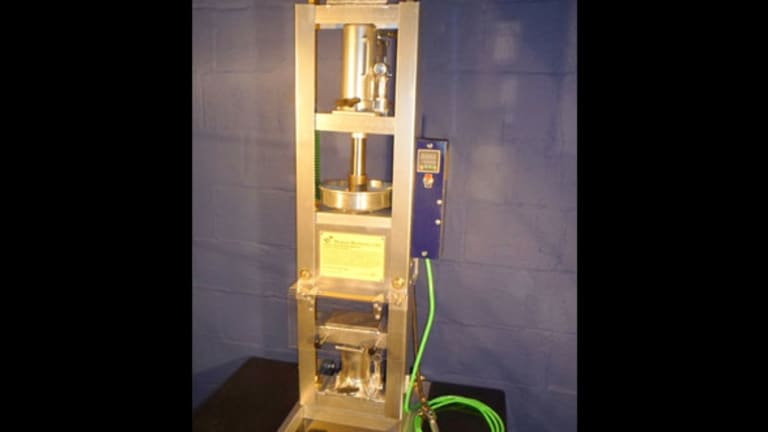 #DigitalSkeptic: The Small Machine Miracle Near 34th Street
These 'small machines' shrink entire factories down to the scale of a walkup office in New York City, but limitations have started to emerge.
KOREATOWN, NEW YORK (TheStreet) -- Dean DiPietro may be an skilled and demanding product engineer and designer, but he knows what a miracle manufacturing things with his own hands can be.
"Put a device that can accomplish something in the same room as engineers like us, and you are dispensing an illegal drug to us," said DiPietro, partner at Tomorrow Lab, the product design, engineering -- and suddenly manufacturing -- firm somehow shoehorned into a cramped seventh-floor office on 32nd St.
"If this is a city that claims to have the smarts, passion and money to solve the world's design problem," he said, showing off the debut test line of plastic injected parts made here, "then why not bring the solution for those problems closer to the designers designing and building the product?"
DiPietro and his partners, Pepin Gelardi and Ted Ullrich, are part of the new generation of New York City-based design and engineering firms trailblazing fundamentally new ways to design, engineer and increasingly manufacture an equally new generation of consumer and business products. The five-person Tomorrow Lab, and firms such as Brooklyn's Pensa and Manhattan's MakeSimply, are taking clever advantage of a growing family of low-cost manufacturing tools -- not merely ludicrously hip tools such as 3-D printers from red-hot makers such as Stratasys Systems and 3D Systems, but an entire family of surprisingly sophisticated, low-cost manufacturing technologies dubbed as "small machines."
These small machine riffs on traditional manufacturing systems such as plastic mold injectors, computer-numeric-controlled die-cutters and polishing tools in effect shrink entire factories down to a scale where even manufacturing novices such as Tomorrow Lab can aim at making complex consumer products all by themselves.
Also see: #DigitalSkeptic's 5 Most Disruptive Desktop Manufacturing Tools>>
"These machines get far less in the way than our MakerBot does," said DiPietro. "There is enough here that anybody with a reasonable knowledge of product manufacture can get excellent results."
Tooling up the small machine
Investors should understand this small machine movement is still very early stage. Tomorrow Lab is -- at best -- prototyping primitive plastic parts. It will be some time before something like an iPhone comes out of this office. But at least based on several interviews with DiPietro and two Tomorrow Lab staffers, Shelby Thompson and Haiman Yie, the company has been getting exciting results with one of the most intriguing new devices in the small machine orbit -- the Benchtop Injection Molding Machine ($2,850) built by Woodbridge, Va.-based Medium Machinery.
What Tomorrow Lab's early work shows is benchtop injection molders do exactly that: A 3-foot-high, benchtop system can really inject fluid versions of viscous material -- usually warm plastics -- into a mold. Than that material is carefully allowed to cool into a tightly engineered shape, when it is released from that mold and sent on for other processing or final assembly. The injection-molded parts cost literally pennies per item to make and are the heart of everything from yes, the Apple iPhone to the Chevy Impala.
"Plastic parts are in 90% of products," said Levon Fiore, owner and founder of Medium Machinery. "The idea of this machine was to offer as near-professional quality in a device that most any maker making any sort of product could afford."
Investors should also note that for all the upside of small machines such as the Benchtop Injection Molding Machine, limitations have emerged. For starters, documentation for a device this complex turned out to be a challenge. "We opened the box and found that the photos did not exactly match the product in the box," Thompson said. "We eventually figured it out. But unless you have experience in these tools that could have been difficult."
Also see: #DigitalSkeptic: The Year In Information Dumbness>>
Next, a benchtop injection molder is like any tool. It's not a free-standing machine. It requires a certain level of infrastructure to work properly -- in this case an air compressor was needed to provide the heat and pressure to inject plastics into molds. "It was not a big thing for an office like ours to invest in that system," said Tomorrow Lab's Ullrich. "But still, it's a step that would need to be taken, and it costs real money."
Finally, there was the major issue of testing. Tomorrow Lab estimates that roughly three-quarters of the 20 or so hours it took to get the device working was spent on trial-and-error testing. Meaning expertise will be key in getting good -- and profitable -- results.
"I think that the amount of testing time they saw was a little high. We have never had a complaint from the hundreds of machines we have sold," said Medium Machinery's Fiore. "But as these tools go into wider circulation, I can see all these challenges beings ones we need to address."
Machining some small machine upside
In spite of the issues, Tomorrow Labs' testing into the tomorrow of making things is clearly cause for investor glee. Not only will this family of small machines speed the recovery of domestic U.S. manufacturing, but small machine assembly plants like the prototype system here will be snug and slick enough to add real value to really unlikely places -- including smack in the middle of some of the most expensive real estate on earth: right here, just five blocks from the Empire State Building.
"I did not want to make something that would sit on a shelf and get Christmas decorations put on it," Fiore said. "I wanted a useful tool that could make useful things."
Fiore -- and small machine makers like him -- have given investors the greatest holiday gift of all in 2013: hope.
This commentary comes from an independent investor or market observer as part of TheStreet guest contributor program. The views expressed are those of the author and do not necessarily represent the views of TheStreet or its management.