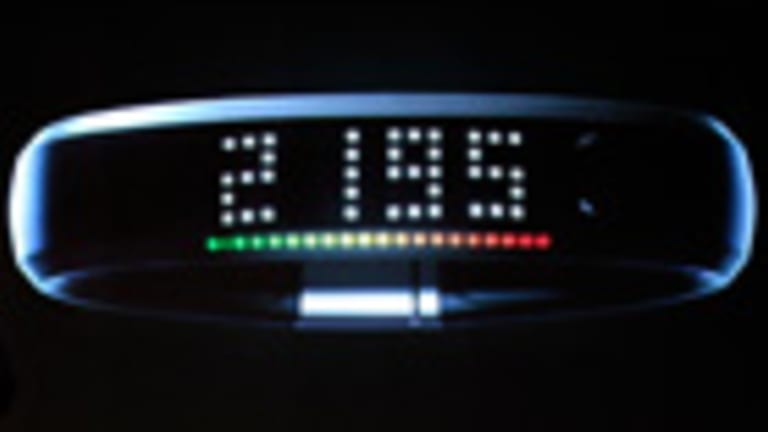 #DigitalSkeptic: The Quantified-Self Delusion
Nike and others say we can quantify how we exercise and live, but their promises come with qualifiers.
Nike and others say we can quantify how we exercise and live, but their promises come with qualifiers.
NEW YORK (
) -- You may think you know how far you ran or how any calories you burned doing it, but David Putrino knows full well how easy it is to fool oneself when it comes to "quantifying oneself."
"The core of my work is using 20-camera motion-capture systems to precisely quantify the body moving in space," said Putrino, co-founder of
GesTherapy
, an intriguing New York City medical rehab company that turns off-the-shelf video game and PC controllers into a powerful therapy tools for stroke patients. "Then I replicate much of what those high-end systems capture with consumer devices like the
Microsoft
(MSFT) - Get Report
Kinect and the
Leap Motion
Controller."
And this NYU, MIT and Harvard researcher has learned a powerful lesson when learning to quantify the self with tools made for fun and games: They work -- with a lot of hard work.
"When these tools for play are put to the serious use of measuring body mechanics, weight loss or activity," Putrino said, "that's where we have to be careful about how valid the data is."
"You cannot be lazy about the information these devices produce, or bad things start to happen."
The engaging, sleep-averse Australian -- who also finds time to contribute to the
that seeks to aid those living with severe aymotrophic lateral sclerosis, or Lou Gerhig's Disease -- knows firsthand what can go right, and wrong, with rehab.
"I had a seizure event as a child," he told me. "And the doctors told my mother that I would struggle to recover the full use of my left side." His family simply ignored the prognosis and began years of rigorous rehab, making a commitment to recovery that not only reclaimed the full use of Putrino's body, but turned him into the fit, practicing physical therapist he is today.
"I know exactly what rehabilitation can do, if you honestly commit to it," he said. "The body is a magical thing once you face the details of what it can -- and can't -- do."
But details in body mechanics can be woefully lost both on a new generation of applications made for the Kinect and Leap Motion and consumer-grade health monitoring gadgets such as the Nike+ FuelBand.
Also see: #DigitalSkeptic: Crowdfunded Gadgets Come With Security Dangers>>
The quantified-self delusion
Investors will be startled to see just how well developed Putrino's notion is of the deep limits lurking in the dozens of consumer-grade body motion and data capture devices bulking up today's hip "quantified self" movement.
First off, manufacturers tend to be mum about exactly what their devices can and can't do. A very nice Leap Motion spokeswoman, Chelsea Guidice, declined to comment for this story. As did Joseph Teegardin, a press contact at
Nike
(NKE) - Get Report
and several representatives at the Kinect group at Microsoft.
With some digging, it's possible to get a feel for the body of work on the pitfalls of consumer-grade motion sensing tools. Microsoft, to its credit, produces a sophisticated, open and free online
Human Interface Guidelines kit
for Kinect developers where it is made clear that the Kinect creates only the raw data. It's up to the application developer to interpret that information properly and create a functioning app.
"Kinect for Windows enables a lot of new interaction, but also new challenges," the guide warns. "It's especially hard to guess ahead of time what will work and what won't. Conduct user tests often and early."
The sense of small developers scaling a giant mountain of motion control data is confirmed in Leap Motion's similar
. Apart from the sheer overwhelming amount of information developers better know their way around, there's a recurring "work in progress" vibe.
"Not really sure what to do next," said
in the Leap Motion online resource. "But I'm sure there's some cool stuff you could do with a system like this."
And then there is the Nike+. FuelBand. Teegardin confirmed that the FuelBand is a closed commercial development platform for which only carefully screened partners are given access to core technology. For example, there is the Fuel Lab, where developers race to create apps for a $50,000-per-team prize.
But deep in Nike's online FuelBand literature is a
that discloses that the tool is nothing more than a Class B FCC digital device -- one that Putrino said need not have its claimed health benefits confirmed with regulators such as the Food and Drug Administration.
Also see: #DigitalSkeptic: There's a Shakeout Coming in 3-D Printers>>
That makes him very dubious about the quality of information. "Gadgets like the FuelBand," he said, "do really questionable analysis and give you no access to the raw data."
Those data quality concerns have been picked up in elsewhere. The reliable Jenna Wortham over at
The New York Times
about the inconsistent results she found one day in the FuelBand.
"One lazy Sunday, I lounged around my apartment with my iPad and an endless pot of coffee, barely moving," she wrote. "But the band delivered a cheery message: I'd hit my goal for the day. Huh?"
The "qualified self"
As Putrino explained it, at the heart of the issues with quantifying the self is how the captured data is ultimately interpreted. The bits of mathematics involved are known as "inverse kinematic algorithms," algos that have exploded in popularity as the video game revolution unfolded. Putrino pointed me to dozens of them littering many game-developer forums, as well as the utter lack of resources needed to confirm they are accurate.
"The question you have to continually ask here is, 'How did you validate what you are seeing?'" Putrino said. "Developers mean well. But there's a culture of kids grabbing an algo and running with it. That approach simply does not stand up to rigorous analysis."
And the damage can be real. Putrino worries deeply than a new generation of general-purpose consumer motion-capture devices are making claims that are impossible to confirm, much less challenge.
"The truly dangerous devices are the ones that say no matter what shape, size or fitness level you are, if you use our one-size-fits-all device we'll tell you how many calories you are burning, how far you ran and how much work each of your muscles did -- and therefore what your next choice of action should be,' he said.
"These devices are nothing more than the 'qualified self,'" he said. "It's simply nonsense."
This commentary comes from an independent investor or market observer as part of TheStreet guest contributor program. The views expressed are those of the author and do not necessarily represent the views of TheStreet or its management.