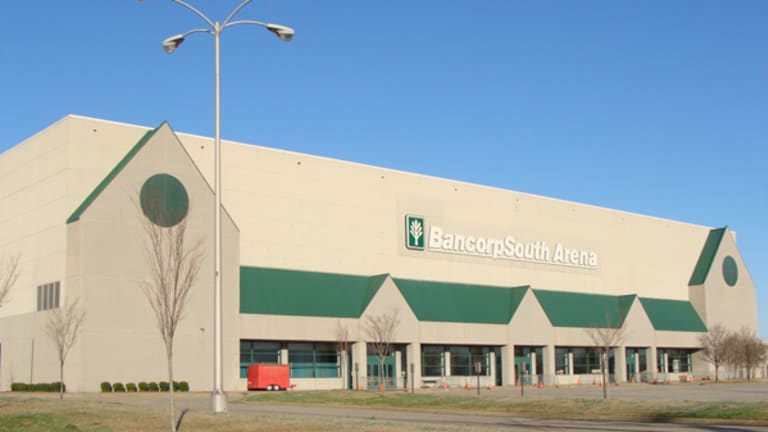 #DigitalSkeptic: The Live Concert Business Hates Live Concerts
Jay Z might fill a gap in an arena's schedule, but what bookers really want are shows, graduations, even meetings.
NEW YORK (
) -- Todd Hunt will tell anybody who's got the guts to listen that the secret to making money producing big-time live music concerts in the digital age is not strictly relying on partners such as
Live Nation Worldwide
or selling VIP tickets or T-Shirts or via Facebook or the iPhone or even the mobile Web.
The secret is not actually being in the live concert business at all.
"The concerts are exciting. They are the glitz and the glamour. But they are not the bulk of the business," Hunt told me on the phone. He's the director of the 10,000-seat
BancorpSouth Arena and Conference Center
in Tupelo, Miss., which serves the greater Mid-South, including Tennessee and Alabama.
"Markets vary dramatically," he said. "And it's not like we don't want concerts, but venues of this scale get at most 20% of revenue from live music."
Investors should realize that Hunt is not merely speaking from his 18-some-odd years in the live event trade, nine of which were spent working and then managing BancorpSouth. Or that his facility fetches top-line sales of $1.5 million to $2 million per year from selling north of 235,000 tickets for concerts, events such as
Disney on Ice
, World Wrestling Entertainment and smaller local graduations and meetings. Hunt is also chairman of the arenas committee for the
International Association of Venue Managers
, the Coppell, Texas-based large venue trade group.
That means he has a unique line of sight on just the type of facilities that are supposed to be the final payday for today's digitally enabled stars, such as Jay Z, Taylor Swift or Justin Timberlake.
"We love doing concerts when they work," he said. "But the risks now are so great, you have to be very careful."
Also see: The Digital Skeptic: Even Beyonce Battles the Bottom Line on Tour>>
What it really takes to get real
Hunt, a former drummer who got his first taste of the concert business producing student events at Mississippi State University back in the 1980s, has had his fingers on thousands of live concert deals over the past 30 years. And the bass drum behind today's no-win live event biz is simple for Hunt to play:
Out-of-control costs and razor-thin margins.
"I can talk about these numbers because I've seen the contracts. Bon Jovi, for example, in 1987 was a $35,000 guarantee," he said. "He's a top-grossing act now, playing much of the same music, but it's a $1 million-plus guarantee."
The major misconception he says, is the Web age pipe dream that live events are somehow easy-to-produce, plug-and-play affairs.
"You are not dealing with a basketball game or a graduation where the seating plan is established," Hunt said. "Each show is completely unique."
BancorpSouth and arenas like it are in constant, complex negotiations with artists' representatives, technical advisers and local promoters just to define the basics for a concert, including stage placement, sight lines and seating arrangements.
"A whole lot of homework has to get done to even figure out what your seating inventory is, where you can price it and what you costs are," he said. "Then you can see if it makes any sense or not."
Next comes the blizzard of tour-specific technical specs that must be retrofitted to his arena or any building like it: Loading bays, rigging loads, lighting packages, pyrotechnics and even power needs are major issues that can harm -- or even kill -- a deal.
Also see: The Digital Skeptic: Justin Timberlake Is Just Getting By>>
"I have a $275,000 annual electric bill. If they are doing a lot of lights, it's a real cost," Hunt said. "I've seen ceiling heights knock out some tours."
What makes it that much trickier, Hunt says, is all these problem must be solved in a concert market built of almost pathetic margins.
"It's the last 10 tickets sold out of every 100 where the money is made," he said. "So, yes, for some shows with great food and beverage, T-shirts and parking, there is profit. But if the weather is bad or something goes wrong in the marketing, some promoters never make it back from that."
Affordable health care could make concerts not affordable
But large live events face an even bigger question. Hunt says it is an open question in his industry how the Patient Protection and Affordable Care Act will affect his staff of 12, plus 24 permanent part-timers and concert event staffs that can swell to 350 for big shows.
"If that casual labor force falls under the insurance provisions," Hunt says, "It will definitely affect everything that we do."
That all means, friends, that the once-glorious business of placing geniuses such as Billy Joel, Bruce Springsteen, Rolling Stones, Taylor Swift or Kenny Chesney in front of paying fans has been reduced by the digital age to this:
"You reach for the big events even though they are not financially successful," he said. "Sometimes, you do it to fill a programming void in the calendar."
Instead, venue managers are being drawn to a new generation of live events that simplify production problems, are based on repeatable brands usually found on TV or linear media and do not rely on the boom and bust economics of live music.
"It's become about serving a mix that a community wants," said Hunt, noting circuses, tie-ins with local sports franchises and new hybrids such as competitive cheerleading contests as big growth areas in large venues.
"We all want those anchor sports teams in our buildings, but after that, what we are all trying to get into now is the electronic dance music wave," he said. "That's just a DJ and a stage and sound system. That model has been very successful for multi-day events. But we venues are still trying to figure that one out."
This commentary comes from an independent investor or market observer as part of TheStreet guest contributor program. The views expressed are those of the author and do not necessarily represent the views of TheStreet or its management.