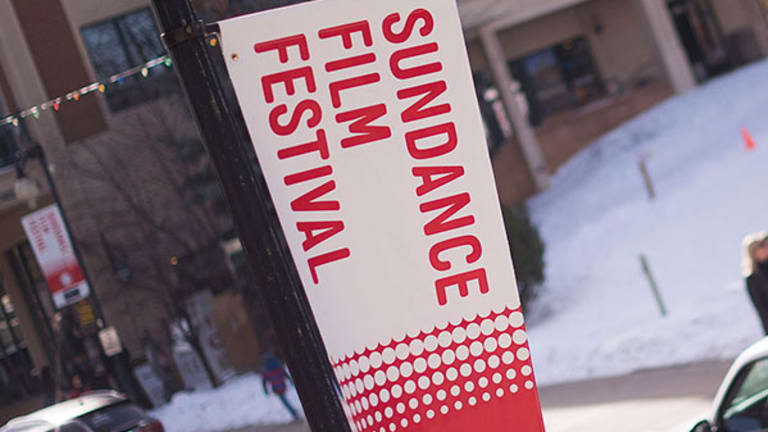 #DigitalSkeptic: Sun Sets on Sundance -- and Independent Film
The sense that today's independent motion picture industry faces massive self-delusion is confirmed by one of its own top producers.
NEW YORK (TheStreet) -- Ted Hope has spent the past quarter-century making the indie-film scene at the Sundance Film Festival. "But this year, I couldn't see making the trip," he said.
Over the past month or so, the long-time independent film producer -- now CEO of Fandor, the San Francisco-based online indie-film Web streaming and curation service -- has been breaking down for me the new realities of American independent film. Investors should realize that Hope is no celluloid wannabe. He started in the film biz all the way back in the early '90s, collaborating with major directors such as Ang Lee, Hal Hartley and Todd Solondz. By my count, two dozen of his projects have been Sundance entries, including American Splendor and The Brothers McMullen. And Hope knows how to make money working without the net of a big film studio. In 2001, for example, In the Bedroom, for which he was an executive producer, grossed north of $43 million worldwide on just a $1.7 million production budget, according the-numbers.com.
But in these collapsing Info Age days, even a world-class dream salesman such as Hope has had to admit that American independent films don't have much to hope for. Hope says the revolution in low-cost filmmaking technologies, mixed with essentially limitless Web access to storytelling in the form of movies, TVs and video games, essentially drowns most small film projects in a sea of stories. "There were 50,000 feature films made [globally] last year. A lot of them are really pretty good," he said. "It's great those stories are getting told, but it makes a sort of 'crisis of choice' for consumers.
"And makes it all but impossible for the existing film infrastructure to pick a winner."
Also see: #DigitalSkeptic: Tiny, Independent Charlevoix Cinema III Has Film Industry Cure>>
Getting wrecked in The Canyons
Even the briefest wander through the indie-film multiplex shows how sadly right Hope is. Never mind that the $38 million made by 12 Years a Slave or the $17.5 million earned by Enough Said, among the top-grossing independent films for 2013, were not even in the ballpark of the $231 million indie hit Juno made in 2007, or the $378 million earned by Slumdog Millionaire back in 2009. To see just how mean the indie filmmaking streets are, consider the sad fate of The Canyons, last year's Paul Schrader/Bret Easton Ellis film featuring the freshly detoxed Lindsay Lohan.
Nobody close to this project returned my emails, but really, what else would anybody have said? It's all public record: Here was a property, it seemed, that did everything right by today's Digital Age rules of filmic engagement. First off, The Canyons was a hip, socially funded hit. It raised a cool $159,000 on Kickstarter back in 2012 and it generated what had to be millions in of pre-release media exposure on its brooding, bedroom focused plot and so-called micro-budget strategy.
"There will be no studio looking over their shoulders offering idiot notes," wroteThe New York Times' Stephen Rodrick. And while the film opened to almost universally bad reviews, it is far from the worst movie ever made. Go look and you'll see that Lohan actually gives the performance of her life, about her life. And considering how cheap this picture was to make -- and the amount of odd, lurid sex in the thing -- you'd figure there had to be profit somewhere.
But The Canyons grossed just $59,000, barely over a third of its Kickstarter commitments.
Also see: #DigitalSkeptic: Ad Agencies Are Being Moved Off Madison Ave. to Digital Slum>>
Film hipsters would be making a bomb of Jack Carter proportions blaming this mega-flop on Lohan. Sundance founder Robert Redford's All Is Lost did a modest $8.6 million worldwide -- about a week's salary for the $75 million Tom Cruise earned on disaster pic War of the Worlds.
Real money this is not.
Telling the wrong story
The sense that today's independent motion picture industry is a facing Life of Pi-like self-delusion is confirmed emphatically by Hope. "Today's narrative is being shaped by video games and episodic TV more than they are by movies," he said. "It's almost as if we are trying to solve the wrong problem with the traditional multi-act movie model."
Hope's sense of a looming cluttered irrelevance for American indie film is -- believe it or not -- best confirmed by The Sundance Institute Itself. Go look at its online infographic: 30 years of the Sundance Film Festival, which graphically recounts the event's year by year evolution. Back in 1985, there were 86 pictures shown in two theaters, including real hits such as The Falcon and the Snowman and Brother from Another Planet. Compare that with last year, when 45,000 some-odd attendees viewed 193 films selected from more than 12,000 submissions in nine theaters. The biggest of them was maybe Richard Linklater's Before Midnight.
What Hope has had the courage to admit to me is what film industry investors need to admit to themselves: Sure, film festivals such as Sundance, Venice and Toronto are fun to visit. And investable properties are there. But in today's cluttered, race-to-the-bottom digital age, Sundance is nothing more than another trade show, like the Consumer Electronics Show or SXSW.
Yeah, people show up. But the story of who's really getting paid has never been tougher to tell.
This commentary comes from an independent investor or market observer as part of TheStreet guest contributor program. The views expressed are those of the author and do not necessarily represent the views of TheStreet or its management.