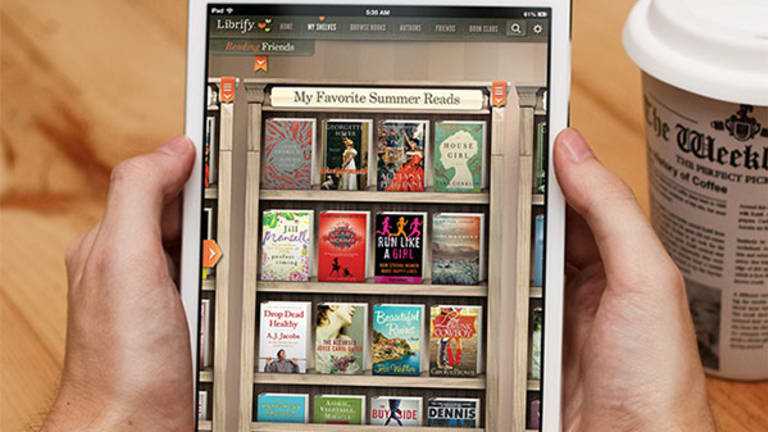 #DigitalSkeptic: Sorry, But Books Will Be Like Netflix, With Revenue as Cliffhanger
Flat-rate subscription pricing is turning e-books into a digital-age white knuckler.
NEW YORK (TheStreet) -- Flat-rate subscription pricing is turning e-books into a digital-age white knuckler.
"These new subscription services all sit around and sing kumbaya about how great it is going to be for everybody," Ian Lamont, founder and publisher of Boston-based i30 Media, told me over the phone a month or so back. "But these models only work under certain circumstances in the publishing industry."
Lamont knows the e-publisher backstory. The man's done serious publishing gigs at International Data Group, Harvard University and The Industry Standard. After a stint as an MIT Sloan Fellow, in 2012 he launched i30 Media as an e-book and print publishing house for fast-to-market, easy-to-digest In 30 Minutes guides that give readers a helping hand with common but wonky apps such as Dropbox, Google Drive and Excel.
Unlike me, Lamont never lost faith in a happy ending for e-books. He relishes tinkering with the business models behind i30 Media, which he says has been profitable since its second month.
"I have tried everything I can think of to get the business right," he said. "I even released the exact same title at two different prices to see the tolerance for prices for e-books or the same book in print."
But when the conversation wound around to the new flock of uber-hip, flat-rate, Netflix-like subscription e-book services such as Scribd, Entitle or Oyster, which just raised a cool $14 million from Highland Capital Partners e, the eternal new-media optimist became, well ... just like me.
Also see: #DigitalSkeptic: E-Books Have Peaked>>
"I have heard about these new subscription book models for years," he said. "And it concerns me greatly that they are coming to publishing."
Flat-rate Netflix pricing flattens publishing
Lamont cuts right to the crux of the dark investor narrative looming in renting access to e-books for a flat monthly fee. He points out aptly that -- just as with Netflix for movies or Pandora for music -- competition in the subscription book biz is up. And profit margins are probably down. Late last year, early subscription e-book provider Reteah in Wilmington, N.C., rebranded itself as Entitle, basically as a lower-priced book service. Two books would now be available starting at $9.99 per month. That roughly $5 per book is about 20% lower than the $6.25 average price of the Kindle bestseller list I found on Amazon.
New York-based Oyster shows just how shameless the e-publishing race to the bottom has become. It offers utterly unlimited access to more than 100,000 titles for the same $9.99 per month. And there's San Francisco-based Scribd, which sets the low bar for e-book value: All of its 300,000-plus books are available for just $8.99 per month.
"Similar to how Pandora now must face competitors like Spotify and then Beats Music, that kind of price pressure is only going to get worse," Lamont said.
The gating factor for these all-you-can-eat subscription e-book buffets turns out to be just like it is for music services Pandora or Spotify. How many books can a customer read in a month? Lamont and others close to emerging subscription publishing pricing models say authors and publishers get paid full-cover, wholesale fees on a per-book basis, usually when something on the order of 20% of a given book is read.
Also see: The Digital Skeptic: 3 Whole New Kinds of e-Book>>
"It can vary, but once they have read past that trigger point, the full wholesale price is paid to the publisher," says Mark Coker, CEO of Smashwords, a self-publishing distribution firm based in San Francisco, who says he has struck just such deals with emerging subscription services.
Lamont and Coker confirm the scary back-of-the-envelope e-book math. Assuming, say, an Oyster customer reads five books a month, there's $2 in revenue per book. But heaven forbid that reader breezes through 20 titles over those four weeks. Then potential per-book revenue could fall to just 50 cents per book.
At those levels, profits become very hard to squint out. "If Oyster only attracts the book glutton, these services will fail," Coker said.
The flat-rate cliffhanger
When I talked about the risks inherent in flat-rate pricing to Willem Van Lancker and Eric Stromberg, co-founders of Oyster, they confirmed that while they could not disclose exact revenue models, there are challenges in offering unlimited books for a flat price. The trick, they say, is in developing a user interface that promotes slower consumption of books.
"Oyster is built around an elegant reading experience that offers readers the chance to spend more time reading and not mindlessly browsing titles," Stromberg said. And true enough, I did find Oyster's slick virtual e-book design made it easier to read for longer sessions than, say, a traditional Kindle. The two also said the company has a solid track record in managing the consumption of books so costs are covered.
But Lamont and Coker point out that e-book pricing -- and profits -- is still a work in progress.
"If you consider the position these companies are putting themselves in and what a Netflix or Spotify has done to the payments for the average movie maker or musician," Lamont said, "it seems the only way they can make it is by squeezing the bottom line."
"It's far too early in this story to know how subscription e-books will turn out," he said.
This commentary comes from an independent investor or market observer as part of TheStreet guest contributor program. The views expressed are those of the author and do not necessarily represent the views of TheStreet or its management.