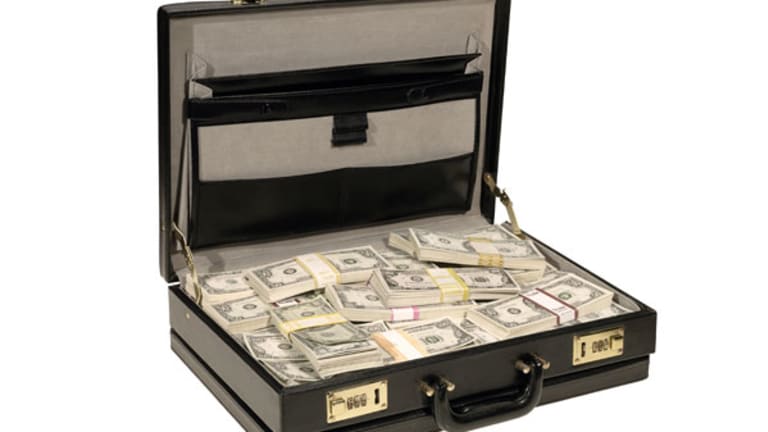 #DigitalSkeptic: Peer-to-Peer Lending Is Now Wall Street
A watershed $53 million securitization deal marks the start of a troubling era for the bigger lending banks.
NEW YORK (
) -- Jonathan Barlow is dead certain life is going to get deadly for Wall Street's cozy credit card industry.
"The traditional banker is going to get cut out of the equation," he told me on the phone. Barlow, the CEO of New York-based
Eaglewood Capital Management
, has a good reason to sound confident. He just announced a
watershed $53 million deal
that securitizes credit card-like loans to prime investors such as family offices, funds of funds, mutual funds, foundations and commercial banks.
But instead of using traditional Wall Street-handled fixed payment assets, such as pools of credit card payments or used car loans, Eaglewood is leveraging north of $100 million in low-cost, peer-to-peer loans made on Web-lending platforms such as
Prosper
and -- in the case of this specific deal -- San Francisco-based
Lending Club
.
As Barlow sees it, peer-to-peer lending is the ideal way to bust up an out-of-date credit card business.
"The credit card industry is an oligopoly where banks like
Citi
(C) - Get Citigroup Inc. Report
,
Chase
(JPM) - Get JPMorgan Chase & Co. Report
and
Bank of America
(BAC) - Get Bank of America Corp Report
control roughly 70% of the market," he said. These banks have never had to compete on service or underwriting. But now with true institutional, first-tier investors accessing peer-to-peer loans, that's changing.
"I believe that peer lending will disrupt the credit card market over the next decade," he said.
And based on what I'm told by other players in the emerging digital lending space who I've come to trust, Barlow has the game to make good on his credit card industry trash talk.
Also see: #DigitalSkeptic: Lending Club Data Raises a Default Question>>
"Jon Barlow is a shrewd businessman," said Sam Graziano, co-founder of
Fundation
, a New York-based Web small-business lending platform, who is familiar with Barlow's offering. "He recognized very early that the P2P market was going to need to evolve into an institutional-quality market if it was going to thrive."
Cutting a peer-to-peer deal
The more I talked with Barlow on how his seven-person Eaglewood Capital did this $53 million deal, the more it became clear that mammoth ramifications loom as equally big investors take to peer-to-peer lending.
"We assembled our portfolio in a way that is similar to how many investors would use peer-to-peer lending like Lending Club," he said. "But we took a very sophisticated approach to our loan selection process that opens the asset class to larger investors."
Over the past year, he and his partner, Steve Lee, created an algorithm that works hand in hand with existing peer lending platforms to automatically identify loans meeting the criteria for institutional lenders. Those loans are funded by a single large pool of investments controlled by Eaglewood that so far runs north of $100 million. This pools earns return just like normal peer-to-peer loans, as lendees, who have 700-plus FICO scores and average borrower income of more than $90,000, pay off their loans in fixed payments over 36 months.
What makes this pool institutional-grade is that Barlow peeled off $53 million of funds into separate buckets and placed those dollars in new trusts that turned around and issued $40 million of asset-backed securities. That entity then is offered to a small group of large investors who execute their own due diligence requirements, confirming Eaglewood's peer-to-peer lending pool meets their loan standards.
With the help of nothing more than a Dallas boutique broker-dealer named
Waterford Capital
, an arms-length transaction is cut between Eaglewood and its institutional investor partners. And voila, a fully leveraged, institutional-grade, asset-backed security is created with a fraction of the traditional asset-backed Wall Street infrastructure.
"Cutting out the credit card companies is at the heart of peer-to-peer lending," Barlow said. "Now borrowers are not dealing with Citi or Chase. They are using Eaglewood through the peer-to-peer platform."
Also see: #DigitalSkeptic: Payments Industry Proves Disrupting Is for Losers>>
A strange new peer in peer lending
Believe it or not, Barlow's fund is only the start of the change coming to peer-to-peer lending. The next issue is how will big investors such as Eaglewood affect little investors who share the same service. Lending Club CEO Renaud Laplanche was adamant when I spoke with him this summer that his platform can be a tool for big and small investors alike. And Barlow clearly shares that sentiment.
"We believe we can add value on the loan selection process for a specific type of larger investor by overlaying our proprietary selection process without affecting what the smaller lender does," he says.
Those who study the space are seeing changes already altering the peer-to-peer market.
"I am definitely seeing loans getting snapped up faster on the platform," said Peter Renton to me in an email this week. He is founder of
Lend Academy
, the San Francisco-based peer lending research and training firm. Renton
the demand for new loans is high but said, "Funnily enough, I am having an easier time deploying money today than I did three months ago."
Either way, the personal world of one person lending to another via the Web is about to get more crowded. "You have to know what you are doing," Renton said. "And be very quick."
Big fish are making big waves in the peer-to-peer lending seas.
This commentary comes from an independent investor or market observer as part of TheStreet guest contributor program. The views expressed are those of the author and do not necessarily represent the views of TheStreet or its management.