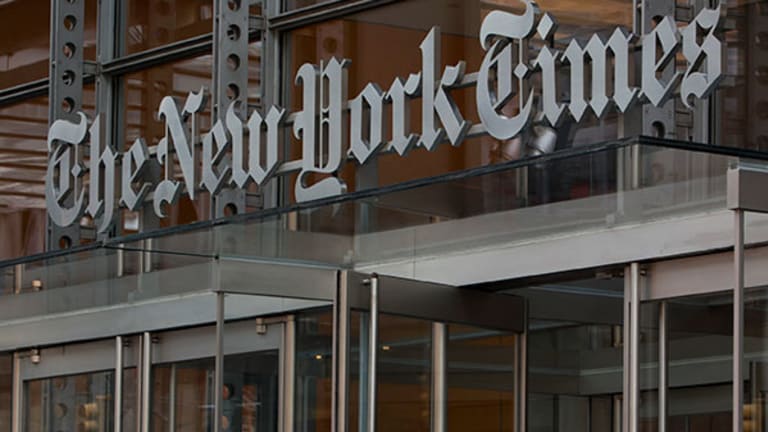 #DigitalSkeptic: New Media News Bets Are No Solutions
After 15 years into a new-media generation, even two industries' giants still have no clue what they're doing.
NEW YORK (
) -- Listen carefully to the combined editorial tzars of
The Associated Press
,
The New York Times
,
Bloomberg
and
CNBC
and you'll find we're not the only ones with questions about the news business in the Information Age.
"What used to be the toughest thing we did was creating content," Mark Hoffman, the president of
CNBC
, told about 250 news professionals and students on a warm fall night this month. But these days, "Getting people to that content is some sort of advanced calculus that is very tough to figure out."
Hoffman was speaking at a conference of the Society of American Business Editors and Writers. After 15 some-odd years of trying, investors would expect this kind of mainstream media meet-up to be the last place to hear the news business is still in beta testing.
But it is.
"There is a large and potentially growable audience," was about as specific as Mark Thompson, president and CEO of
The New York Times Co.
(NYT) - Get New York Times Company (The) Report
, would get. "Our challenge is how to figure out -- given that the audience is there -- the path between us and them."
To be fair, these execs do make a case that adapting to the Digital Age has not been the near-impossible lunar mission it seemed back in the Clinton era. "It has taken us a while flapping around in that territory," is how Kathleen Carroll, senior vice president and executive editor at
The Associated Press
summed it up. And overall she's optimistic that the traditional news business is more customer focused, more conversational, shorter and more accessible.
But even given that good news about news, it's remarkable what these heavies said still lies ahead for the news business:
Also see: #DigitalSkeptic: NPR Opens Pandora's Box on News Strategy>>
There is the huge gap between the fat profits of old-line services such as TV news and the razor-thin margins of Web news. There are the challenges of paywalls, free Web content and the stresses of emerging global markets.
"The more local we become, the more international we become," explained Matthew Winkler, editor-in-chief at
Bloomberg News
. Winkler said global regionalization rapidly turns into a tricky dance of mastering new languages and logic.
And all that must be accomplished in a digital world where the fundamentals of success are not yet fully developed. "Counting the number of people that have accessed any piece of content, a program, a piece of video or story," Hoffman said, "is as imprecise as it has ever been."
New media loses its new mind
Now, these issues would be just the worries of throwback news nerds -- save for one crucial fact: The brightest lights of the Information Economy have suddenly decided that fixing the news business is the new "new thing."
No less than
eBay
founder Pierre Omidyar said last week he's set to invest in some sort of undefined investigative news initiative with Glenn Greenwald of
Salon
and
The Guardian
fame. Steve Jobs' widow, Laurene Powell Jobs, is backing a new-media brand called
. And let's not forget that
Amazon's
(AMZN) - Get Amazon.com Inc. Report
Jeff Bezos took over
The Washington Post
(WPO)
and Chris Hughes poured some of his
Facebook
(FB) - Get Meta Platforms Inc. Report
dollars into The New Republic.
Suddenly the challenges faced by those who do get paid to disseminate news -- that is, the execs speaking here in New York last month -- is critical stuff. Because, at least based on the public information about these new Silicon Valley news brands, none of the stubborn challenges of the 21-century news business seem to be taken seriously by Silicon Valley.
Also see: #DigitalSkeptic: The Targeted Web Ad Is a Lie>>
Ozy.com -- which boasts the backing of high-power Valley angel investor Ron Conway and
Google
(GOOG) - Get Alphabet Inc. Report
Chief Legal Officer David Drummond -- will try to compete in the Information Age news brawl with a brand argument of "The place you go to get a little smarter, a little sooner."
Omidyar described how his new-news enterprise would solve the major challenges of our age
to The New York Times' David Carr
: "If I engage in that system and actually change the rules of the system, I can make it work a different way," he said.
And Jeff Bezos himself confirmed the general "no idea what we're doing yet" news vibe. "There is no map, and charting a path ahead will not be easy," he wrote in
an open letter to Washington Post staffers
.
"We will need to invent, which means we will need to experiment."
The plantation economy of news
To these tired eyes, all these media execs -- old and new -- are glossing over the real challenge head for news: how our business has become a vast plantation of mostly unpaid news workers.
According to Swedish-based Pingdom
, which tracks and optimizes Web performance around the globe, last year blogging services
Tumblr
and
WordPress
combined to have 147 million blogs -- probably created by an un- or under-paid person or two. And major media outlets have been shameless about grabbing the fruit of those unpaid millions. It was actually an April Fool's joke back in 2011 when
The Huffington Post
's unpaid contributors would be awarded "tasty sandwiches" for their efforts.
All of which makes of brutal and sad business reality: Once something costs little or nothing, there's nothing anybody - not even the smartest people in the world -- can do to figure out how to make that thing worth anything.
Meaning, the longer news stays in the business of paying nothing for news, the longer nothing new happens in the business of news.
This commentary comes from an independent investor or market observer as part of TheStreet guest contributor program. The views expressed are those of the author and do not necessarily represent the views of TheStreet or its management.