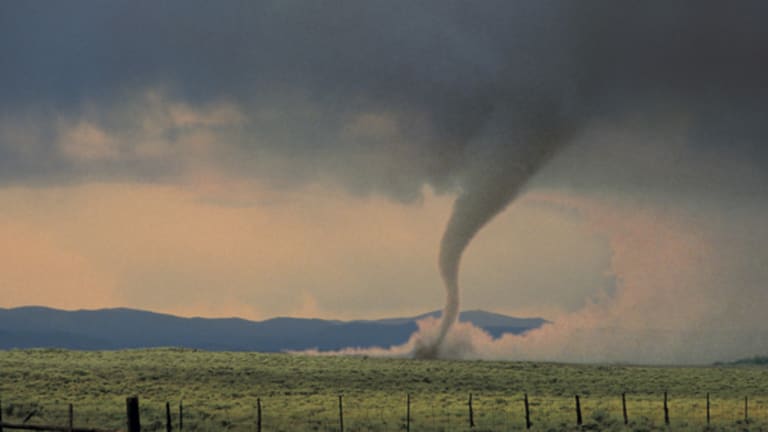 #DigitalSkeptic: Hurricane Internet Is the Most Evil of All
With all due respect to Sandy and Katrina, the bill for destruction from the Internet beats them all combined.
NEW YORK (
) -- With all due respect to Sandy, Andrew, Betsy, Donna, Camille, Katrina and all the rest of the extended late-summer hurricane family, in terms of pure dollar-value destruction they've got nothing on the monsoon that is the Internet.
The Information Age takes a strange pleasure in totting up the havoc caused by the weather's biggest disasters.
"Storm damage provides one way to compare events at different points in time in terms of their impacts on things we care about," said Roger Pielke, professor of environmental studies at the University of Colorado Boulder, who studies the cost of natural disasters. "So we keep top 10 lists and carefully account for lives lost and dollar damage."
So whether (get it?) it's academic blog posts such as Pielke's
Normalized U.S. Hurricane Damage 1900-2012
, including Sandy, or the National Hurricane Center's almost delightfully gruesome
Web page, or Redlands, Calif., data visualization service
Esri
's interactive
Top 10 Most Damaging US Hurricanes
, assuming we focus strictly on dollar losses, it's almost too easy to get a Digital Age feel for the total damage done by the wind and tide.
So what's the wrecker's bill for the weather's worst blows? Pielke estimates that the median annualized hurricane loss from 1900 to 2012 is $12.8 billion per year, expressed in 2012 dollars. Multiply that annual loss by the 112 years tracked and we get a darn good, round-number estimate of $1.4 billion lost.
That's a nice-sized chunk of destruction. But believe it or not, those thousand some-odd billions is nothing more than a run of bad weather when compared with the once and future tzar of dollar-amount devastation: the Digital Economy.
Also see: #DigitalSkeptic: The Targeted Web Ad Is a Lie>>
Trillions in market cap go missing
For better or worse, when it comes to valuing what has vanished in the Virtual Age, the music industry remains the valuation bellwether for digital markets. Music lives on the banks of the Information Economy, ahead of publishing, movies, financial services, corporate IT and higher education. It was first to feel the full blow of the Category 5 Digital Age cyclone as it made landfall at the dawn of the 21st century. And this coastal habitat gives it both the longest series of numbers to analyze and the deepest set of stories to count.
To wit, a May 2013 report,
Global Music Production and Distribution
, from
IBISWorld
, the Santa Monica, Calif., research shop is worth a look. The report estimates that from 2004-13, total worldwide music revenues fell to $27.6 billion from $49.5 billion.
And as Savannah Haspel, vice president for media relations at IBISWorld confirmed to me,
Pandora
(P)
,
Spotify
and
iTunes
(AAPL) - Get Apple Inc. Report
be damned, the damage is nowhere near done. Worldwide music sales are expected to continue to crater through 2018, to $26.3 billion from $27.6 billion, she said.
Investors most definitely cannot merely subtract today's $27.6 billion music sales from 2004's $49.5 billion in revenues to take a $22 billion or so Digital Age loss. Remember, we're talking about sales here -- the lifeblood of market cap. Every dollar not earned was not "not earned" just once, but lost over and over and over through the past decade.
Assume that at the industry's height -- say in 1999 -- the average music consumer spent $50 per year on music. That's a reasonable three CDs bought per year at $15 per CD. Then figure that there's roughly a 3 billion-person global music market -- or the half of the 6.8 billion global cellphones that can buy a song or stream music. If we multiply that $50 average per-user spend by today's 3 billion person worldwide music consumer market, we get a fabulous $150 billion per year in expected music sales.
Now comes the damage: If we back out today's $27.5 billion sold worldwide, that leaves a massive $123 billion or so in lost music revenues. Give these missing sales a conservative 10-times revenue public-market valuation and that's $1.3 trillion in missing market music industry cap -- about equal to what has been destroyed in all violent storms since 1900.
Also see: The Digital Skeptic: David Lowery Wants Maoism Out of the Music>>
Better grab something steady, here comes the real carnage:
If we bake in all the sales blasted out of all the markets by the wider information economy -- that is, the billions lost in motion pictures, legal and financial services, corporate IT and higher education revenues -- investors are easily wandering through tens of trillions in market-cap devastation.
All of which makes perfect, sad sense. How else can you explain that we live in a time of truly seismic value creation technologies, such as the cracked human genome or libraries of knowledge under our desks or free global communication yet, somehow, our miserable
Dow
still trades at the same 15 some-odd thousand it has been for the last half-decade.
Think about it: When our indexes should easily be trading at 40,000 or 60,000, yet aren't, it's not the mortgage crises or government spending or nickel-and-dime national health care that's killing us.
It's the fact that all that market cap, prosperity -- and happiness -- has simply been blown away.
This commentary comes from an independent investor or market observer as part of TheStreet guest contributor program. The views expressed are those of the author and do not necessarily represent the views of TheStreet or its management.