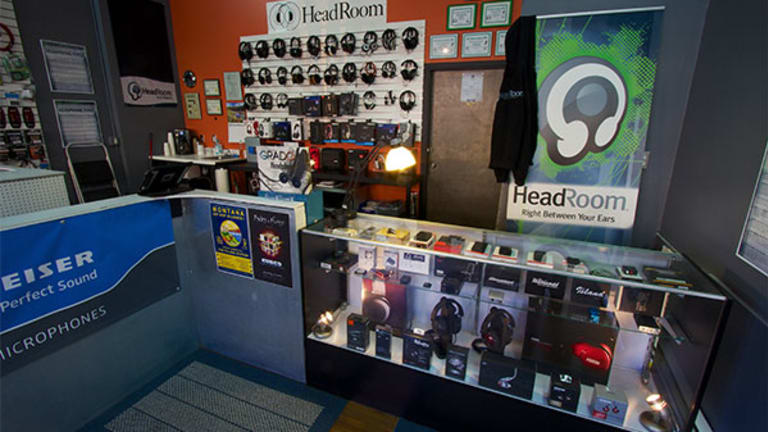 #DigitalSkeptic: Headphone Story Sounds Like Bricks-and-Mortar Retail Rebound
Headphones are not the only things migrating from the Web into real stores, or providing lessons in what shoppers want in retail.
NEW YORK (TheStreet) -- In Bozeman, Mont., at least, the future of music retailing has nothing whatsoever to do with the Internet.
"I got tired of watching the decline of the music business," Jamey Warren, CEO of headphone and portable audio retailer Headroom told me over the phone from the cozy college town on the edge of Yellowstone National Park. "I wanted to have a place to go down and experience music like my old favorite record stores."
"But to do that these days, you have to be selling headphones and personal audio and not CDs," Warren said.
Before investors dispatch this ex-sax player as a retail romantic, keep in mind that Warren's Headroom runs one of the oldest and most established online headphone retail Websites, Headphone.com.
"We started 22 years ago as a catalog retailer for audiophiles looking for the best possible headphones," says Warren, who took over as CEO in January 2013 but has been with the firm for north of a decade.
During that run, Headroom catered mostly to a clientele that demanded the best in custom amps and headphones and, most important of all, honest product reviews. "We were out there selling $1,500 headphones. You can't be afraid of taking a stand on products no matter which vendors you angered," Warren said.
For most of this millennium, this audiophile-first strategy kept Headroom on the breaking Web commerce wave. The operation grew to nearly two dozen employees as it expanded its custom headphone amp line and ramped up product testing. But by the 2008 economic collapse, other equipment makers pushed into the firm's core amp business, and the explosion in low-cost mobile headphones ate deeply into Headroom's lucrative retail revenues.
Also see: The Digital Skeptic: Bricks and Mortar No Easy Answer for Web Retailers>>
"We were looking for new ways to grow," Warren said. "We made the gut decision that the best way to sell a headphone was to get a great one on a customer's head."
"So we found the perfect location downtown, and opened a retail store."
Sounding good from the first day
Right away Warren learned that post-Web retailing is a "simple is better" business. Almost no money was spent on fixtures, in-store technology or marketing. Headroom merely repainted the existing store, put up some simple wallboard and focused the line on products it knew would sell, mostly from storied makers such as Sennheiser, Shure and AudioTechnica. 

"Basically, it looks and feels like an outlet shoe store," joked Tyll Hertsens, editor-in-chief of InnerFidelity, a headphone publisher and testing service, who also is based in Bozeman and was an early founder of Headroom. "But that authenticity turns out to be what people want: a simple place to come in and try out what works for them. Just like a shoe store."
Headroom got face to face with what real customers wanted from real headphones. It turned out shoppers rarely did comparative testing -- essentially the backbone of Headroom's online brand. Rather, they relied on the salesperson's advice for fit and price. And then they reacted intuitively.
"They usually choose one or two models based mostly on price and style," Warren said. "And then the salesperson comes around the counter, shows them how to wear the things and how to plug it in. And they either love it or hate it. And that is basically that."
Also see: #DigitalSkeptic: Tiny, Independent Charlevoix Cinema III Has Film Industry Cure>>
Hearing a bricks-and-mortar retail comeback
Headroom is far from the only retailer beating the real-store retail drum. Established music brands such as the estate of Bob Marley, rapper 50 Cent and, of course, Dr. Dre's line of Beats headphones have been selling hard electronics as a means to make up for decimated album and CD sales.
And headphones are not the only things migrating from the Web into real stores. San Francisco-based handbag merchant Baggu, which pioneered a line of direct-retail online handbags, recently opened a retail outlet. CEO Emily Sugihara told me they plan on expanding this year.
"It's really great to see how the customer reacts to the bag," she said. "It gives you another perspective than how sales work online."
For investors weary of watching Web retailers struggle to find profit, Warren and Sugihara confirm that done right, selling in a real store is a real business.
"Rarely do people come in, shop here and then buy elsewhere," Warren said. "Amazon does not answer the phone. They do not stand behind the purchase, much less a counter. They can't show you how things work. As long as we are competitive on price, the customer buys what they try here, here."
"The Web is a hassle at the end of the day that less and less people want to deal with."
This commentary comes from an independent investor or market observer as part of TheStreet guest contributor program. The views expressed are those of the author and do not necessarily represent the views of TheStreet or its management.