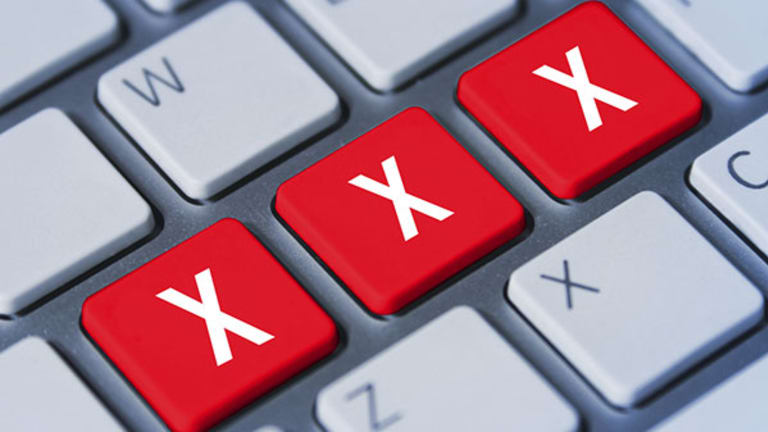 #DigitalSkeptic: 'Clean Porn' Solution Says Media Can Thrive One Day at a Time
Skweez Media knows where to find a revenue stream in an age flooded with free porn: Cheap, one-day access to a Netflix-like library of XXX content.
NEW YORK (TheStreet) Mike Kulich figures that making money in the porn -- or any media -- biz these days will be like a 12-step program: You'll need to get by one day at a time.
"We are the first porn company to do away with the recurring monthly billing model," says the co-founder of Skweez Media, a Santa Monica, Calif., online adult entertainment service that launched in January. "Instead, we offer unlimited access to a Netflix-like library of content in discreet, 24-hour, one-day units."
Kulich shamelessly gave the likes of New York City mayoral candidate Anthony Weiner advice on how to manage his SMS indiscretions with former adult entertainment stars. And Kulich tried to grab yet more limelight by donating 200 DVDs to a Muskegon, Mich., man who lost his $7,500 porn collection to thieves.
But beneath these goofy public relations antics lies a real businessman giving the future of the media business a full dress rehearsal.
Kulich has jammed Skweez with many interesting new ideas: It offers unlimited access to fully produced, ad- and malware-free HD movies that Kulich says he licenses from major adult entertainment studios. Unlike most online porn sites charging anywhere from $25 to $30 a month for recurring access, Kulich built Skweez from the ground up to offer unlimited streaming for 24 continuous hours at a rate of essentially $1 per day.
"We don't collect credit card information, we don't bill month to month," Kulich says. "There is no animated GIF of Ron Jeremy that a user has to deal with. If that user wants to come back, they have to transact with us again."
"We call it clean porn."
Far more important for investors, early results indicate that online users -- who can far too easily access unlimited droves of porn for nothing -- seem to be willing to pay for Kulich's one-day-at-a-time content model. "On a good day, we will get several thousand unique visitors," he says. "And of those, roughly 5% convert into paying customers, which is unheard of in porn. Usually conversion rates are a fraction of one percent."
Also see: #DigitalSkeptic: Sun Sets on Sundance -- and Independent Film>>
But wait, there's more: Kulich also makes a heck of an argument that selling movies and TV in 24-hour blocks is not only good for the digital adult entertainment business, but for the entire digital entertainment business -- Netflix, iTunes and Spotify included.
"We developed this platform to be a turnkey solution any content creator can use to bypass the strong-arm techniques of a Netflix or Pandora," he says. "In the one month we have been active I am convinced that by-day access is the future not only of porn, but of mainstream media as well."
History of successful porn reinvention
Kulich's media smarts come from nearly a decade of reinventing himself in the fast-declining adult entertainment world. He started at just 18 back in 2004 as a top sales rep for New Jersey-based International Video Distributors, a large adult entertainment DVD wholesaler. By 2008, DVD sales began to collapse in the face of online incursion and piracy. So Kulich jumped to optimizing DVD production and then, in 2010, to low-cost content wholesaling. Kulich created Monarchy Distribution to wholesale movies created by adult performers themselves and resell them to other outlets, including cable, hotels and retail stores.
"We got the films on consignment, so we split revenues with the performers," he says. "That way, we had none of the costs of traditional studios and we passed that savings on to our customers."
In 2012 Kulich realized that yet again change was coming to online porn as free Web content slashed the number of Internet porn subscriptions. So he sunk $100,000 and two full years into developing Skweez.
"There was a time when studios would never have spoken to us," he says. "But as their traditional business fell, they began to do reasonable deals."
Also see: #DigitalSkeptic: Tiny, Independent Charlevoix Cinema III Has Film Industry Cure>>
The remains of the porn day
As intriguing as Kulich's Skweez model sounds, it's critical to understand that daily content access will be no magic bullet for adult or mainstream entertainment. First off, as vast as Skweez's content library might be, Kulich still only has deals with a limited number of studios. He faces the familiar Netflix trap of only showing some movies. And, just as with Spotify and Pandora, the heavy user can inflict serious losses on his pay-by-day model.
"If we had every user stream the service 24 hours a day we would not make any money," Kulich admits. "But I know from experience the average user does not stay long on site. They come on, surf 15 films, find what they like and they done in about 90 minutes."
When I asked others with direct experience in Web Age adult entertainment, they were dubious.
"I can see this working for some services," explained Joanna Angel, founder of Burning Angel Entertainment, which manages online websites with about 500,000 unique users a month from New York and Los Angeles. "But I don't see it changing what we do. And I do not see it changing the larger porn business dramatically."
That's a world view that Kulich says misses the point.
"I pay for DirecTV even though I don't use it essentially for one week a month" because of travel, he says. "Considering the grumbling people are having over the Olympics, whoever comes in and figures out how to charge for movies and TV by the day will have a huge leg up."
"Money it too hard to come by these days," he says. "Nobody wants to pay for content they don't use."
"Just watch," he says. "Daily access is the future."
This commentary comes from an independent investor or market observer as part of TheStreet guest contributor program. The views expressed are those of the author and do not necessarily represent the views of TheStreet or its management.