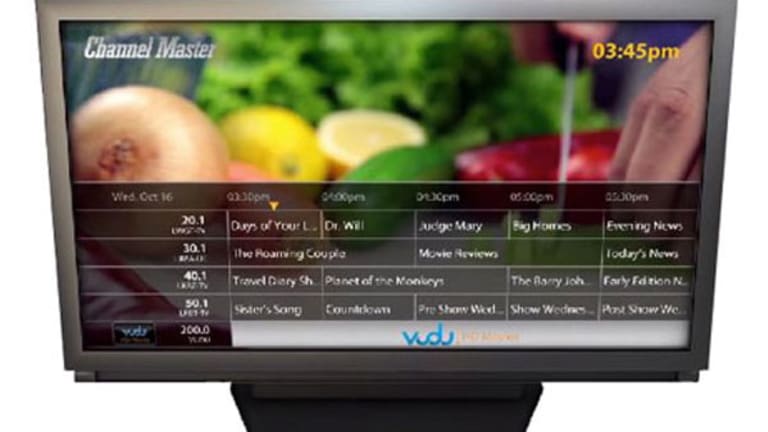 NEW YORK (TheStreet) Investors may be riveted to the landmark ABC v. Aereo case being argued before the Supreme Court, but my bet is that pretty darn soon we'll be riveted to something else: old-school, over-the-air broadcast TV turbocharged with hard drives, next-gen set-top boxes and Web connections.
"We've been in the antenna business for 65 years," said Shelley O'Connell, marketing communications director for Channel Master, the Phoenix, Ariz., broadcast TV peripheral and device maker. "When we got into the digital video recorder business a few years ago, we realized there was a lot you could do with a free digital TV broadcast feed, a hard drive and the right software."
O'Connell has been my point of contact with the 20-person Channel Master for several months as I've been digesting one of the most remarkably unheralded yet fascinating devices I've seen all year: the $249 DVR+.
This slim, half-inch-high box, about the size of a decentish issue of Vogue, basically acts like a cutting-edge set-top driven TV, but tweaked to work with throwback digital broadcast television signals. Pay the flat $249 for the DVR+, connect it to any one of a number of readily available hard drives and HD antennas and, for no monthly fees, the unit offers a rich multichannel TV experience for broadcast TV shows and some online video services, such as Vudu. With a Slingbox 500, you can watch your Channel Master TV on any connected mobile device.
Now for sure, several issues loom with the Channel Master DVR+. (More on that in a moment.) But overall, since I first touched this box back at January's International Consumer Electronics Show in Las Vegas, it's become a little gizmo with a big story.
This thing -- and I'm not exaggerating -- holds the promise of redrawing the ancient battle lines between cable, broadcast and Web TV.
In the process it can fundamentally affect how companies such as ABC and Aereo view and manage their content.
Also see: #DigitalSkeptic: TV's 'Golden Age' Online Accounts for Less Gold Overall>>
Real bang for the DVR dollar
Be warned: Next-gen TV users will find it easy to find issue with the Channel Master. At $249, it feels like a whole lot of money for what amounts to a free-standing TV channel guide. The needed hard drives and TV antenna are not included in that price. And while the unit is perfectly manageable to set up, it does require a real understanding of television signals, a sense of broadcast antenna placement and how to integrate both with existing home TVs and networks.
Apple TV it is not.
But what makes the DVR+ such an object of investor significance is how remarkably effective it is at transforming what has long been considered a no-value broadcast TV feed into a legit, modern media experience.
"It is like cable and satellite TV, but for broadcast TV," Coty Youtsey, president of the company, explained to me over the phone. Youtsey estimates that some 60 million antennas are installed and relied upon in the U.S., and this base represents a vast opportunity. "No subscription fees is the big claim to fame for the product," Youtsey said. "Once you pay for the unit, the consumer saves money over time."
Also see: #DigitalSkeptic: Sun Sets on Sundance -- and Independent Film>>
Not Free TV, but TV Freedom
No question, by creating a multichannel TV appliance sold at a flat fee, Channel Master lowers dramatically the cost of multichannel television. Even with, say, a $350 initial cost to install, the Channel Master pays for itself after a few months as opposed too, say, a $75 monthly cable bill.
Moreover, the Channel Master turns out to be the rarest of media animals: a central digital content hub with no ulterior motives of commandeering every other media tool in the home. Every investor owes it to him or herself to set this unit up and feel the freedom of plugging in just about any input -- except cable or satellite TV, of course. Wi-Fi connectors, hard drives, low-cost $49 Roku Streaming sticks, or really any TV connection is supported. And there are none of the distractions of dealing with Apple TV, Google's Chromecast or game-oriented set-tops such as the XBox or Playstation.
"There are barriers as to what other services will let us support," Youtsey said. "But we try to make this unit as agnostic as possible."
And by doing so, Channel Master raises deep questions about just how dominant traditional cable and satellite TV and emerging Web TV can be. "Once a customer understands that we are wrapping the cost of accessing TV content into a single flat fee, they will realize how broken the current TV business is," O'Connell said.
"We argue there is a perfectly good business in providing access to the content the consumer has already paid for," O'Connell said. "Why try to charge them over and over, for what they already own?"
This commentary comes from an independent investor or market observer as part of TheStreet guest contributor program. The views expressed are those of the author and do not necessarily represent the views of TheStreet or its management.