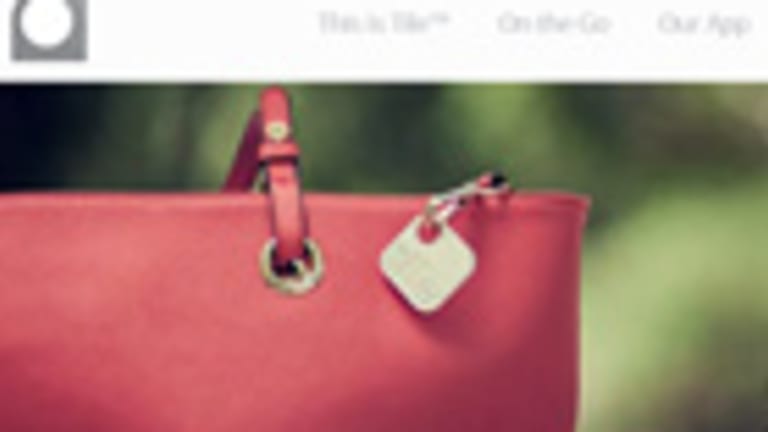 #DigitalSkeptic: Big Crowdfunding's Day May Have Passed Already
Now you don't even need Kickstarter or Indegogo to get a product crowdfunded -- you can do it yourself, so long as you're ready to interact directly with tens of thousands of investors.
Now you don't even need Kickstarter or Indegogo to get a product crowdfunded -- you can do it yourself, so long as you're ready to interact directly with tens of thousands of investors.
NEW YORK (TheStreet) -- Nick Evans might just be holding the entrepreneur's Holy Grail in his hot hands: He can get to real money for next to nothing.
"We just finished raising $2.68 million dollars online," said Evans, CEO of Reveal Labs, the San Francisco-based maker of the Tile, an attachable Bluetooth personal property tracking device expected to ship this spring. "And we did it all without a traditional VC or Web-based crowdfunding platform."
"We are directly responsible to our backers, and that's where I want to be," Evans said.
Evans began raising my Digital Age capital formation consciousness a little more than a month ago, when the two of us first met for coffee at a Las Vegas trade show. Evans and partner COO Mike Farley have managed to get 50,000 or so strangers to turn over nearly $3 million in cash for what is basically nothing more than a good idea and some marketing smarts -- all without a traditional angel investor. Or private equity or venture capital. Or even a slick, Web-based crowdfunding app such as Indiegogo or Kickstarter.
Evans and Farley "self-started" their funds by rolling out their own open-source Web-based capital formation platform, then marketing it directly to potential backers and customers. "You do come to respect what crowdfunding platforms like Kickstarter do when you build a funding tool all by yourself," Evans said. There were crashes and false starts. But he is firm that for all its headaches, controlling the end-to-end fundraising mechanism directly gave his hardware startup the best chance to succeed.
"I just wanted to control the entire process," he said.
Also see: #DigitalSkeptic: Crowdfunding Doesn't Work Like You Think, and Not Much Is New>>
In the process, Evans has almost accidentally stepped into bizarre and fascinating new financial terrain. Unlike venture-backed companies, Evans has not had to give up vast chunks of company equity in return for his funds. Nor must he fork over steep, fixed interest payments for access to his cash. He did not have to offer the 5% cut that online crowdfunding apps such as Kickstarter or Indiegogo usually charge. He was not even nickeled and dimed with transaction fees or the need to fork over personal financial information. In fact, Evans acts almost like a CEO of a giant, publicly traded company who interacts directly with tens of thousands of investors, yet he does it all by himself. And for nothing.
"Beyond the upfront cost to create our own online funding platform," he said, "our cost of capital was basically zero."
The self-starter gets started
Investors should keep in mind that self-starters such as Evans and Farley are far from alone. Haytham Elhawary, now mentor in residence at the R/GA and Techstars accelerator here in New York, confirms that many companies followed Tile in cutting out both the traditional and online capital middlemen. Late last year, for example, an advanced baby monitor tool called Owlet raised $140,000 in just such direct-to-backer, self-starter Web funded campaign. Self-starters he says, exploit the Web to not only raise cash, but to market, take pre-orders and interact directly with customers.
Those close to emerging funding technologies agree that the self-starter movement is just one of several now low-cost ways firms can raise money in the Digital Age. "It is yet another example of the movement to frictionless access to capital for basically anybody who wants it," said Sam Graziano, founder of New York City-based Fundation, which uses database modeling to lend money to smaller businesses.
Also see: #DigitalSkeptic: Crowdfunded Gadgets Come With Security Dangers>>
Following the footsteps of trading markets
Now certainly, self-starters like Tile and Owlet face significant risks. "The beauty of these companies is exactly the problem," said Peter Semmelhack, founder of Bug Labs, a New York City connected device company. "They raise money directly from customers, so now they are directly responsible to those customers. That can be noisy and challenging."
As proof, Semmelhack pointed me to the forums page for Pebble, the crowdfunded smartwatch. Here in gruesome, granular detail are, by my count, 104,381 comments, rants and nagging issues about the company and its device. And keep in mind, Pebble is considered by all accounts the single most successful consumer product in crowdfunding history.
Imagine the whining if the Pebbled sucked? "You better have a business to back up what you are trying to sell online," Semmelhack says.
But even accounting for those risks, self-starter companies such as Tile are clearly changing the way capital changes hands in the Info Age. In many ways, it is analogous to the evolution how company equities changed hands. But instead of exchange floor brokers no longer having a monopoly on trading a stock, now it's banks, financial services and online crowdfunding apps that are losing control of forming and trading capital. And self-starters such as Evans know it.
"Tech investors better get used to used to moving with the times," Evans said. "If they don't, they are going to get stuck. This is the future."
"I cannot imagine launching a product any other way."
This commentary comes from an independent investor or market observer as part of TheStreet guest contributor program. The views expressed are those of the author and do not necessarily represent the views of TheStreet or its management.