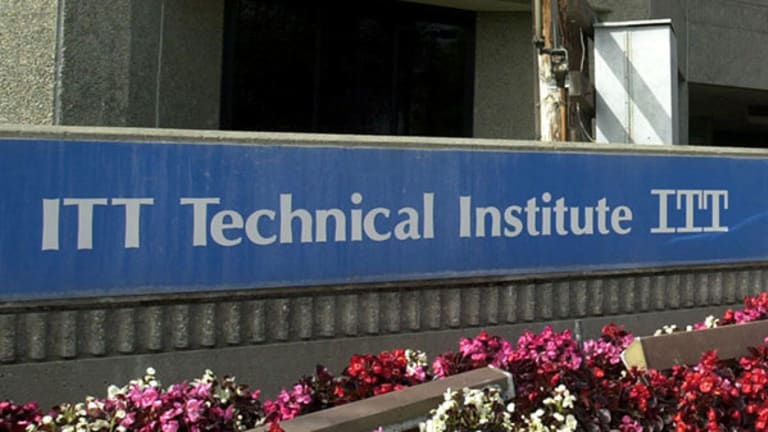 Department of Justice Files Civil Investigative Demand Suit Against ITT Tech
DOJ joins the CFPB and the SEC in its scrutiny of for-profit college chain and its handling of Federal funds, student loans.
DOJ joins the CFPB and the SEC in its scrutiny of for-profit college chain and its handling of Federal funds, student loans.
NEW YORK (MainStreet) — A lawsuit filed by the Department of Justice (DOJ) is part of an investigation into whether ITT Educational Services (ESI) - Get Report defrauded the federal government, the for-profit college disclosed Monday. Known as ITT Tech, it has over 130 campuses in 38 states.
In a September 21 8-K filing with the Securities and Exchange Commission (SEC), ITT disclosed that it had received a CID, or Civil Investigative Demand from the Justice Department including a demand for corporate information. According to Insidecounsel.com, CIDs have been used with increasing frequency by the Justice Department as their chief weapon against civil fraud.
The CID will be used to investigate ITT under the False Claims Act to determine if it deliberately made false statements to the Department of Education (ED) involving ED's Program Participation Agreement regulations. Among its many stipulations, the agreement spells out a school's fiduciary responsibility in administering federal funds. An ED source who spoke on background acknowledged awareness of the DOJ investigation and said, "At present, the status of the Department's Program Participation Agreement with ITT has not changed and they remain certified to participate in Title IV." Title IV of the Higher Education Act is the main source federal student aid funding.
The DOJ will also investigate whether ITT satisfied ED's compensation regulations. The Carmel, Ind. based for-profit college chain claimed that it has followed all necessary laws and regulations and is co-operating with the Justice Department's CID investigation. According to Salary.com, ITT CEO Kevin Modany's total compensation was $2,969,616 in 2013.
ITT stated that it "believes that its practices with respect to compensation matters are in compliance with applicable laws and regulations, and is cooperating with the DOJ in responding to the [civil investigative demand]."

Trouble has been brewing at ITT since at least 2013, when the fourth quarter earnings filing went awry due to uncertainties related to the accounting treatment of ITT's CUSO and PEAK private student loan programs along with its financial statements.
The DOJ joins a growing list of federal and state authorities looking into ITT. The company is fighting separate lawsuits from both the Consumer Financial Protection Bureau (CFPB) and the SEC. The CFPB filed a lawsuit against ITT in February, accusing ITT of exploiting its students and pushing them into high-cost private student loans in the CUSO and PEAKS loan program that were very likely to end in default.
"Our ITT litigation remains pending," said CFPB spokesperson Moira Vahey.
In May, the SEC sued ITT CEO Kevin Modany and CFO Daniel Fitzpatrick over false statements made to investors about the CUSO and PEAKS programs.
Shares of ESI have declined sharply since Sep 21 when the DOJ's suit was first revealed. ESI closed on Thursday at $3.20, well off a 52-week high of $14.10.