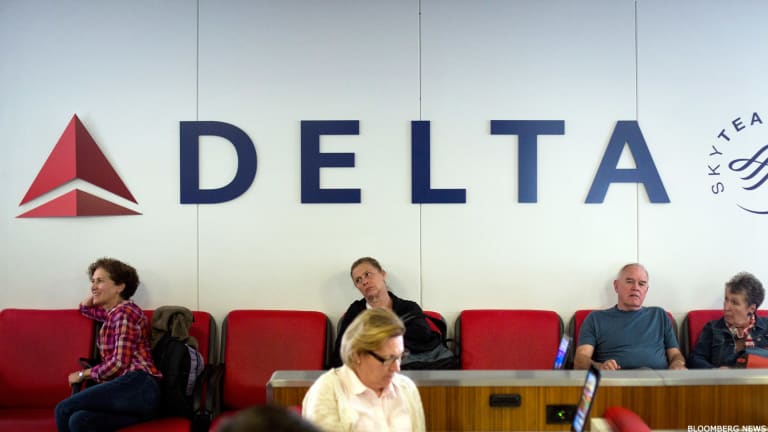 Delta Declares War on Online Travel Agencies and Fliers are Casualties
Are airlines seeking to end easy price comparison shopping by hiding fares? A new report says yes.
NEW YORK (MainStreet) — Quietly Delta Air Lines, Inc. (DAL) - Get Delta Air Lines, Inc. Report has declared war on online travel agencies, and the biggest losers in this war may be us, the consumers.
In a report prepared for the trade group Travel Technology Association by Fiona Scott Morton of the Yale School of Management and R. Craig Romaine and Spencer Graf of consulting firm Charles River Associates, two facts are made clear:
the more transparency there is in pricing - that is, the easier it is for consumers to comparison shop - the lower the prices
airlines, with Delta leading the charge, have begun an assault on transparency as provided by online travel agencies (OTAs)
Delta has done this by blocking access by an increasing number of OTAs to its fare data. At the time of publication, Delta had not returned this reporter's call for comments.
"Consumers should be able to comparison shop," said Philip Minardi, director of communications at the Travel Technology Association. "It pushes prices down. Anti-competitive actions could be devastating to travelers."
Before the OTAs - going back 20 years - a consumer, to get comparative flight info, generally had to call a travel agent. Many just called one airline to ask for a fare;if it sounded affordable, he'd book the flight.
OTAs changed everything. With a few clicks, a consumer can see literally dozens of fares - perhaps hundreds on popular routes. Airlines, meantime, apparently have been stewing about this transparency and now they may have the clout to attack it.
One big change underlies the current battle. Air travel, suddenly, is what economists would describe as a heavily concentrated industry. Four large airlines - American Airlines (AAL) - Get American Airlines Group, Inc. Report, Southwest Airlines (LUV) - Get Southwest Airlines Co. Report , and United Continental Holdings, Inc. (UAL) - Get United Airlines Holdings, Inc. Report - now control 80% of the U.S. travel market. And one other fact: at least in coach there really are no important differences among the carriers. A seat in economy is a seat in economy. That means the only real way to decide among tickets is price, where the cheapest ticket wins. Airlines understand that, and they now also have figured out a way to fight back.
Said the Travel Technology Association report: "At a time when independent, transparent comparison shopping is most needed, some airlines are attempting to restrict access to their fare and schedule information, reduce the ability of consumers to easily compare prices, and drive travelers to their own websites, which do not offer price comparisons with other airlines."
The potential impacts are huge. Said the report: "Restrictions by airlines of broad access to airline information—prices and schedules—substantially reduce consumer welfare. This study estimates the potential reduction in net consumer welfare of limiting airline price and schedule information to only airline websites could exceed $6 billion per year."
The most aggressive airline has been Delta, according to the report, which has effectively declared war against many OTAs along with some so-called metasearch sites such as Hipmunk and Kayak, which use data compiled by other sites to generate their own fare tables.
Said the report: "In December 2010, Delta removed its flights from CheapOAir, BookIt.com, and OneTravel. Weeks later, in January 2011, Delta also cut off CheapAir.com, Vegas.com, AirGorilla, and Globester. By mid-2011, Delta had 'terminated its relationship' with 21 OTAs."
The report continued: "More recently, in 2014, Delta has cut off a number of additional metasearch sites, including TripAdvisor, Fly.com, Hipmunk, and Routehappy. In early 2015, Delta cut off Skyscanner by preventing OTAs from distributing information related to Delta flights to Skyscanner."
Other airlines, said experts, are closely watching this fight. Their hope is to do likewise. "We believe over a dozen airlines are moving in that direction," said Minardi.
Southwest, incidentally, has largely declined to provide fare data to OTAs all along. It has won a reputation for low fares, but the study's authors question the truth to the perception: "Recent research shows that the lack of easy access to Southwest's price information on price comparison websites actually makes Southwest prices higher under certain circumstances. This study examined whether Southwest, which does not make its prices widely available to consumers through OTAs, is able to command higher average fares (despite its reputation as a low-fare carrier)."
Add Southwest to Delta in the OTA boycott, and suddenly it becomes difficult to see the other leading carriers continuing to supply data to OTAs.
"It's bad first because consumers may search on popular sites like Hipmunk, TripAdvisor, Fly.com and CheapAir and believe that they are getting a full set of results back to compare, when in fact they are not. Imperfect information leads to imperfect decision making," said Clem Bason, CEO of travel deals site goSeek.com. 
The report - citing data across many industries - shows that transparency produces lower prices. Opacity, which appears to be the carriers' goal, creates higher prices.
Ultimately, though, airlines may in fact be hurting themselves. Frequent flier Scott Long, publisher of Ante Up Poker Media, explained: "This withholding of information has to hurt the airlines more than customers like me. I give Southwest a pass, because I enjoy flying them over all other airlines, but if an airline other than Southwest doesn't show up in my Kayak search, then it's probably not going to get my business. I've found it fairly rare these days that one airline's fare is substantially lower than another airline's, so I'm not afraid of missing out on a killer deal because I refuse to check every airline's website individually. Who has time for that?"
This article is commentary by an independent contributor. At the time of publication, the author held TK positions in the stocks mentioned.