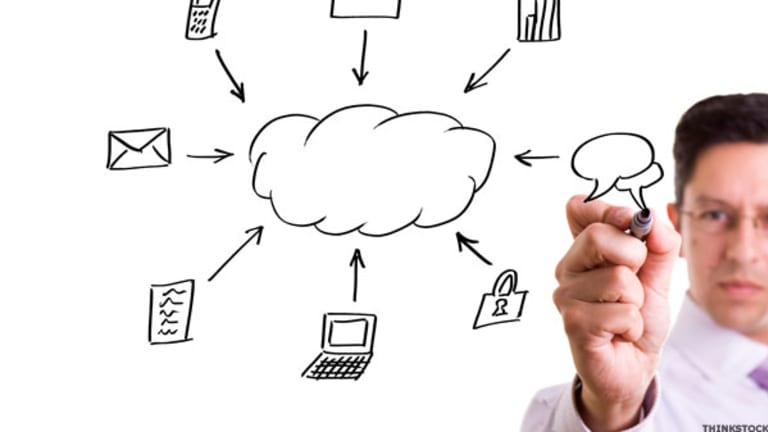 Dell-Salesforce Deal Spreads Cloud Computing
Dell's new partnership with Salesforce aims to make cloud computing easier for small businesses.
Dell's new partnership with Salesforce aims to make cloud computing easier for small businesses.
REDMOND, Wash. (
) --
Microsoft's
(MSFT) - Get Report
once-cozy partner,
Dell
(DELL) - Get Report
, is testing the business services waters with a new swimming partner, Web-based software maker Salesforce.com.
In October, Dell quietly announced a new sales agreement with San Fransisco-based applications firm
. Under the agreement, new Dell business customers will get six months of free access to Salesforce's contact manager, which normally costs $5 per month. For an additional $40 a month, Dell will help small businesses integrate Salesforce products into their software systems.
"We are offering one price and one throat to choke," says Marc Stein, Dell's director of cloud strategy.
Salesforce is not acting alone. It's partnering with search giant
Google
(GOOG) - Get Report
, Microsoft's archrival. The two offer several combined products, including Google Apps support for documents, contact and calendar information. Salesforce's developer language, Force.com, competes with Microsoft's .Net code.
Dell's deal with Salesforce is really a deal with Google, and Microsoft is nowhere to be found.
I couldn't wait to get a closer look at Dell's strategy with this Salesforce-Google thing, so I signed up for a trial account.
What do you get
: Companies that use Salesforce on their Dell equipment get affordable tools for managing contacts and sales support tools to small businesses.
The demo package takes less than a dozen clicks to set up and requires no credit card. Just go to Dell's
and sign up. Anyone can sign up for a 14-day trial. I got a nice confirmation e-mail and a welcoming phone call from a Salesforce rep.
Salesforce's entry-level contact manager has a well-designed tabbed browser. The layout was good, if a bit old school. There is none of the Web 2.0 hipness of, say, Highrise from Chicago-based 37Signals.
Uploading existing data for 20 contacts was easy. Reports were full of features. And I was impressed by the AppExchange site that offers 1,000 or so third-party applications that extend the reach of Salesforce. Users can upgrade to the Group Edition for $25 a month per person. That allows users to collaborate on leads, customize pages and access dashboard features.
For $5 a month, you get a lot of small-business customer help. If your shop is struggling to manage its sales leads, give this package a try.
What you don't get
: Salesforce.com gets a lot of credit for making cloud computing easy through this Dell deal, but the service isn't as painless as it seems.
For all of Salesforce's power and Dell's wisdom, these firms still face the challenge of getting real companies with real employees to use Web-based tools. Salesforce allows for easy integration, but like all cloud computing apps, its builds a wall around its information. So some functions will require some tech savvy to use, let alone prod other people to use. Take basic syncing of calendars between Salesforce and say, Outlook. It can be done, but it takes a special calendar, time and some technical jujitsu.
Bottom line
: Dell's deal is a good way to try cloud computing, but don't be fooled: Making your business virtual still takes real effort. And investors should be skeptical about Dell's chances of making money off its arrangement with Salesforce.
I will probably deploy Salesforce in my digital world to really handicap this effort, but I can hear the moaning and groaning already. And we're a tech-savvy shop. I can't image the teeth gnashing that will happen in a car-repair shop or a furniture store trying to manage its sales leads with this stuff.
-- Reported by Jonathan Blum in New York
.
Jonathan Blum is an independent technology writer and analyst living in Westchester, N.Y. He has written for The Associated Press and Popular Science and appeared on FoxNews and The WB.