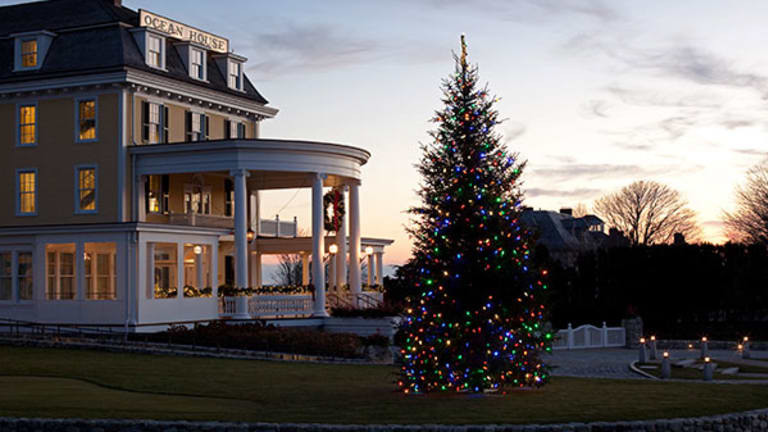 Publish date:
Delicious Off-Season Getaways
In the winter, these New England waterfront resorts become culinary destinations.
In the winter, these New England waterfront resorts become culinary destinations.
NEW YORK (TheStreet) -- The ocean is beautiful any time of year, but a beach or waterfront resort in the Northeast isn't exactly the place to be in the winter. Some resorts, in fact, choose to close for the off-season.
For those that remain open, luring guests might seem like a tall order. When sunbathing and beach swimming are off the agenda, what's a waterfront resort to do?
For these New England properties, the way to travelers' hearts, especially during the chilly months, is through their stomachs.
An in-house food forager, a mansion dining experience and private cooking classes with a top-rated chef -- these are just some of the elements that, in the winter, make these waterfront destinations ideal for traveling foodies.
Ocean House
Westerly, R.I.
The
in Watch Hill, R.I., is an upscale New England seaside resort that takes the farm-to-table concept to a whole new level: It employs its very own food forager who serves as liaison between local farmers and the hotel's chefs.
Janice McEachen, whose resume includes serving as personal chef in the Los Angeles homes of well-known personalities, is the Ocean House's food forager and director of culinary education. Every morning she goes out in search of ingredients, visiting famers' markets and small, locally owned and operated grocery stores.
Back at the hotel, McEachen gives cooking demonstrations using her locally sourced ingredients and teaches guests how to host a dinner party (crafting homemade gifts and centerpieces, arranging the table, etc.). She also gives one-on-one cooking lessons for a fee -- a service often requested by soon-to-be brides.
At
Seasons
, the resort's fine-dining restaurant, guests can sample farm-to-table cuisines while enjoying a stunning view of the Atlantic Ocean. McEachen's hard work is evident in such menu items as mixed Rhode Island greens, New England artisanal cheese, soft-boiled Watch Hill farm egg and Blue Slope veal. The menu changes daily, but always highlights local and regional ingredients.
"A trip to the Ocean House in the winter is a one-of-a-kind culinary excursion," says Daniel Hostettler, the Ocean House's president and group managing director. "In the off-season, it is the property itself -- not the beach in front of it -- that becomes the destination."
Aside from cooking demonstrations and workshops, the Ocean House holds its
Farm + Vine
dinner series, where New England chefs prepare meals using ingredients grown or bred on local farms and pair them with wines selected by the resort's sommelier, Jonathan Feiler.
For an extraordinary winter culinary vacation, guests can book a suite and arrange for a private cooking class or enjoy a private dining experience. Each of the Ocean House's 15 suites has a full kitchen and dining area.
The Ocean House is about a three-hour drive from New York City and an hour and a half from Boston. A beautifully restored mansion overlooking a private white-sand beach, it is the only five-star property (Forbes Five-Star and AAA Five Diamond Hotel) in the state of Rhode Island.
In the summer, the hotel's 49 guest rooms sell out fast, with nightly rates starting at $855. When temperatures begin to drop, the luxury cabana beach service ends and rooms start at $320 per night.
Vanderbilt Grace
Newport, R.I.
Vanderbilt Grace
, set around the waterfront of Newport, R.I., is a 104-year-old mansion built by Alfred Gwynne Vanderbilt, a scion of the wealthy Vanderbilt family.
At
Muse
, the hotel's restaurant, guests can dine as luxuriously as the Vanderbilts did during the Gilded Age, when dinner was the centerpiece of the social scene. The dining room has a fresh modern design, but it retains the mansion's original Beaux-Arts architectural features.
To pay tribute to the mansion's long and rich history, Executive Chef Jonathan Cartwright has devised a Vintage Vanderbilt menu at Muse. Cartwright developed the dishes based on a 1912 menu that was found in the Vanderbilt family records. Among the offerings are lobster bisque and beef bouillon.
Cartwright's gourmet menus, which change seasonally, highlight classic New England specialties such as clam chowder, roast pheasant breast and smoked lobster. A four-course dinner at Muse is $85 per person.
Cartwright also offers foodies the opportunity to create their own menus with "Grace Bespoke Style." Guests can choose the proteins, garnishes and sauces from a list and decide if they want appetizer or main course portions. Each item is priced individually.
On weekends, guests can indulge in a quintessentially English afternoon tea at
The Conservatory
restaurant, which offers a wide selection of teas, finger sandwiches, warm crumpets and scones.
Vanderbilt Grace has 33 rooms and suites, two restaurants, a spa and fitness center with an indoor pool, and a snooker and billiards room. Winter rates start at $275 based on double occupancy and include generous servings of champagne upon arrival and at breakfast.
The Chanler
Newport, R.I.
On Newport's famed Cliff Walk is
, another original mansion transformed into a modern boutique hotel.
Built in 1870 by Congressman John Winthrop Chanler, the grand house first became a hotel in the mid-1940s called Cliff Walk Manor. It only became known as The Chanler in 2003 after a multimillion-dollar renovation.
The main dining room of its
Spiced Pear Restaurant
has an open-air kitchen, grand fireplace and views of the Atlantic Ocean and Easton's Beach. The restaurant is known for its signature New England Tasting Menu, which features local fare such as wild burgundy escargot and free range lamb loin.
Guests at The Chanler can sign up for the Chef's Table and interact with the chef as their food is being prepared. The nine-course tasting menu is $185 per person with wine pairings. A six-course private dining experience at the Winthrop Room can also be arranged, starting at $420 per couple.
The Chanler has 20 guests rooms, each designed around a particular historical period or theme. Winter rates start at $299 based on double occupancy.
White Barn Inn and Spa
Kennebunk Beach, Maine
The
in Kennebunk Beach, Maine, offers guests a unique culinary vacation where they can have the experience of cooking for a five-star restaurant.
Guests can participate in a hands-on demonstration at the White Barn Inn kitchen, where they will be active members of the staff, working with Executive Chef Jonathan Cartwright (the same chef who oversees Muse at the Vanderbilt Grace).
Whether it's pan roasting a local monkfish or making a cappuccino souffle, the class is based on those elements of the culinary process that are most interesting to the guest. The two-hour class costs $215 per person, but one can also enjoy the four-course dinner -- after kitchen duty is done -- for $100 more.
The restaurant at White Barn Inn is one of a few fine dining establishments that have received both AAA Five-Diamond and Forbes Five-Star ratings.
In addition to the fine-dining experience, guests can enjoy the resort's off-season room rates starting at $376 based on double occupancy, which include continental breakfast, afternoon tea and use of the outdoor heated swimming pool.
-- Written by Marilen Cawad in New York.
RELATED STORIES:
>> Holiday Wine-Buying Guide From the Experts
>> 5 Holiday Shopping Apps You May As Well Download Now
>> 3 Winter Weekend Getaways from NYC
Disclosure: TheStreet's editorial policy prohibits staff editors and reporters from holding positions in any individual stocks.