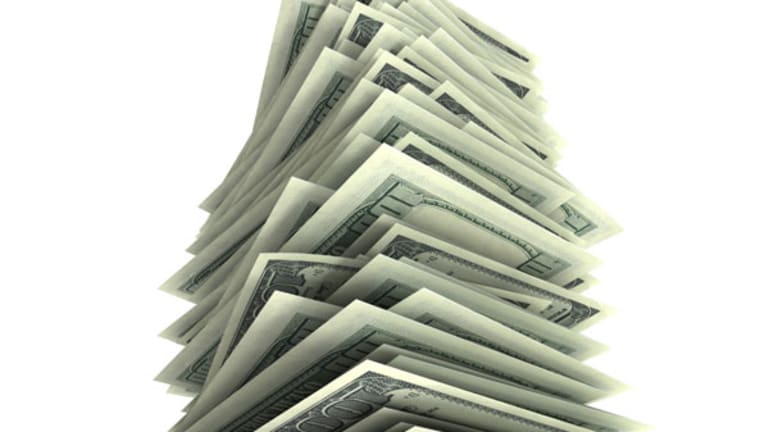 Default Rates Nudge Upward Amid Holiday Spending
The S&P Index goes out of its way to say that U.S. personal credit remains healthy, but there's a warning flag.
The S&P Index goes out of its way to say that U.S. personal credit remains healthy, but there's a warning flag.
NEW YORK (
) -- Black Friday has come and gone -- and Cyber Monday lands on holiday consumers today (or is it the other way around?).
Either way, cash is flying out of consumer's wallets and pocketbooks to the tune of $586 billion for the entire U.S. holiday shopping season, according to the
.
The NRF adds that 247 million U.S. consumers hit the stores and online retail sites on Black Friday alone, spending a total of $59 billion, or about $423 per shopper, according to the group's figures.
"There's no question that millions of people were drawn to retailers' aggressive online promotions this weekend, making sure to research and compare prices days in advance to ensure they were getting the best deal they could," offers BIGinsight Consumer Insights Director Pam Goodfellow. "With shopper traffic increasing at department, discount and clothing stores over the weekend, it's clear that consumers still recognize Black Friday as one of the biggest shopping days of the year, as they have for decades."
Interestingly, the survey found that Black Friday shoppers may have been using the "holiday" as an excuse to shop for themselves, and that could well lead to bigger
for U.S. consumers.
"Lured by deep discounts and practical spending habits, eight in 10 (79.6%) shoppers took advantage of retailers' weekend promotions to buy non-gift items," the survey says.
Consumers are already beginning to show signs of accumulating more debt in late 2012.
According to the
S&P/Experian Consumer Credit Default Indices
, "most" U.S. consumer loan types recorded an increase in defaults for October.
That means going into the holidays, with their added spending, Americans are already falling behind on their loan and credit card debt. While the S&P Index goes out of its way to say that U.S. personal credit remains healthy, for the first time in three quarters this year default rates are on the rise for U.S. consumers.
"After three quarters of declining consumer credit default rates, national composite increased in October," says David M. Blitzer, chairman of the Index Committee for S&P Dow Jones Indices. "Overall consumer credit quality remains healthy. Looking across our 10 headline indices, all are at levels typical of the pre-crisis period of the early 2000s. Only one -- bank card -- shows default rate above 2.5% and even that hit the recent low, which is close to its eight-year historic minimum."
OK -- as S&P attests, it's not exactly an alarming consumer credit number. But it doesn't take a mathematical genius to figure out that as consumers spend more over the holidays, the consumer credit default rate -- which is already rising -- may really take a leap in early 2013.
At that point, Black Friday will have really earned its name.