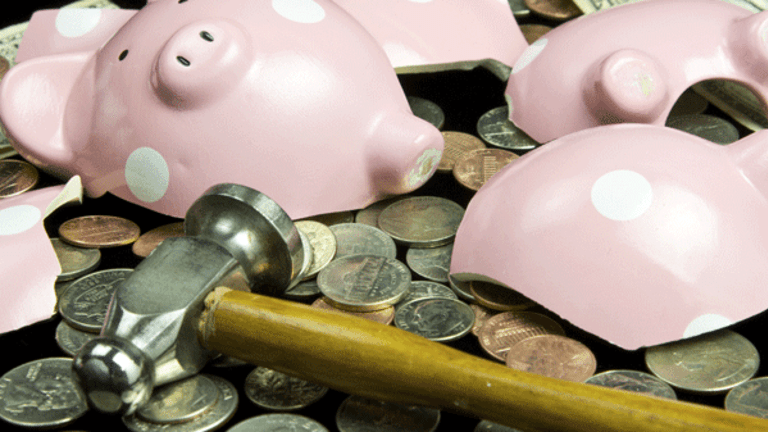 You're Terrible at Handling Unexpected Expenses: Here's Why
No, dropping emergency expenses onto your credit card isn't helping your long-term finances. Building an emergency fund will.
Editors' pick: Originally published Feb. 17.
Most of you are working without a financial safety net, and it won't take much for you and your savings to fall.
Roughly six in 10 Americans don't have enough savings to pay for a $500 car repair or a $1,000 emergency room bill, according to a new Bankrate survey. Don't blame younger generations for draining the rainy-day fund, either. It's their parents and grandparents who are the least prepared.
"It's not a matter of if, but when an unexpected expense will pop up," says Jill Cornfield, Bankrate analyst. "Our survey shows that just under half of adults surveyed said they or a family member had a major expense in the past 12 months."
While 41% who said they would use their savings when faced with an unexpected expense, 21% would finance the expense on a credit card. Another 20% would reduce spending on other things and 11% would borrow from family or friends.
The good news is that while savings generally increase with income and education. However, almost half of the highest-income households ($75,000+ per year) and college graduates lack enough savings to cover a $500 car repair or $1,000 emergency room visit.
Of all age groups, though, the youngest Millennials are the most equipped to pay for an unexpected expense using their savings. After years of dealing with student debt and low to no pay, 47% of those aged 18 to 29 responded that they would use their savings to cover such a burden, up from 33% in 2014. The Silent Generation, roughly aged 72 to 91, is more likely to use a credit card than any other generation. Overall reliance on credit cards to finance an unexpected expense is up, continuing a three year trend dating back to 2014.
"If you have a car, a house or apartment, a pet or a kid - if you're a member of the human race - something that costs money is bound to go wrong," Cornfield adds. "It might be a minor car repair or a surprise medical expense. The best way to prepare is to have an emergency fund you can draw on."
That's an issue when roughly 66 million U.S. adults have absolutely nothing saved for an emergency, according to a Bankrate survey. That's a quarter of all adults, but a whopping 33% of Gen Xers ages 36-51. Bankrate chief financial analyst Greg McBride, CFA generally recommends an emergency savings fund that contains at least six months' worth of expenses, but just 28% of Americans have saved that much. Roughly 47% of Americans ages 71 have at least that much socked away, but younger generations are starting to get the idea. Two-thirds of 18- to 35-year-olds have some savings, though just 20% have six months' worth of expenses in the bank.
"This underscores the fact that it takes time, especially because expenses grow faster than many Americans can save during the home-buying, family-raising years," McBride explained. "Accumulating emergency savings requires establishing the habit, and Millennials get high marks."
According to a survey by Capital One Investing 26.3% of all respondents made an emergency fund their top financial goal for 2016. It didn't help that, according to Hartford Funds, 39% of investors expect to experience a significant life event in last year. Nearly one-fifth of Americans expect to be dealing with an aging parent in 2016, while 18% of respondents under the age of 45 expect a parent or child to move into their home in 2016. Though 53% of those investors don't expect major personal events to impact their finances last year, planning for unforeseen circumstances never hurts.
That said, it's proving more difficult than many Americans imagined. According to Bankrate, 52% of Americans have more emergency savings than credit card debt. That's down from 58% last year, but up from 51% in 2014. However, 22% of Americans have more credit card debt than emergency savings and another 21% have neither credit card debt nor emergency savings. Millennials, seemingly, are the only ones bucking that trend.
"Contrary to society's perception of Millennials and their financial characteristics, Millennials have learned from their parents' mistakes and are more cautious when it comes to saving for that rainy day," McBride says. "Their aversion to credit cards may have also played a part in helping them grow their savings accounts."
Millennials have been given plenty of reason to be wary of credit cards. They're starting out with tremendous debt straight out of school. The average 2016 college graduate carried $37,172 in student loan debt, according to college and scholarship site Cappex. That's up 6% from 2015, with debt carried by 70.1% of all graduates. That's also up from $12,759 two decades ago, when just 54% of all students graduated with debt.
About 12% of U.S. adults with debt expect to die in debt, down from 21% about a year ago, according to a new CreditCards.com report. Yet just 4% of those between ages 18 and 29 feel they'll die in debt, compared to 28% of those 65 and older who feel the same.
Though 24% of American adults tell CreditCards.com they are currently debt-free, up from 14% in 2014, those of you who are in debt thanks to credit cards, car loans, student loans, mortgages, etc., are in deep trouble. In fact, student loan debt ($1.28 trillion, up $76 billion) and auto loan debt ($1.14 billion, up $90 billion) have ballooned within the last year, according to the Federal Reserve Bank of New York. It also doesn't help that credit card debt has also soared ($747 billion, up $33 billion).
"While it's good to see Americans feeling better about their debt, I'm worried that some people are getting carried away," says Matt Schulz, CreditCards.com's senior industry analyst. "For example, credit card debt has been rising steadily for more than five years and is close to $1 trillion, according to the Federal Reserve. It seems like a lot of people are forgetting the painful lessons of the Great Recession."
Financial analysis site NerdWallet just completed its annual survey of household debt and found that the average household with credit card debt has a balance of $16,061. That household pays a total of $1,292 in credit card interest (assuming an interest rate of 18.76%) per year on $7,941 in debt -- which is just $523 less than WalletHub considers unsustainable for a median household income of little less than $52,000.
Though mortgage debt is the heaviest and typically paid off over the longest period of time, revolving credit card debt can follow you to the grave. Households that bring in more than $157,479 per year pay almost four times more in credit card interest than households that make less than $21,432. However, when a household making $150,000 a year has $10,036 in credit card debt, that's less than 7% of its income. Unfortunately, when a person who makes $20,000 a year owes $3,611 in credit card debt, that's 18% of their annual income. Meanwhile, households led by self-employed individuals spend $1,631 in credit card interest annually, while heads of household who work for someone else pay only $1,211 to finance their credit card debt each year.
None of that debt is helping households that are already being squeezed by other costs. According to the Bureau of Labor Statistics, the consumer price indexes for medical costs increased by 57% and food and beverage prices by 36% between 2003 and 2016. During that same span, NerdWallet found that median household income has only grown 28%, from $43,318 to $56,578 in 2003 and 2016, respectively. As a result, according to NerdWallet's projections based on data from the Federal Reserve Bank of New York, total debt in the U.S. will hit $12.5 trillion by the end of 2016. That surpasses the total debt of $12.37 trillion in December 2007, just before the recession, and suggests that credit card debt is being used to mask a whole lot of other financial shortfalls.
"Taking on debt to cover the gap between income and expenses is a short-term fix with costly long-term results," says Sean McQuay, NerdWallet's credit and banking expert. "Instead of taking on debt, try to increase your income by finding freelance work or a part-time job you can do on the side, or cut back on expenses where you reasonably can, before adding to your credit card's balance."
Since they've become familiar with debt at a young age, Millennials are less tolerant of credit card debt overall. As credit agency Equifax discovered, about 70% of college students have one or more credit cards, but a slightly higher percentage pay their balances in full each month. In a survey of more than 600 college students ages 18 to 24, 16% of respondents using credit cards for emergencies only and 72% pay off their credit card balances each month on their own -- while only 18% said their parents helped pay off their balances every month.
Even if they haven't paid their balances of within the month, more than half with outstanding balance (59%) plan to pay it off within a year. They're one of the biggest reasons why the percentage of U.S. households with credit cards carrying revolving debt has decreased from 44% in 2009 to just 34% today, according to the National Foundation For Credit Counseling.
Though 67% of Millennials hold a credit card, according to Experian, 71% have never maxed one out a credit card, 77% have never had their credit card interest rate increased and 58% pay the full balance instead of the minimum each month.
So how do you save like a Millennial and put together an emergency fund? Well, Bankrate notes that the first step most of you take when compiling savings is to cut back on everything. Dining out is the first luxury to go, with 59% very or somewhat likely to cut back on restaurant meals this year in order to save money. However, just 35% are very or somewhat likely to let financial shortcomings affect their cell phone plan, the lowest of the six choices that were offered.
Anthony D. Criscuolo, certified financial planner with Palisades Hudson Financial Group in Fort Lauderdale, advises putting emergency planning ahead of other long-term savings. Keep paying into a company 401(k) plan that gets "free money" from matching contributions, especially if you're worried about job security. However, according to the Credit Union National Association, you should try to set a savings goal and put away some accessible cash.
Criscuolo notes that even seemingly safe investments such as two-year CDs won't help if something comes up before the term ends and you have to pay early surrender charges. Instead, avoid anything with a maturity greater than three months and keep at least some of the emergency fund in cash or money market funds.
"The yield is low, but the purpose of an emergency fund is not to generate income or have a good rate of return, it's to protect you and provide cash in the event of an emergency," Criscuolo says.
If you need a little extra help, Criscuolo advises keeping an emergency line of credit open as a last resort. It won't keep you out of debt, but it will float you for a while.
"It may be too late to apply for a credit card with no income and no assets, so having one or two backup lines of credit in place before an emergency is a good idea," he says. "The best options are usually a credit card with no annual fee or a home equity line of credit."
You don't have to use that fallback plan if you make an emergency budget in advance. Scan your regular budget for non-essential expenses that you can cut in an emergency: cable, streaming services and the like. That should help your standard six- to 12-month budget stretch a little bit.
Finally, don't get too comfortable. Just because you're in a better job now or feeling more confident in your spending habits doesn't mean an emergency isn't waiting somewhere down the line. If you don't end up dipping into your emergency fund, it can become part of your nest egg. Just don't start looking at it as playing-around money if fortune turns in your favor.
"A weekend trip with your friends is not an emergency, " Criscuolo says. "You never know when an emergency will occur or how severe it may be. If an emergency hits right after you used some of the money, you may never be able to replenish the account and what's left may not be enough to last through the length of the emergency."
This article is commentary by an independent contributor. At the time of publication, the author held no positions in the stocks mentioned.