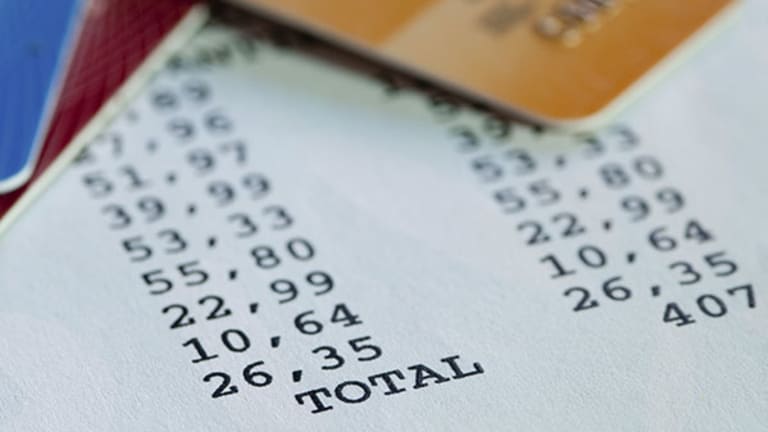 You Have More Credit Card Debt Than Emergency Savings
U.S. consumer debt hasn't hit the crisis stage yet, but it'll get there if you don't start paying down your share and saving more money.
U.S. consumer debt hasn't hit the crisis stage yet, but it'll get there if you don't start paying down your share and saving more money.
Your pile of credit card debt is outgrowing the emergency fund that's your last hope of paying it off.
According to a study by Bankrate.com, just 52% of Americans have more money in emergency savings accounts than they do in credit card debt. That's unchanged from 2016, but the percentage of Americans with more credit card debt than emergency savings has grown from 22% to 24% over the past year. Unfortunately, about one in six Americans (17%) state they have no credit card debt, but no emergency savings either. Those last folks are just one unplanned expense away from having credit card debt or other high-cost debt.
"Too many Americans haven't right-sized their savings relative to debt, and even those that have made progress still find themselves with an inadequate amount of savings," says Bankrate.com chief financial analyst Greg McBride.
Already averse to credit card debt after economic crisis, older Millennials (age 27-36) had the highest propensity to have more emergency savings than credit card debt. However, the Silent Generation (age 72+) had the highest likelihood of any age group to have neither credit card debt nor emergency savings, a testament to how many seniors are surviving on a fixed income such as Social Security and a pension without any wiggle room. It isn't just low-income folks struggling, either: lower middle income households (earning $30,000 to $50,000 per year) are the most likely to have more credit card debt than emergency savings. That situation is about to get much worse before it gets better.
Back in February, the Federal Reserve Bank of New York announced that total household debt increased by $226 billion (or 1.8%) to $12.58 trillion during the fourth quarter of 2016. That's the largest quarterly increase in total household debt since the fourth quarter of 2013 and $460 billion in debt more than U.S. consumers had amassed a year earlier. It also put debt just 0.8% below its peak of $12.68 trillion in the third quarter of 2008.
Almost every form of debt increased from the same time in 2015. Mortgage debt is up $231 billion to $8.48 trillion. Student loan debt increased $78 billion to $1.31 trillion. Auto loan debt is up $93 billion to $1.16 trillion. Credit card debt climbed by $46 billion to $779 billion. Even all of those figure may be low.
"Debt held by Americans is approaching its previous peak, yet its composition today is vastly different as the growth in balances has been driven by non-housing debt," says Wilbert van der Klaauw, senior vice president at the New York Fed. "Since reaching a trough in mid-2013, the rebound in household debt has been led by student debt and auto debt, with only sluggish growth in mortgage debt."
According to the Federal Reserve in Washington, D.C., revolving debt of all kinds exceeded $1 billion in the fourth quarter of 2016 for the first time since 2008 and returned to that mark again in February. That said, credit card delinquency rates were around 10% the last time revolving debt hit the $1 billion mark in 2008. At the end of last year, only 7% of credit card debt was past due.
"Credit card debt is rising quickly, but delinquencies are still really low," says Matt Schulz, CreditCards.com's senior industry analyst. "Many Americans are doing a good job of controlling their debts, but eventually with big debts and rising interest rates, it's likely that something will have to give. I expect delinquencies to start rising more quickly in 2017."
About 12% of U.S. adults with debt expect to die in debt, down from 21% about a year ago, according to a new CreditCards.com report. Yet just 4% of those between ages 18 and 29 feel they'll die in debt, compared to 28% of those 65 and older who feel the same.
Though 24% of American adults tell CreditCards.com they are currently debt-free, up from 14% in 2014, those of you who are in debt thanks to credit cards, car loans, student loans, mortgages, etc., are in deep trouble. According to the Federal Reserve Bank of New York, student loan debt ($1.28 trillion, up $76 billion) and auto loan debt ($1.14 billion, up $90 billion) have ballooned within the last year. It also doesn't help that credit card debt has also soared ($747 billion, up $33 billion).
"While it's good to see Americans feeling better about their debt, I'm worried that some people are getting carried away," Schulz says. "For example, credit card debt has been rising steadily for more than five years and is close to $1 trillion, according to the Federal Reserve. It seems like a lot of people are forgetting the painful lessons of the Great Recession."
Financial site NerdWallet just completed its annual survey of household debt and found that the average household with credit card debt has a balance of $16,061.That household, assuming an interest rate of 18.76%, pays a total of $1,292 in credit card interest per year on $7,941 in debt -- which is just $523 less than WalletHub considers unsustainable for a median household income of little less than $52,000.
Though mortgage debt is the heaviest and typically paid off over the longest period of time, revolving credit card debt can follow you to the grave. Households that bring in more than $157,479 per year pay almost four times more in credit card interest than households that make less than $21,432. However, when a household making $150,000 a year has $10,036 in credit card debt, that's less than 7% of its income. Unfortunately, when a person who makes $20,000 a year owes $3,611 in credit card debt, that's 18% of their annual income. Meanwhile, households led by self-employed individuals spend $1,631 in credit card interest annually, while heads of household who work for someone else pay only $1,211 to finance their credit card debt each year.
None of that debt is helping households that are already being squeezed by other costs. According to the Bureau of Labor Statistics, the consumer price indexes for medical costs increased by 57% and food and beverage prices by 36% between 2003 and 2016. During that same span, NerdWallet found that median household income has only grown 28%, from $43,318 to $56,578 in 2003 and 2016, respectively. As a result, according to NerdWallet's projections based on data from the Federal Reserve Bank of New York, total debt in the U.S. hit $12.5 trillion by the end of 2016. That surpassed the total debt of $12.37 trillion in December 2007, just before the recession, and suggests that credit card debt is being used to mask a whole lot of other financial shortfalls.
"Taking on debt to cover the gap between income and expenses is a short-term fix with costly long-term results," NerdWallet's McQuay says. "Instead of taking on debt, try to increase your income by finding freelance work or a part-time job you can do on the side, or cut back on expenses where you reasonably can, before adding to your credit card's balance."
MassMutual corporate vice president Tara Reynolds suggests that younger workers should attack their debt by starting with high-interest credit cards and student loans first. That will free up more income to do things like change your withholding for next year and put the extra into your retirement plan. If you have a health savings account or are considering an insurance policy to protect you in case you are ever incapacitated or disabled, now might be the time to fund it.
If you're over 30, keep hacking at high-interest credit cards and shoveling savings to retirement. If you're over 50, however, start socking away that $5,000 extra a year in catch-up contributions to your retirement. plan. If you're thinking about opening a 529 plan for your child's college fund or putting together a health savings account for yourself, stop waiting. Finally, if you're getting ready to retire, change your withholding, take the $5,000 extra a year and get your retirement in order. Buy some supplemental disability insurance if you must, but make sure you clean out any remaining credit card debt.
"If you're struggling with card debt, don't bury your head in the sand," Schulz says. "Take some sort of action, even if it's small. Consider a balance transfer card, for example. We're seeing 0% offers for up to 21 months, and that can have a huge impact on your ability to pay down that debt."
But Federal Reserve interest rate hikes may make shifting that debt a little trickier. Instead of simply swapping to a new card, however, Anthony D. Criscuolo, certified financial planner with Palisades Hudson Financial Group in Fort Lauderdale, advises putting emergency planning ahead of other long-term savings. Keep paying into a company 401(k) plan that gets "free money" from matching contributions, especially if you're worried about job security. However, according to the Credit Union National Association, you should try to set a savings goal and put away some accessible cash.
Criscuolo notes that even seemingly safe investments such as two-year CDs won't help if something comes up before the term ends and you have to pay early surrender charges. Instead, avoid anything with a maturity greater than three months and keep at least some of the emergency fund in cash or money market funds.
"The yield is low, but the purpose of an emergency fund is not to generate income or have a good rate of return, it's to protect you and provide cash in the event of an emergency," Criscuolo says.
If you need a little extra help, Criscuolo advises keeping an emergency line of credit open as a last resort. It won't keep you out of debt, but it will float you for a while.
"It may be too late to apply for a credit card with no income and no assets, so having one or two backup lines of credit in place before an emergency is a good idea," he says. "The best options are usually a credit card with no annual fee or a home equity line of credit."
You don't have to use that fallback plan if you make an emergency budget in advance. Scan your regular budget for non-essential expenses that you can cut in an emergency: cable, streaming services and the like. That should help your standard six- to 12-month budget stretch a little bit.
Just don't get too comfortable. Just because you're in a better job now or feeling more confident in your spending habits doesn't mean an emergency isn't waiting somewhere down the line. If you don't end up dipping into your emergency fund, it can become part of your nest egg. Just don't start looking at it as playing-around money if fortune turns in your favor.
"A weekend trip with your friends is not an emergency, " Criscuolo says. "You never know when an emergency will occur or how severe it may be. If an emergency hits right after you used some of the money, you may never be able to replenish the account and what's left may not be enough to last through the length of the emergency."