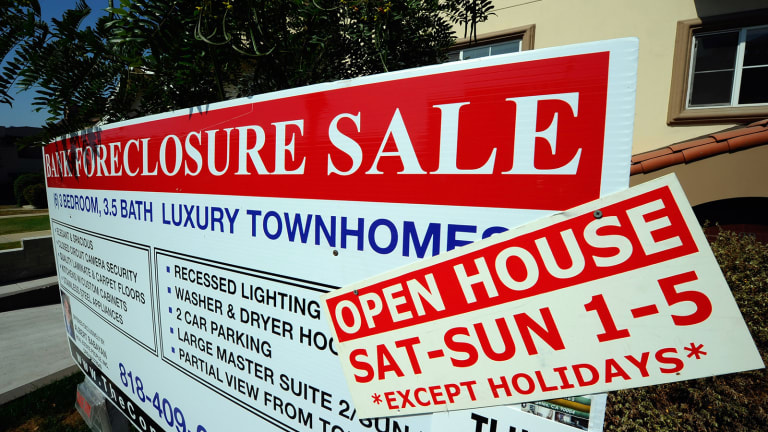 Will Foreclosure Victims Ruin the Market Now That They're Creditworthy Again?
Some 7.3 million consumers who lost homes to the foreclosure crisis could soon find their credit has recovered enough to let them qualify for mortgages and buy again.
NEW YORK (MainStreet) — Some 7.3 million consumers who lost homes to the foreclosure crisis could soon find that their credit has recovered enough to let them qualify for mortgages and buy properties again. But will these "Boomerang Buyers" purchase homes and live happily ever after — or simply push America's housing market into another boom and bust?
"It could be a great idea for these people to buy homes again. But on the other hand, what we learned from the foreclosure crisis is that homeownership isn't for everyone," says Daren Blomquist of market watcher RealtyTrac, which recently uncovered the Boomerang Buyer phenomenon by studying public property records.
RealtyTrac found that some 500,000 to 1.3 million U.S. homeowners per year lost properties between 2007 to 2014, but will soon regain their ability to get mortgages.
Banks won't generally give such consumers home loans for a long time. Homeowners who did "short sales" — got bank approval to sell their properties for whatever they could and walk away — usually can't get standard mortgages for four years. And consumers who actually lost properties to foreclosure typically have to wait seven years to qualify for conventional home loans again.
But Blomquist says the seven-year "blackout period" has ended for some 551,000 Americans that RealtyTrac discovered lost homes in 2007. He adds that more than 1 million more homeowners will pass out of the blackout stage in each of the next four years.
All told, RealtyTrac estimates that 7,283,345 ex-property owners will regain their ability to qualify for mortgages by 2022. That's a significant number, as buyers only purchase some 4.9 million existing U.S. residences (as opposed to newly built ones) per year.
Blomquist says that if even half of Boomerang Buyers purchase existing homes, that'll add around 10% to 13% to such sales over the next few years.
RealtyTrac expects the biggest number of Boomerang Buyers to emerge in metro areas that saw the most foreclosures during the housing bust. The firm's property-records search found the highest number of such potential purchasers buyers in Phoenix, Ariz. (348,329), Miami (322,141) and Detroit (305,501).
Blomquist says Boomerang Buyers in those metro areas and elsewhere could send housing prices higher at a time property values are already soaring in lots of locales due to low supply and improving demand.
Many markets have more house-hunters than available properties because construction dried up during the bust, while plenty of current homeowners can't easily sell because they're "underwater." That's where you owe more on your mortgage than your home is worth.
"If Boomerang Buyers come back into markets where there's not a lot of inventory, that'll push prices up and make home more unaffordable for more and more people," Blomquist says.
But the big question is whether these buyers will spark a second housing boom and bust — sending prices soaring by getting homes they can't really afford, then causing a collapse when they fall into foreclosure yet again.
"That's certainly something to consider," Blomquist says. "Are Boomerang Buyers simply going to make the same mistakes they made last time?"
He doesn't think so, partly because banks tightened lending standards either voluntarily or due to stricter government regulations after the bust. For instance, the industry has mostly gotten away from offering no-down-payment mortgages and other ultra-risky loans.
Blomquist also expects lenders to require Boomerang Buyers who want mortgages to have solid loan applications and a good explanation as to why they lost their previous places.
Someone who fell into foreclosure following a job loss could get a second chance, but "strategic defaulters" — those who deliberately walked away because their property values had dropped below their mortgage balances — probably won't, the expert says.
"I think there are a lot of more guardrails in place these days from a lending perspective," Blomquist says.
Pam Marron, a Florida mortgage broker who's helped some 60 Boomerang Buyers get loans so far and gotten inquiries from hundreds more, believes her customers definitely learned their lesson during the bust. 
"I can assure you that they'll never [go through foreclosure] again, because it's been too horrifically hard for them," says Marron, who works for Tampa Bay, Fla.-based Innovative Mortgage Services. "These are people who were brought to their knees, and they've gone through great lengths to prove that they're good enough to qualify for loans again."
— Written by Jerry Kronenberg for MainStreet
This article is commentary by an independent contributor. At the time of publication, the author held TK positions in the stocks mentioned.