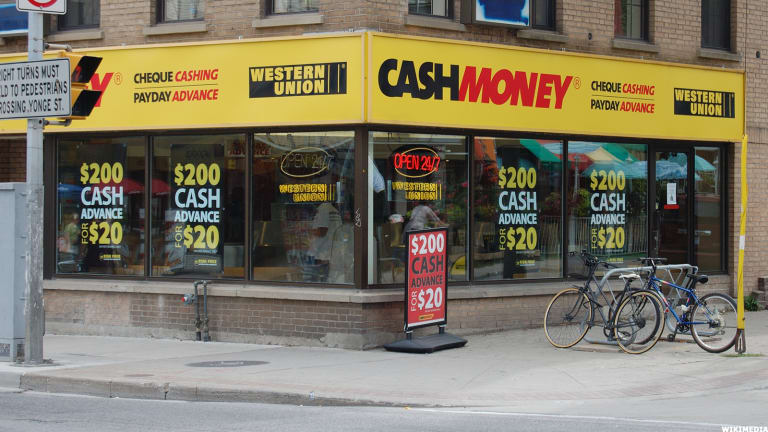 What the CFPB's New Proposals on Payday Loans Mean to Consumers
Payday loans can cause consumers big bucks in fees and interest, and Uncle Sam doesn't like it.
NEW YORK (MainStreet) — The federal government, via the Federal Consumer Protection Bureau, is getting increasingly aggressive on oversight of the payday loan industry.
Noting that 80% of payday loans in the U.S. last year resulted in the need for another loan within 14 days, the consumer watchdog agency is looking to reform the industry's model. It wants "payday, auto title and installment lenders to review a borrowers' ability to repay a loan in full and on time without additional borrowing."
"The evidence shows that payday loans are easy to get into and hard to get out of," says Tom Feltner, director of financial services at the Consumer Federation of America. "An objective assessment of a borrower's ability to repay a loan based on their income and expenses promises to end the financial hardship that inevitably follows abusive lending."
Additionally, the CFPB wants to stop payday loan companies from bypassing the rules it creates by crafting loophole loan products in response.
The agency also cites "abusive collection practices" from lenders in its call for reform. The CFPB says payday loaners routinely relies on post-dated checks and electronic access to bank accounts for consumer payments. Such payments often trigger bank account overdrafts, costing consumers more money. To remedy that, the CFPB is proposing a "two-attempt limit" for payday lenders to collect on a loan.
The proposals come on the heels of a speech by President Barack Obama last week in Birmingham, Ala., that was critical of current payday loan business models — especially on industry vetting practices. "If you lend out money, you have to first make sure that the borrower can afford to pay it back," Obama said.
Payday lenders don't see things the same way.
"I sat on a U.S. Chamber of Commerce legislative advocacy committee that publicly opposed legislation to effectively outlaw payday lending," says Michael L. Morrison, founder of Montana-based Michael L. Morrison Marketing. "In our research the committee learned that, while the rates are egregious when calculated at an annual rate, most of the loans are made on a fee basis for a short term. The high costs come into play when borrowers continually renew the obligation, which is not uncommon."
There is a need for payday lenders that is not met by banks and credit unions, and many of the consumers who resort to payday lenders are often considered unbankable, Morrison says.
"Until there is a dependable alternative, the elimination of payday lenders risks making life more difficult for the poor," he adds.
Kurt Helwig, president and chief executive of the Electronic Funds Transfer Association, agrees that the CFPB shouldn't come down too hard on payday lenders without a decent alternative for consumers. "We don't really have an official position on those rules," Helwig says. "That said, given the fact that there is clearly a market for payday loans, I would be concerned about what options a consumer in need of such a loan would have were these loans to be effectively regulated out of existence. As is often the case with regulations, it is important to be mindful of the unintended consequences."
Maybe Ram Palaniappan, founder of Palo Alto, Calif.-based Activehours, has the most unique idea on the subject: Change how employees are paid. His firm has a vision of a future without payday loans, but it's not through regulation of the existing system. "We want to get rid of payday loans altogether," Palaniappan says. "We want to make payday every day." Activehours estimates that $1 trillion of all employee income is kept out of the reach of employees between payment cycles, and its mobile app could allow hourly employees access to their pay without a fee or interest.
— Written by Brian O'Connell for MainStreet