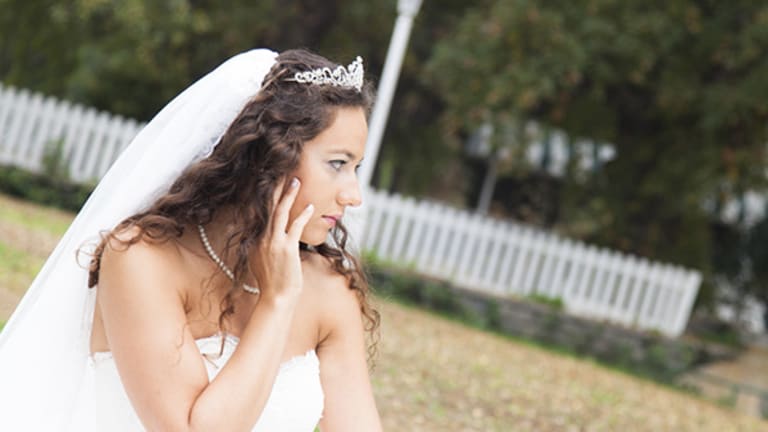 Publish date:
Wedding Hells: Unanticipated Nuptial Costs Can Trip You Up on the Way to the Altar
It's those small, incremental wedding costs that can really bust your nuptial budget
It's those small, incremental wedding costs that can really bust your nuptial budget
It's only late January - hardly prime time for wedding season.
But February, after all, is National Wedding Month (believe it or not), and for loving couples, that means it's already planning time for nuptials for April, May, June and beyond.
One barrier for any happy couple is the appearance of those unexpected costs that can derail the most meticulous wedding budget.
We say "unexpected" for a reason. Expected costs - high rental facilities, costly flights overseas for the honeymoon and the odd drunken uncle who staggers into the hand-crafted Caesar statue outside your wedding hall (O.K., that straddles the line between expected and unexpected) won't really surprise you. But other costs will, say wedding industry gurus.
Let's walk down the aisle together and examine the most unexpected costs that will throw your wedding budget out of whack.
- Beware hidden fees: Benjamin Glaser, features editor with Deal News, warns brides and grooms to factor in taxes and fees that can provide many unexpected wedding costs. "Caterers and event spaces might have service fees, delivery fees, set-up fees, corkage fees and even cake-slicing fees," Glaser says. "On top of that, add in sales tax and gratuities if they're not already included. Try to ascertain ahead of time how much these fees will be, and be sure to budget for them."
 - Watch out for "set up timing" : Danielle Rothweiler, a wedding and event planner based in Verona, N.J., says the wedding cost that can really blow your budget has to do with set up timing.
"Whether it's a creative space where all of the rentals have to be brought in such as tents, tables and chairs, or it's a banquet hall with a specific vendor load-in time, time really costs money in any situation," Rothweiler says. "One thing many couples don't realize when selecting their venue is there might be an event prior to their own, which will impact when set up can begin for your wedding."
If the rental company only has one hour to load in and set up, it's going to need a larger staff and thus, the price will increase, she adds. "And, if a florist or decor vendor only has an hour to set up at a banquet hall, it's the same issue. These are things couples never think about, but as a planner, I know to ask the questions before selecting the venue."
 - Anticipate outdoor wedding add-ons: Rebecca Kopperud, owner of La Boum Events in Anchorage, Alaska, says there are myriad costs linked to outdoor weddings that can induce sticker shock on the most battle-hardened bride or groom. "Outdoor weddings are really popular here in Alaska and across the nation," Kopperud says. "Many people believe, because they have pulled off a successful summer barbecue wedding with ease, for example, it's no big deal to invite their closest 200 friends to a big yard for a fun shindig, and it only involves hiring a band and bringing a couple extra steaks." Not so much, she explains.
"What people don't think about is all of the extra costs when you are basically building a venue where there was none," she says. "That includes port-a-potties, tents, tables/chairs, gallons and gallons of water for people to drink because you can't just drink beer all night, and then there you are - you just spent $10,000, and you don't even have a wedding yet."

 - Be mindful of the fact that little things add up very quickly: "Yes, the ring bearer pillow is only $17, and the flower girl basket is only another $25," Kopperud notes. "Then, you add on $50 gifts for all the groomsmen and bridesmaids, the corsages for your grandparents, and the next thing you know, you've added another $3,000 to your budget for hardly anything at all. We see this all the time. Either stick to the budget and forget all of these little things that don't really matter, or start warming up the old credit card, because it's going to get expensive."
 - Look out for the high cost of wedding invitations - Caleb McElveen, a writer for SavingThousands.com, recently got married and fully understands what he calls the "outrageous" cost of a wedding. "I was blown away by how expensive, and how much of our budget was taken up by, invitations and save the dates," McElveen says. "The more you put in them, the heavier they are, and the more expensive they become." He advises being creative with your wedding invitations. "Big and fancy isn't always the best option, but it will surely cost you the most," he says. "Forget about upgrades such as envelope liners and custom details. They just add weight and increase the price. Try to put all of your information on one card, or, go digital. Instead of including a card for replies, include a link that allows them to give their response. It's easier and quicker for both parties."
Overall, wedding experts recommend setting aside as much as a quarter of your budget for unexpected costs, Glaser says. "It might take a lot of willpower to only budget 75% of your available funds, but it could be worth it in the end," he says. "If you don't spend everything, you've given yourself a nice wedding present."