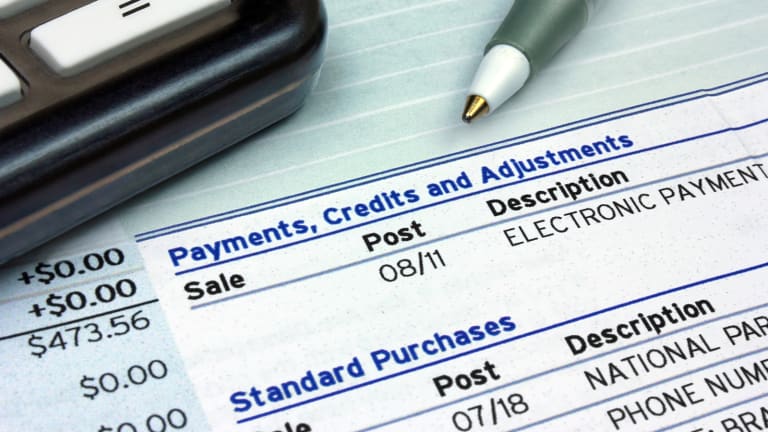 Wake Up, America – You're 'Delusional' Over Credit Card Debt
More than three-quarters of U.S. consumers with credit card debt regularly pay interest of 15% or higher and still keep living beyond their means.
NEW YORK (MainStreet) — Cherie Lowe, a mother and self-proclaimed "Queen of Free," has been walking around with a plastic tiara on her head,  literally and metaphorically, since 2008.
Why? Because she wants to send a message to other consumers: You can attain financial royalty by paying down debt, including massive credit card debt.
Lowe and her husband Brian walk the walk. They paid off $127,482.30 — to the penny — between 2008 and 2012, including more than $16,500 in credit card debt. "In fact, Sallie Mae owes us 32 cents, and we're still a little bitter," she jokes.
Lowe, of Greenwood, Ind., chronicles the journey in her book Slaying the Debt Dragon: How One Family Conquered Their Money Monster and Found an Inspired Happily Ever After and on her blog, QueenofFree.com. She says other consumers can "dream big dreams too" and learn to "get their personal finances under control." If, that is, they take steps like Lowe did.
"Cutting debt really isn't glamorous but, basically, by increasing our income — having my husband take on two extra jobs, working long hours and reducing our lifestyle — we slashed all that debt," Lowe says. "I made it my job to run our house like a business, reducing expenses and stretching every penny until it seemed to double."
To further slash spending, the Lowes quit going to restaurants and eating pricier foods such as steaks. The due also took a more unusual step by personalizing their debt: "We referred to our debt as a dragon. We could channel our energies toward killing it, instead of fighting each other."
For all her optimism, is Lowe fighting an uphill battle on her quest for a debt-free consumer life? Maybe so.
According to a study by MagnifyMoney.com, 75.7% of U.S. consumers with credit card debt regularly pay interest of 15% or higher. The average monthly payment on that debt is $408. Spike that interest rate to a not-uncommon 18% and the average credit card consumer will pay at least $1,707 in credit card interest over the next year.
"Think about it this way," study researchers say. "Banks will pay 0.01% for money [for savings account deposits]. So for $10,902 a bank would pay about $1 in interest. Then they turn around and charge the average American $1,707 in interest. Not a bad business."
Maybe that's why so many finance experts say Americans have their heads in the sand on debt and especially on high-interest credit cards, which chew away at household income. "People become delusional about the lifestyle they can afford to live, from eating at restaurants and buying clothing," says Dawn Bennett, founder of Bennett Group Financial Services in Washington, D.C. "We continue borrowing to keep up this appearance, even though 40% of people cannot afford the lifestyle they are pretending to live."
People pay too much on the debt they have and won't refinance, Bennett says, so they end up paying high interest rates for bad decisions and banks continue to profit from people's fear of finding a better deal. All the "delusion" often also has unintended consequences. "By remaining silent about credit card debt, people remove the opportunity of allowing others to learn from their mistakes, including their children," Bennett says. "People measure purchasing power as success and don't want to admit to children, friends and family that they can't afford something."
Of course, not all Americans seem delusional or secretive about credit card debt. Younger Americans, somewhat surprisingly, are actually doing a good job managing their plastic, relative to other generations.
"Based on our data I can see that younger Americans in the recent years got much less addicted to credit cards than their parents," says Alex Gerard, founder of CardsMix.com, a credit card comparison and advisory service. His company's data show total credit card use within the 15- to 24-year-old demographic shrinking and debit card use growing.
Gerard sees several possible reasons. "First, prepaid cards appeared on the market in the early 2000s, so young Americans grew up with prepaid cards in their pockets," he says. "Also, the Credit Card Act of 2009 made it very difficult to get a credit card for a person under 21. Now young people have to rely on their parents to be a co-signer, and credit card companies are very limited in promoting credit cards at the college campuses."
Consequently, younger consumers are moving away from credit cards, and maybe that's a good thing. "If you can't control your spending with credit cards, then give them up totally, and go to a cash-based budget," advises Bryan Marsden, a blogger at FatWallet, a personal finance site. "Past that, there is no magic to paying off debt. It will take hard work and a budget."
— Written By Brian O'Connell for MainStreet