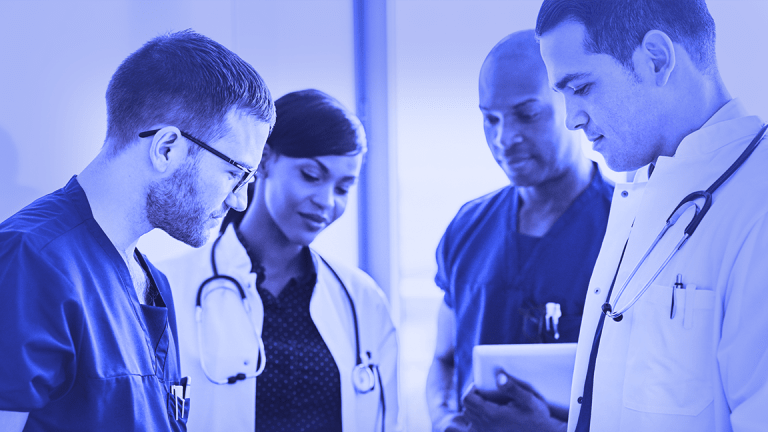 Why Going to Urgent Care Is Better Than the ER
For a sore throat or a minor scrape, going to an urgent care will save you time and money.
Heading to your local urgent care center for a minor ailment is likely your best option since their costs are often cheaper than going to the emergency room.
Minor ailments such as a small cut or sprain can be taken care of by doctors at a neighborhood urgent care center, saving you hundreds of dollars and many hours of waiting to be treated.
"Urgent care clinics can be more convenient and a lower cost compared to emergency rooms, but they aren't for every medical situation," said Lisa Zamosky, senior director of communications at eHealth  (EHTH) , a health insurance exchange based in Mountain View, Calif. "Urgent care centers are an appropriate choice when you have a medical need that requires immediate attention but is not life threatening. If you're having severe chest pain, for example, you need to go to the ER, not an urgent care center."
The clinics can treat a wide range of illnesses and injuries such as screenings for concussions, treating infections, broken bones or minor injuries of burns.
"If you develop a sudden illness or injury and it's something you would normally feel comfortable addressing with your primary care doctor, then an urgent care setting is probably more appropriate than the emergency room," said Kien Vuu, a clinical professor of medicine at David Geffen School of Medicine UCLA who practices interventional and diagnostic radiology at UCLA, Olive View Medical Center, Huntington Hospital and Kaiser Permanente. "Some symptoms may include fever without rash, ear pain, painful urination, diarrhea, sore throat, vomiting and other minor trauma."
Consumers should be aware that the clinics are generally run by one physician who is supported by other medical professionals such as nurses, physician's assistants and technicians, she said. They are often owned by doctors or hospitals, but operate in a freestanding location separate from hospitals or emergency rooms.
Many clinics accept health insurance, but patients should see if the location is in their network. If it is not in their network, consumers should be prepared to pay out-of-pocket for going to that facility. Another critical factor is that while any payments will be cheaper than going to the ER, it generally won't count toward your annual deductible, she said.
"If you're uninsured, need to be seen right away or are traveling outside your insurance company's network, an urgent care clinic may be a good idea for non-emergency situations," said Zamosky.
A visit to an urgent care can typically save a patient hundreds to thousands of dollars. In 2016, the average cost of an urgent care clinic was $176 compared to $2,259 at an ER, based on national averages from health insurer Cigna's 2016 claim data.
"Urgent care clinics tend to be less expensive than emergency rooms," she said. "In fact, the same care for the same condition can run three times as much or more in an ER compared to an urgent care clinic."
One benefit of these clinics is that they are open in the evenings and weekends compared to your physician's office. The wait time at an urgent care clinic is also more practical and works better with many people's schedules because often it is 30 minutes or less, making it easier to go back to work. At 92% of the locations, the wait time was less than half an hour and at 90% of the clinics, patients spent a total of 60 minutes waiting and being treated, according to a 2016 report from the Urgent Care Association of America.
Too many people still head to the ER automatically because they mistakenly believe their medical problem can only be treated there. In turn, this drives up costs of healthcare.
While the wait time at the ER can be several hours, they are able to treat more serious illnesses and injuries.
"ERs are intended to treat trauma, acute and serious injuries like severe chest or stomach pain, head injuries, deep wounds or shortness of breath," Zamosky said.
Not all ERs will be in your network and some health insurance plans come with special copayments for care delivered in the ER.
"In some cases, insurers are placing greater restrictions on the use of emergency room visits to prevent unnecessarily expensive care," she said. "This can leave you with a substantial bill. When considering a new health insurance plan, always make sure you understand what you'll have to pay when visiting an ER."
You should be aware of the differences between urgent care clinics and standalone ERs. Depending on your insurance coverage, a consumer should pay their urgent care copay at an urgent care clinic and their emergency room copay at any ER, even standalone facilities, whether they are affiliated with a hospital or not.