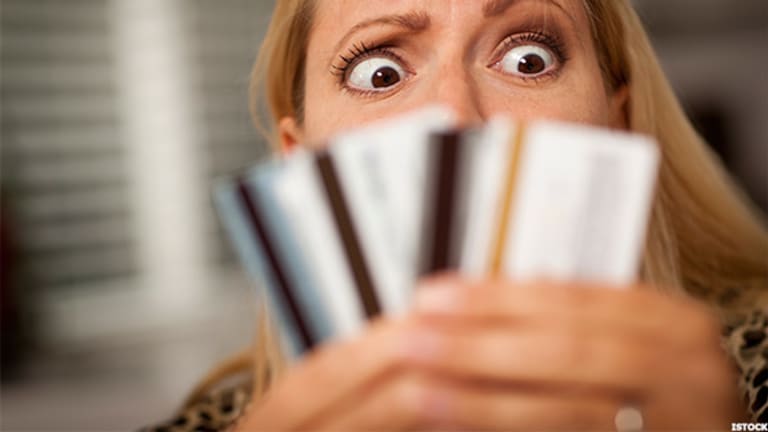 Toxic Twins: How to Battle Combined Credit Card and Student Loan Debt
Having high student loan debt is bad enough, without adding enormous credit card debt.
There seems to be a link between student loan debt and high credit card debt, and it's causing no shortage of stress among the unfortunate number of Americans who suffer that double burden.
According to data from DealNews, 65% of people who have student loan debt are stressed about money. Additionally, among those respondents who carry a credit card balance, 25% also have student loan debt.
With current student loan debt standing at $1.23 trillion, and credit card debt at $733 billion, Americans balancing both financial burdens certainly do have much to fret about. The questions is, what to do about it?
"Our survey found a clear correlation between credit card debt and student debt, but it's harder to say if one is causing the other," says Benjamin Glaser, features editor at Deal News. "Those with student debt are already in a hole, so they might have trouble paying off their credit card bill each month. And for too many, student debt doesn't necessarily lead to increased earnings."
For an action plan to pay off both debts, the key is to prioritize which debt gets most of your attention - and your money.
"To balance paying off both debts, I recommend starting by putting most money towards the lowest balance," says Paul Durso, president of Durso Capital Management in Charlotte. "That is usually going to mean a credit card and not a student loan."
Devote as much as you can to that card debt, while still making minimum payments on your student loans and all your other debts, Durso advises. "Once that first card is paid off, start on the second-lowest balance," he adds. "Just like a snowball rolling down a hill, the key is building momentum each time you pay off a debt."
"Meanwhile, work to get a lower rate on both credit card debt and student loan debt, while you're paying down both debts," Durso says.
High interest rates do come into play when trying to pay down both credit card and student loan debts. Financial experts say that, again, credit cards should be a priority in that regard.
"Whenever one is choosing between paying off debt from more than one vendor, the priority should be given to where the interest rate is higher, and that will almost often be the credit card," says Michal Strahilevitz, a marketing and behavioral economics professor at Victoria University in Wellington, New Zealand.
Strahilevitz says his research has shown that big time debtors spend a lot of energy figuring out ways to get around their debt. "They transfer balances from an old card to a new one that is either lower interest or interest free at the start," he says. "Meanwhile, students also will often try to delay paying off their student loans by getting a second degree, that may or may not be a good investment in their future career prospects. Consequently, the best move right off the bat is to first pay off the debt with the greatest interest rate first."
While you're addressing both debts, create a separate strategy that can produce extra income to help pay down both your credit card and student loan debt.
"Can you cut any expenses from your paycheck, and do you typically get a tax refund?" asks Damon Gonzalez, a financial planner at Domestique Capital LLC based in Plano, Texas. "Also, increase your allowances on your W4 tax form so that you pay less in taxes each paycheck and have more to pay each month on your high interest rate loans. After you review your paycheck, find out what household budget expenses are fixed and necessary, and which ones are discretionary. If money is tight, make some sacrifices and cut things like cable television, change cell phone plans, shop insurance policies, and possibly get a roommate."
Get a side job, too, Gonzalez advises. "Rent a room out on Airbnb, or drive a few hours a night for Uber," he says.
Juggling two heavy debts isn't easy, but it's doable. The best move you can make is to address the twin-debts head on, and whatever you do, don't let up until both your student loans and your credit card debts are paid off.