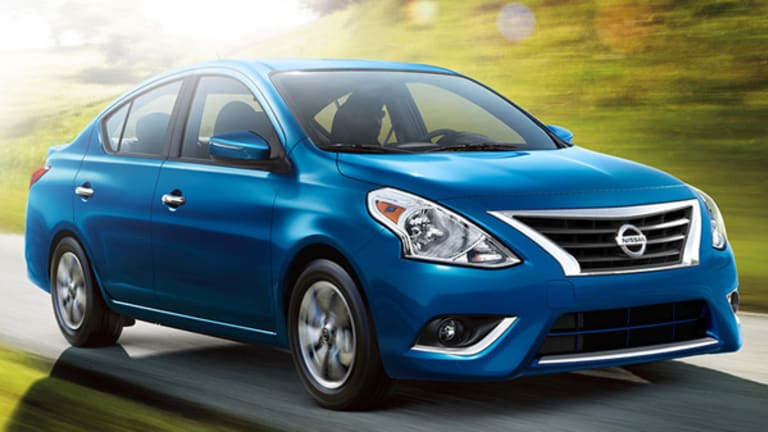 This Is What College Graduates' Cars Actually Look Like
Laden with student loan debt, unsure of the cost of vehicle ownership and drawn to cities with public transit, college graduates aren't looking for the sweetest ride they can buy.
Laden with student loan debt, unsure of the cost of vehicle ownership and drawn to cities with public transit, college graduates aren't looking for the sweetest ride they can buy.
Editors' pick: Originally published May 11, 2016.
The perfect car for high school or college graduates, if they opt to buy a car at all, is the one they can afford.
We're always tickled by the lists that surface around this time each year indicating which cars college graduates should buy. Just this year, vehicle pricing site Autotrader published a list of nine vehicles for recent college graduates to consider. It included the Fiat 500X (starting price around $21,000), the Honda Civic ($19,400), the Kia Soul ($16,700), the Scion iA ($16,500) and the Subaru Crosstrek ($22,500).
Their hearts are in the right place. All of those prices are well below the $33,865 that Autotrader's sibling publication, Kelley Blue Book, says was the average vehicle transaction price in April. That price is up nearly 2% since the same time last year and ranges from an average of $20,157 for a compact car to more than $92,00 for a high-performance car.
"April 2016 continues to show steady improvement in average transaction prices for nearly all manufacturers, with particularly strong numbers for the Detroit automakers," says Tim Fleming, analyst for Kelley Blue Book. "Even though gas prices rose slightly in April, truck segments saw the largest year-over-year increases, with mid-size trucks climbing nearly 7% on average. This segment is on the rise, as consumers who don't need a full-size truck are finding they can still get many amenities and plenty of utility from the new mid-size trucks now available."
For many graduates, however, all of the above are going to be incredibly unrealistic options. Student loan and financial advice site Edvisors.com reminds us that, last year, the average student loan debt for a graduate who just received a bachelor's degree was $35,051. That debt was carried by 70.9% of all graduates. Compare that to just 20 years ago, when average student loan debt was $12,759 and just 54% of all students graduated with debt.
According to the Federal Reserve Bank of New York, total student loan debt reached $1.23 trillion by the end of 2015. That's up $75 billion from a year earlier and is the second largest pile of U.S. consumer debt behind mortgage debt, which sits at $8.25 trillion. Not only are college graduates saddled with that student loan debt right off the bat, but they're also in no position to add to the nation's $1.06 trillion in auto loan debt (up $109 billion from a year earlier).
According to the FRBNY, more than one in ten (11.6%) student loans are past due. That's a worse delinquency rate than even that of credit card bills, of which 8.2% are past due. However, it's easier to pay off all of the above when you have a job. Though the Bureau of Labor Statistics puts the current unemployment rate at 5%, that jumps to 8.2% for people ages 20 to 24 -- or roughly the age of most recent college graduates. Only 63.4% of people that age are an active part of the workforce, compared to more than 81% of folks between 25 and 54.
As a result, the share of new cars being bought by Americans between 18 and 34 is down 30% in the last five years, according to auto pricing site Edmunds.com. A Pew Research Center study notes that people under 35 bought 12% fewer cars than they did in 2010. The Department of Transportation notes that just 28% of 16-year-olds had driver's licenses in 2010, with just 45% of 17-year-olds claiming the same. That's plummeted from 50% and 66% respectively in 1978. While the number of 16-year-olds with driver's licenses peaked at 1.72 million in 2009, it plummeted to 1.08 million by 2014.
The folks at car shopping site CarGurus.com surveyed college students who are about to graduate college within the next year and discovered exactly why they may be shying away from the experience. Roughly 57% of college students will be paying for a car on their own, with 46% spending $15,000 or less. That likely means a used or Certified Pre-Owned car, which can be an issue all its own.
The folks at Manheim Consulting keep track of used vehicle prices and note that while they've come down from their peak in 2011, when automaker bankruptcies and a lack of leasing left used vehicles in short supply, they're still well higher than they were just before the recession began. Used vehicle sales are up 6% from a year ago, even the prices at auction sales have risen 3% during that time. For example, taking $5,000 to auction back in 2003 could get you a car with 70,000 miles on it, on average. Go to auction with that same $5,000 today, however, and that car is likely to have more than 120,000 miles on it, according to Manheim.
With 71% of graduates with a job driving to work and none of the Autotrader Certified Pre-Owned suggestions selling below $15,000, that means 67% of those getting a car plan to buy used. However, this doesn't mean that a car is the only option on the table. CarGurus.com found that of the 58% taking a job in a city after graduation, 40% plan to live in that city -- where they can take advantage of other transportation options. Also, considering that the average auto insurance cost for college graduates is close to $2,000 a year, though roughly 53% of those grads think it's less than $500, the sticker shock may get a bit overwhelming.
Manheim took a look at $5,000 auction cars back in 2014 and found that buyers were more likely to end up with a 2007 or 2008 Nissan Altima midsize, a 2008 Chevrolet Impala full-size or a nearly decade-old Toyota Sierra or Honda Odyssey Minivan. Meanwhile, according to Edmunds.com, there were only a dozen new cars whose price fell below that $15,000 sweet spot, ranging from the $11,900 Nissan Versa sedan to the $14,995 Hyundai Accent hatchback. Even the super-snug Smart Fortwo two-seater sets you back $14,650.
To a generation already disinclined toward the automobile, this means that the sweet graduation ride will either be a subcompact, a years-old beater, a bicycle or the first bus or train that comes along. While tiny, well-worn cars that look as if they just escaped an airport rental lot aren't the stuff of lovingly curated listicles, they're what constitute a dream vehicle now that this generation's post-recession finances have broken off America's love affair with the automobile.
"We are pleasantly surprised to learn that today's college students have relatively rational and moderate expectations toward the cars they'll buy after graduating and how much they plan to spend," said CarGurus Editor Steve Halloran. "We also found that this group has a lot to learn about car ownership costs, but our survey demonstrates they clearly want to be financially independent and make sound decisions."
This article is commentary by an independent contributor. At the time of publication, the author held no positions in the stocks mentioned.