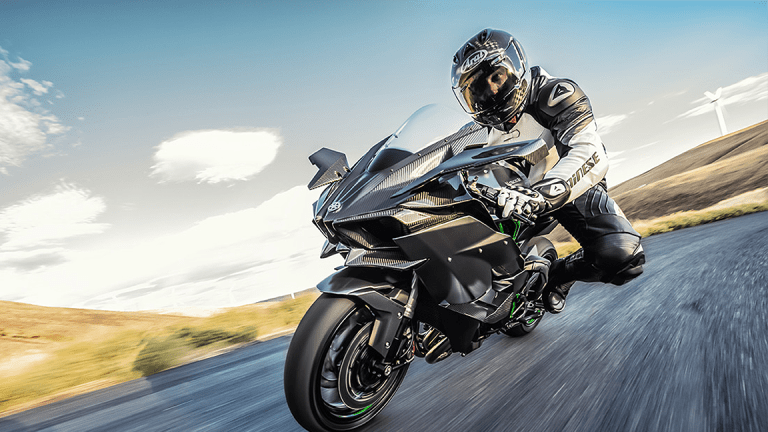 Harley-Davidson, 'Wolf of Wall Street' and Shark Tank; Video Highlights
Ready for the weekend? Ready to Rewind? This video newsletter catches you up on some of our best interviews and pieces from the week. Watch: Harley-Davidson top motorcycles, the real 'Wolf of Wall Street' stops by and Shark Tank's Robert Herjavec gets us ready for this weekend's season premiere!
Hello Friends -
Grab a LARGE cup of your favorite coffee. It's been an insane week @TheStreet , so let's get straight to it!
Producer Vanessa Fayzulin and I traveled to Columbus, Ohio for the @AIMExpo. We saw some badass motorcycles. Among them? Kawasaki's $55,000 Ninja H2R. This premium machine is so sick, it's not even street legal! Kawasaki Ninja H2R: Is it Enough to Excite Die-Hard Enthusiasts - Must see video: we show you all the features that make the Ninja H2R worth the whopping price tag. We also got up close and personal with (Polaris (PII) - Get Polaris Inc. Report owned) Indian's Scout Bobber, Chieftain Dark Horse and the Indian Roadmaster Elite. Just one look at these bad boys and you'll want to hop on and take a ride. And then, there was Harley-Davidson. CEO Matt Levatich and Polaris CEO Scott Wine shared the stage and both expressed their commitment to the next generation of riders. At the end of the day, I have a soft spot for Harley-Davidson (HOG) - Get Harley-Davidson, Inc. Report . Why? Well, maybe because my mom and dad rode a Harley back in the 70's. A great weekend read: Mom Was a Harley Rider ('70's), I Ride Today ('17), Will my Girls Ride Tomorrow? For the a look at the newest Harley-Davidson click on the video below.

If you're like me, you'll be watching the new season of "Shark Tank," which premieres on Sunday night. In this next season, guest sharks will appear on the show, including Alex Rodriguez and Bethenny Frankel. TheStreet's Scott Gamm spoke with Robert Herjavec who argued with Frankel on the show! Herjavec was impressed with the guest sharks' ability to spot holes in people's businesses. "Bethenny and I were bidding on this big business at the end - we saw the same business - we all saw the same problems - but we saw different opportunities," he said. Watch the video below!
You know, I can't get through the day (or weekend) without my coffee. TheStreet's Brian Sozzi sat down with Dunkin' Brands DNKN CEO Nigel Travis - after all, Friday was #NationalCoffeeDay. Dunkin' is effectively at war with McDonald's (MCD) - Get McDonald's Corporation Report in the business of selling coffee. The Golden Arches continue to offer sharp discounts on its various hot and iced coffees to drum up badly needed business. Meanwhile on the higher-end of the spectrum, Starbucks (SBUX) - Get Starbucks Corporation Report continues to concoct sugary iced bombs that fetch upward of $6 each.
If you're a jet setter like me, you must watch this next video. Samantha Brown, host of a slew of Travel Channel shows for almost two decades stops by to chat with TheStreet's @ScottGamm about her upcoming show on PBS and how to snag a good deal on airfare.
Check out her great tweet!

My interview with @TheStreet's @ScottGamm, we discussed my upcoming @PBS show and how to find the best travel deals: https://t.co/gsW9WK6H1C
Remember Jordan Belfort? He served time in prison for financial crimes. The 2013 movie The Wolf of Wall Street is based on his story. Well, Belfort is out with a new book Way of the Wolf. He joined TheStreet to discuss everything from the pump and dump scheme to his biggest concerns about bitcoin! This is a video you won't want to miss!
Well, that's a wrap for now. Our Tracy Byrnes just wrapped an exciting trip to Portugal. Let's hope she'll share some of her stories about her adventures in next week's edition!

And a quick reminder: that in addition to TheStreet Rewindvideo newsletter you can also sign up for our other free newsletters including In Case You Missed It, Booyah! and more. Hey, I'd love to hear from you. Tell me what type of videos you'd like to see from TheStreet and be sure to share your story ideas! Just email me at Julie.Iannuzzi@TheStreet.com or follow me @ JulesVideo on Twitter.
Until next weekend!
Julie Bennett Iannuzzi
Video, Social, Podcasts
Harley-Davidson CEO Matt Levatich and Polaris CEO Scott Wine shared the stage at the recent AIMExpo in Columbus, Ohio. Both CEO's saying they are committed to the next generation of riders. Video showcases Harley-Davidson's bad boy bikes.
Mom Was a Harley Rider ('70's), I Ride Today ('17), Will my Girls Ride Tomorrow?
Video: 'The Wolf of Wall Street' Jordan Belfort on Financial Fraud and Bitcoin
The upcoming season of ABC's Shark Tank; includes guest sharks and plenty of drama. TheStreet goes one-on-one with Robert Herjavec.
Famed Travel TV Star Samantha Brown Reveals How to Snag Cheap Airfare
Why pay full price? Tips from the real expert!
Behind the Wheel of The New $84,995 Dodge Demon
After taking the 2018 Dodge Demon for a ride, it's speed did not disappoint!
See you guys next week!
More of What's Trending on TheStreet: