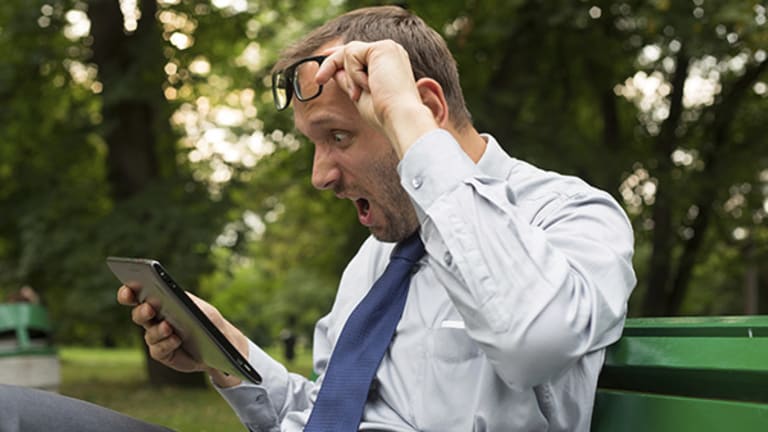 'The Scariest Financial Challenge I Ever Faced': 5 True Stories
Real people recount how they managed to overcome frightening money debacles.
NEW YORK (MainStreet) — Witches and monsters may have scared us as kids, but today the things that give us the heebie-jeebies often have to do with money. Worrying about bills, job security and credit card debt can be pretty frightening, but that doesn't mean you can't face your fears and get your finances under control.
For inspiration, we asked a group of real people to share the scariest financial challenge they ever faced and how they managed to overcome it. From a young woman who struggled to pay off mountains of debt while going through a divorce to an attorney who says his finances were in shambles after receiving cancer treatments, here are their stories.
Name: Allyson Whipple
Occupation: Adjunct assistant professor at Austin Community College
Residence: Austin, Texas
"A few years ago I got myself into a bad financial situation. Although my parents had worked hard to impress upon me the importance of financial responsibility, I was apparently hell-bent on making mistakes.
"I spent most of my twenties being irresponsible with credit cards and was only making minimum payments on my student loans. Then, I took a chance on a new job that didn't pan out and found myself temping irregular, low-paying gigs for almost two years. And then, my husband needed hand surgery, and I had to max out a high-interest credit card I'd almost paid off so we could afford it.
"In part due to chronic financial strain, my marriage fell apart. I found steady work at that point, but wasn't making a lot. So now I had a high amount of debt, plus a divorce, and had to find a new place to live. This was especially scary because I owed the city $3,000 in past-due utility bills and couldn't get utilities set up at my own place until I paid that back.
"I managed to find a roommate who had the utilities in his name, and I went through credit counseling. I also got a friend to help support me by making sure I checked my bank balance and budget every day. While I'm still in debt, I'm digging myself out from under the hole."

Name: Lori Cheek
Occupation: Founder and CEO of Cheekd
Residence: New York City
"In May 2010 I launched Cheekd.com—a mobile dating app that makes 'missed connections' obsolete. I left a 15-year career in architecture where I earned nearly $120,000 a year, and after finishing off my savings, I had to get extremely creative to continue funding my business.
"After four tumultuous years of building my startup with the wrong partners, lots of bad decisions and some major rookie mistakes, I was determined to find a way to take my business to the next level—and what better way than to apply to ABC's 'Shark Tank?' In September 2013, I found myself walking down that scary shark-infested hallway into a stare off with five of the harshest millionaire investors in the world. I'd never been more nervous in my entire life. When I proclaimed I was going to change the population with my reverse-engineered online dating business, serial entrepreneur and Dallas Mavericks owner Mark Cuban rolled his eyes, called me delusional and immediately snapped, 'I'm out.' After getting shot down by all five 'Sharks,' I looked them in the eye and said, 'Trust that you'll all see me again.'
"In the 48 hours after the broadcast, Cheekd.com received a record-breaking 100,000 unique visitors and our inbox filled up with thousands of emails insisting that the 'Sharks' were out of their minds for not investing. A little under 50 of those emails were from interested investors. We've raised five times the amount I'd sought on the show and I've gotten a CTO on board who's helped facilitate and finance the new face and technology behind the new Cheekd.
"I've taken a major risk, both financially and mentally, and surrendered my career in architecture and design, but my heart and mind are in this project every waking moment."

Name: Pegi Burdick
Occupation: Financial coach and author
Residence: Los Angeles
"About seven years ago, my life unraveled and I stood at the edge of my own demise. I was divorcing my husband of 11 years and our debts were more than our assets. The landlord of our $3,500/month beach house decided to sell, my favorite dog was dying, I was between jobs, my lawsuit was still unsettled and I needed gum surgery.
"I was waking up every night at 3 a.m. sweating. It was the first time I was so afraid of falling; I had no parachute. I was filled with shame, fear and anger and did not know how to rescue myself.
"All the books I read were not helping until a friend gave me The Artist's Way by Julia Cameron and You Can Heal Your Life by Louise Hay. Those books gave me information I was hungry for; I had hope.
"I then hired a career coach to help me find my true purpose. I was 58, but the coach, after two sessions, helped me define what I loved—teaching. As I started to rebuild my life, I realized I could help others.
"I became a financial coach, helping other women untangle their emotions from their money."

Name: Lee R. Phillips
Occupation: Attorney, president/owner of LegaLees
Residence: Siesta Key, Fla., and Provo, Utah
"I was a young patent attorney and had only worked for a firm for about two months when I got sick. After a series of meeting with different doctors, I was diagnosed with advanced cancer and was expected to live only weeks. My wife and I were 27 and had three children.
"Spending months in the special care isolation unit was hard enough, but the victory in saving my life was greatly tarnished by the economic shambles of my life and business that I came out into from the hospital. The law firm held my job for three months, then let me go, and the doctor's bills were huge. I got to be on a first-name basis with the auditors at the university hospital. We did many audits, and many of the bills were not correct. We worked it down to where there was only about $5,000 left, and I just paid it to get it out of my hair.
"When I got well enough so I might work, I found that I was unemployable. I have a stack of over 200 rejection letters. My credentials were perfect, but I couldn't hide the visible effects of my treatment—I weighed 80 pounds, had no hair and shook. I had no money and finally began working for myself doing wills and trusts for people.
"I have spent the last 28 years speaking to groups all over the country and internationally about the legal tools they need to use to protect their assets in case of a disaster and put their affairs in order now. I try to help people avoid the problems I faced."

Name: Christopher Rither
Occupation: Professor at Myongji University, editor-in-chief of One Mean Dream
Residence: Incheon, South Korea
"In 2007, I'd bought my twelfth investment property, my building inspection business was booming and I had full occupancy in all rental units. So in early 2008, I decided a nice, long round-the-world trip was just the break I needed.
"Along the way, I ended up in a French hospital undergoing emergency back surgery, and by the time I got home in late 2008 everything was falling apart. By mid-2009 I was forced to lay off all my employees, my holdings had been nearly cut in half, and because work in the real estate industry was non-existent, I was looking at filing for bankruptcy.
"Besides the financial collapse, I was struggling with nerve damage, back issues and a disability known as drop foot. This made running my business very difficult, and I soon realized I needed to make some dramatic life changes. One day, as I struggled with the onset of depression, a friend reminded me that I needed to stop focusing on what I couldn't do and start working on the things I still could do.
"For the next year I focused on what I could do. I made a deal with one of my old employees that if I went out and hustled work, he could do the work as a sub-contractor. I then ruthlessly sold off every liquid asset I had to keep afloat financially. I also put every property on the market in an effort to relieve me of the mortgage debts.
"As things sold off, I realized I had spent too much time accumulating stuff I really didn't need and risky assets that required way too much work to maintain. By 2010, I had made the decision to make a complete life change and moved to South Korea to pursue a new profession as a university professor, where I teach English conversation, debate, business and various discussion classes.
"I now make less money, but I am happier and have much more time to do the things I love."