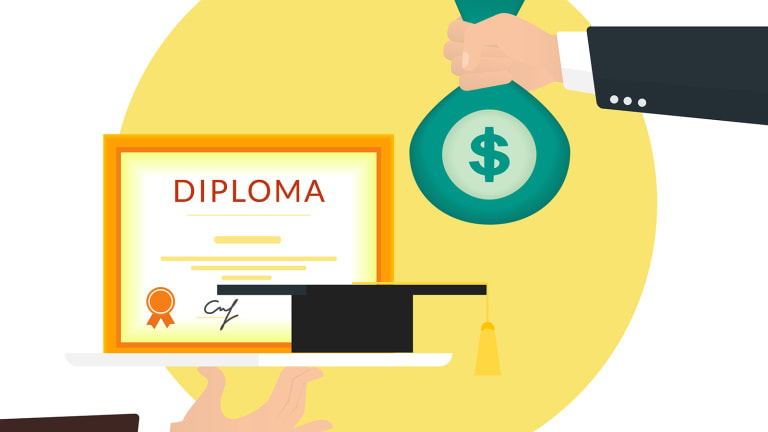 The Rising Tide of Student Loans Will Likely Hit When the Summer's Over
Income driven repayment plans, re-financing and auto-debit payments can make the payback more manageable.
Editors' pick: Originally published July 28.
It's July going on August. Your student loans are in the distance, like the horizon you see from the beach.
But for June grads they will be on you like a rogue wave come November, when the payback starts. Higher ed experts say now's the time to get ready.
Andrew Josuweit, CEO of Student Loan Hero, noted that students should know what's coming even before they graduate, "Financial aid offices are technically required to perform an exit interview, which includes reviewing federal student loans listed in the National Student Loan Data System (NSLDS) to educate students on their debt obligations."
Mark Kantrowitz, publisher and vice president of strategy at Chicago-based Cappex.com, acknowledged that the six-month grace period--nine months for federal Perkins Loans--begins after you graduate or drop below half-time enrollment. "Once those thresholds are crossed, he said, "you are responsible for telling the lender about changes in your contact information. If they have your current address, they'll send you a statement or coupon book a few weeks before repayment begins." Even if you don't hear from the lender or the servicer, he says, "you're still responsible for making payments on your student loans." Borrowers should contact the lender to correct any errors, find out about payment options from the web-based choices to the U.S. Mail and determine monthly amounts and balances.
Loan consolidation, where multiple loans can be rolled into one, is an option available right after graduation.
"A Federal Direct Consolidation Loan can help borrowers with multiple federal student loans combine them into one loan to manage repayment more easily at no cost to the borrower," said Josuweit, who started Student Loan Hero in 2012 as a web-based source of information on student loans. "It can also help student loan borrowers who want to expand their eligibility for certain repayment programs, like income-driven repayment plans." There are four: Income Contingent Repayment Plans (ICR), Income-Based Repayment Plans (IBR), Pay As You Earn (PAYE) and the PAYE reboot, Revised Pay As You Earn (REPAYE). Those in public service occupations are eligible for Public Service Loan Forgiveness (PSLF).
Income-driven repayment is attractive for borrowers who find that their expenses are greater than their income. "If the borrower has negative cash flow, they need to either trim down expenses or sign-up for alternative student loan repayment options, such as deferment or an income-driven repayment plans," Josuweit said. "Federal loans are eligible for deferment, where payments are suspended for a period of time and interest does not accrue. They can also be put into forbearance, where payments are also suspended but interest continues to be charged."
"Keep in mind, IDR plans are really meant to be short-term solutions until you're able to either reduce expenses or increase income," Josuweit added, noting borrowers should eventually aim to make bigger payments In some cases, reduced payments may not cover the interest being charged. "I hate hearing stories about borrowers who enroll in an IDR plan and don't realize the loan is experiencing negative amortization," Josuweit said. Negative amortization occurs when the principal balance increases, because the borrower fails to cover interest payments, which are added to the loan balance.
Refinancing can be an effective tool for reducing the interest rate of a student loan. "Private student loans, GradPLUS, and ParentPLUS loans are great targets for refinancing given their higher interest rates," Josuweit said. "Any student loan with an interest rate of 5% or higher might also be a good candidate for refinancing."
Refinancing is done through a private lender, however.  The downside to of refinancing federal loans, he noted is that a borrower will lose access to most federal student loan benefits. As an alternative, he suggests that borrowers "select high-interest rate federal student loans for refinancing while leaving low-interest rate student loans with the federal government" to ensure access to income-driven repayment plans in the event of unemployment or other hardship.
"Historically, lenders would often rely heavily on your credit score, which is challenging for student loan borrowers with limited or no credit reports," Josuweit said. "As time goes on, I hope lenders will be able to secure funding sources that are comfortable with loans that use alternative underwriting methods."
In some cases, that's already happening. "Refinancing lenders have been improving their customer experience and underwriting criteria for student loan borrowers," said Josuweit. "For example, Earnest looks at your free cash flow and assets by syncing those with your bank account to make a final decision."
Borrowers will find they they'll have to stay on top of the pay-back process themselves. "I encourage students to get organized, making a list of all their loans, and to sign up for auto-debit," Kantrowitz stated. "Not only are you less likely to be late with a payment, but many lenders give a slight interest rate reduction or other discounts to borrowers who sign up for auto-debit." Borrowers must arrange for auto-debit payments with their banks, who will automatically deduct the amount from their bank accounts when a scheduled payment is due.
Josuweit, who once watched his $74,000 loan balance balloon to $107,000 three years after graduation, said, "I personally prefer ACH auto-debit. This ensures you don't accidentally forget to make a monthly payment. Many servicers also provide a 0.25% interest rate reduction for borrowers who sign-up for auto-debit."
If possible, Josuweit recommends pre-paying loans, which means making an extra payment every month. "Most servicers have made improvements to allow you to make these payments online," Josuweit said. "However, some servicers still require you to call to make prepayments."