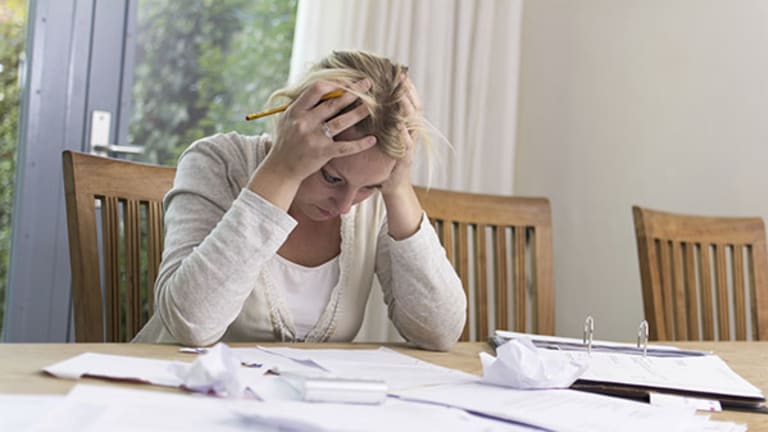 Surge in Credit Card Debt Raises Red Flags for U.S. Economy
Americans have been charging up credit card debt at a pace not seen since the period leading up to the 2008 recession. And this is raising red flags.
Americans have been racking up credit card debt like it's 2007 again, and are on track to amass a record $1 trillion in outstanding balances by year's end, according to a new report by WalletHub, a consumer finance site. This is raising red flags for some market experts, who see disturbing similarities between current credit card trends and those leading up to the 2008 economic meltdown.
"I'm not saying we expect a recession by the end of the year, but it's scary to see this credit card data and how similar it is to what we saw pre-recession," said Jill Gonzalez, an analyst at WalletHub.
U.S. consumers charged up $34.4 billion in credit card debt in the second quarter of 2016, which is the largest second-quarter accumulation since WalletHub began collecting the data in 1986, and 79.6% higher than the quarterly average since the Great Recession.
The report projects America's total outstanding credit card balances will hit the $1 trillion mark later this year, with the average household owing $8,500. This exceeds the previous record of $984.2 billion stockpiled in 2008, when the average household credit card debt was $8,100. And "$8,100 was unsustainable," said Gonzalez.
"It is somewhat worrisome because you don't want to see households stretching with debt," said Benjamin Lupu, a certified financial planner at Kensington AMI. 
But the rise in credit card debt isn't necessarily a sign of spending gone wild.
More people are using credit cards to pay routine household bills, such as utilities, cellphones, and Netflix, than they did a few years ago, said Lupu. It's a way to collect points and credit card perks, he said.  
"I'm one of those people," said Dan Neiman, a partner and portfolio manager at Neiman Funds Management LLC and investment advisory firm Independent Solutions Wealth Management LLC. "Why would I carry around $300 in cash when I can just pop it on my credit card, pay it off at the end of the month, and I get points or cash-back for it?"
So far, charge-off rates, which refer to delinquent credit card balances that card companies have given up trying to collect, remain near historic lows at 3.13%. But this means lenders will likely continue extending credit willy-nilly, which could be risky.
For example, if the Federal Reserve raises interest rates, the size of those balances could quickly increase, making it potentially tougher for consumers to pay off over longer periods. Also, if the economy turns south, unemployment could go up, which could spell trouble for consumers trying to pay off those lofty balances.
And both of these scenarios are on the table.
There's speculation the Fed could announce plans to raise rates as early as its September meeting later this month. For naysayers who think the Fed would never act before an election, history has shown otherwise: Since World War II, the Fed has raised rates six times in the third quarter of a presidential election year, noted Sam Stovall, a managing director and U. S. Equity Strategist at S&P Global Market Intelligence.
Still, a rate hike alone likely wouldn't derail a person's ability to pay off credit card debt, given rates currently hover near historic lows, said Peter Canelo, chief investment strategist at Argus Research Co. A quarter point or half point increase would likely have a "miniscule" impact, he said.
However, a rate hike along with a market correction could.
All three major U.S. stock indexes - S&P 500, Nasdaq Composite and Dow Jones Industrial Average - hit record highs in August even though underlying fundamentals - in particular, corporate profits - have been ticking down. All of this has raised concerns that the market and economy have peaked and can only head down from here.
Neiman believes stock prices are frothy.
"There's a false sense of security that the market is going to keep going up," which is lulling consumers into feeling it's safe to spend and rack up credit card debt, said Neiman. "If the market does fall because of a federal rate hike or less robust corporate earnings," it could lead to credit card delinquencies."
Indeed, when the music stopped in 2007, charge-offs wound up spiking to 11% by 2010, the report said.
"The willingness for households to run up the credit card bill is a yellow flag," said Lupu. "It's a worry."
Neiman is predicting a 5% to 10% market correction before the end of 2016. He recommends investors start taking profits, rebalance their portfolios and move more cash into other asset classes, such as fixed income, real estate and preferred funds.
"We'll see a correction," said Neiman. "But that's when the smart money comes back into play."
This article is commentary by an independent contributor. At the time of publication, the author held TK positions in the stocks mentioned.