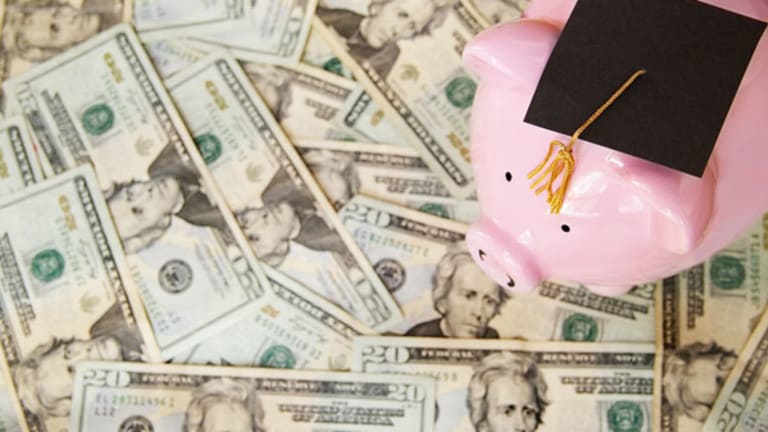 Student Debt Continues to Rocket: NY Fed
Student debt rose by another $20 billion to $986 billion in the first quarter, even as other forms of household debt declined.
NEW YORK (
) -- Student debt continues to climb, even as other forms of consumer debt decline, according to the latest quarterly report on household debt published by the
New York Federal Reserve.
Student loans grew by $20 billion during the first quarter to a total of $986 billion as of March 31, 2013. This has been the only category of household debt to grow during the great recession and is now the biggest form of household debt next to mortgages.
The delinquency rate on student loans -- the proportion of student loans that are more than 90 days behind on their payment -- declined to 11.2% in the first quarter from 11.7% in the fourth quarter. But this figure understates the number of problem student loans as nearly half the loans are currently in grace periods or deferment or forbearance.
Excluding such loans, the delinquency rate would be higher, the NY Fed said. In an
, the NY Fed found that 6.7 million borrowers or 17% were more than 90 days behind on their payments. Excluding borrowers who are not technically required to make payments because they were in a period of forbearance, nearly 30% of the borrowers were delinquent.
The average student debt per borrower stood at $24,810 as of December 31, 2012. The outstanding debt tends to be highest in the northeast states and in the south, according to the report.
West Virginia has the highest student delinquency rate at 18% , while South Dakota has the lowest at 6.5%.
About 16% of people with a credit report have student debt in the U.S, with the ratio climbing to 25% in the District of Columbia.
The sharp increase in student debt since the recession has sparked concerns of a new subprime crisis -- this time in student loans.
The rising cost of college education has made it impossible for most students to go to college without a loan. At the same time, going to college has become something of a necessity for those seeking a job in a sluggish market, although a college degree is no guarantee of employment.
Students graduating in a recession have been unable to find jobs that will help them repay their loans. Because student debt cannot be discharged through bankruptcy, many struggling borrowers remain stuck with thousands of dollars in student debt for decades.
The trend is worrying because student debt affects young adults disproportionately and
has a spiraling effect on the economy
. Students trapped in debt are less likely to buy a home or even qualify for a home loan and have less disposable income available to spend on consumer products and autos.
The Obama Administration recently proposed a student loan forgiveness program. Borrowers will make monthly payments equal to 10% of their income after taxes and basic living expenses, regardless of how much they owe. After 20 years of on-time payments, their debt is forgiven.
House Republicans and Senate Democrats are also introducing bills to cap interest rates on loans by tying them to long-term Treasury rates. Absent these measures, rates on some federal loans will double to 6.8% on July 1.
Last week, Massachusetts Senator Elizabeth Warren introduced a bill that would require the Federal Reserve to make loans available to the Department of Education at the same interest rate it does to big banks through its discount window.
However, the relentless rise in college tuition remains unaddressed.
The NY Fed study did highlight some good news.
Total consumer debt stood at $11.23 trillion at the end of the first quarter, down 1% from the fourth quarter. Mortgages, the largest component of household debt, fell to $7.93 trillion, down $101 billion from the fourth quarter, even as new originations rose to $577 billion.
Delinquency rates continue to show improvements across the board. As of March 31, 8.1% of outstanding debt was in some stage of delinquency, compared with 8.6% in the fourth quarter of 2012.
-- Written by Shanthi Bharatwaj in New York.
>Contact by
.
Disclosure: TheStreet's editorial policy prohibits staff editors and reporters from holding positions in any individual stocks.