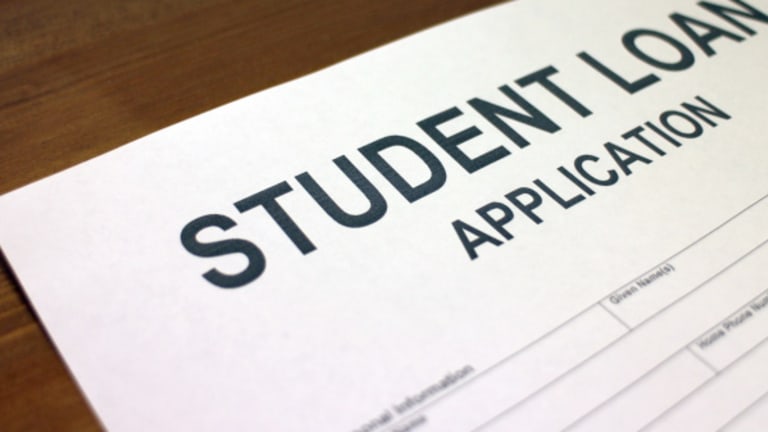 Publish date:
Shedding Student Loan Obligations Is Difficult for Private Student Loan Cosigners
The Consumer Financial Protection Bureau found that student loan industry practice pushes loans into auto-default and forbearance
The Consumer Financial Protection Bureau found that student loan industry practice pushes loans into auto-default and forbearance
NEW YORK (MainStreet) — Cosigners of private student loans that want to get free from these obligations aren't getting help from the lenders, according to a report released last week by the Consumer Financial Protection Bureau's Student Loan Ombudsman.
Most private student loans require a co-signer. This became more common after the 2008 financial crisis. By 2011, the CFPB said that the percentage of co-signed private loans hit 90% with most co-signers being a parent or grandparent. The CFPB found that 90% was also the rate of co-signer release rejection. When student borrowers and co-signers seek a co-signer release but don't get it, the co-signer's credit can be impaired.
Ideally, lenders set can co-signers free from this obligation once the borrower is ready to make scheduled payments on the loan. But the CFPB found standard practices that thwart co-signer release.
"Parents and grandparents put their financial futures on the line by co-signing private student loans to help family members achieve the dream of higher education," said CFPB Director Richard Cordray. "Responsible borrowers and their co-signers should have clear information and standards for releasing the co-signer if the time is right. We're concerned that the broken co-signer release process is leaving responsible consumers at risk of damaged credit or auto-default distress."
"Private student loan companies should own up to borrowers when they qualify for valuable benefits, clean up contracts with surprises buried in the fine print, and step up to provide borrowers and their co-signers the service they deserve," said CFPB Student Loan Ombudsman Rohit Chopra.
Over 40 million Americans owe nearly $1.3 trillion in student loans, roughly 9% of the Gross Domestic Product, with federal loans account for about $1 trillion. Private student loans are a relatively small slice, but borrowers that have high levels of federal student debt turn to private lenders after they maxed out on federal loans. Private student loans generally have higher interest rates and less flexible repayment options than federal student loans.
A creditworthy co-signer can help a borrower get a loan or a lower rate and step in if a borrower is unable to repay. However, borrowers can be hit with a default if the co-signer gets in financial difficulty, even if the borrower is paying on time. A 2014 CFPB report found that borrowers claimed that private student lenders and servicers placed them in automatic default when a co-signer died or filed for bankruptcy, even if the loan was in good standing.
The CFPB found that the auto-default risk is baked in to most private loan contracts and that lenders implemented policies that can permanently disqualify borrowers from co-signer release.
The CFPB wants to better notification from lenders that borrowers qualify for co-signer discharge before placing them in forbearance, which disqualifies them from co-signer release.

Mark Kantrowitz, executive vice president and publisher of Edvisors.com, said that the CFPB doesn't make an adequate distinction between large and small lenders. "The 90% denial rate reported by the CFPB is a weighted average of the rates for all the lenders," he said. "As such, it will be dominated by the rates for the largest lenders. Smaller lenders have much higher approval rates."
Borrowers often get into trouble when they fail to make the required number of consecutive, on-time payments. Problems start when borrowers fail to follow the instructions, arcane though they may be.
"Lenders tell me that a lot of the time the borrowers don't follow instructions," Kantrowitz said. "For example, a borrower might apply for cosigner release after 14 on-time payments when the lender requires 24. Or the borrower applies two years into repayment, but has been late with a few payments, resetting the on-time payment counter."
Lenders and loan servicers have been roundly criticized for not giving borrowers a fair shake. They also may have little incentive to let go of the fall-back provided by the co-signer.
"The last thing a lender wants is to release the cosigner from responsibility to repay the debt, only to have the student borrower default when the cosigner stops making the payments," Kantrowitz noted. "So, if the borrower's income is not sufficient to be making the payments on all the borrower's loans--and not just student loans-- without external help, the lender will not approve the cosigner release."