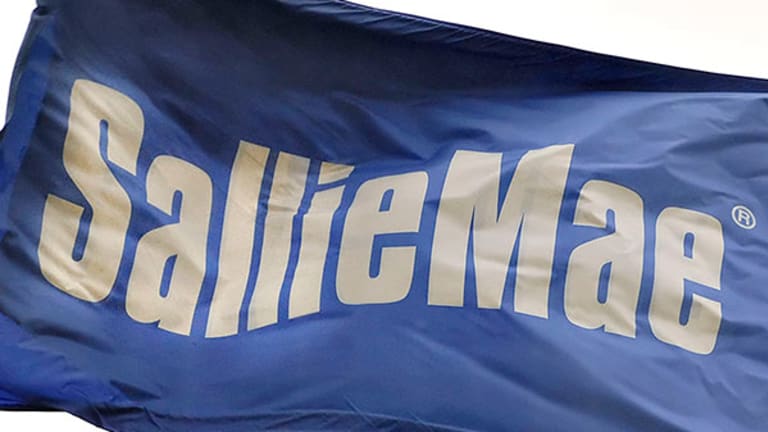 Sallie Mae Student Loan Horror Stories Bring a Slap on the Wrist
While many seem stuck in ever-increasing student loan debt, lender Sallie Mae has been making record profits.
BOSTON (TheStreet) -- One in 10 borrowers defaulted on their federal student loans in the first two years after graduation, with one in seven defaulting in the first three years, the Department of Education reported last week. These defaults often lead to debt-collection methods including late fees and penalties and the garnishing of wages, federal tax refunds and even Social Security and disability payments.
But even while many seem to get the shaft by being stuck in a cycle of ever-increasing student loan debt, lender Sallie Mae has been making record profits -- even as it has been found violating laws and its own contractual obligations to the federal government, according to a report released in January by the National Consumer Law Center.
Sallie Mae made a $2 million settlement to New York to resolve claims about improper marketing of student loans, violating a contract on recovery and disclosure in 2008 via its debt-collection arm Pioneer Recovery and neglecting to report complaints by student loan borrowers as determined by the Department of Education's inspector general, the report says.
The lender is also under investigation by the Department of Justice and Consumer Financial Protection Bureau, and an Education Inspector General Audit Report found it improperly got $22.3 million in excess student loan subsidies from the government between 2003-06.
Similar examples of Sallie Mae's bad behavior were noted in a September letter to the secretaries of the Department of Education and the Department of Treasury by U.S. Sen. Elizabeth Warren, a Massachusetts Democrat. Warren discussed how Sallie Mae violated the Servicemembers Civil Relief Act and the Equal Credit Opportunity Act by charging military personnel excessive interest on their student loans.
Despite this laundry list of transgressions, Sallie Mae reaped $321 million in profits in 2010 and had a net income of $1.4 billion last year. It continues to borrow from the federal government as well as banks and other businesses at extremely low rates of interest  often less than 1%. Meanwhile, many of its borrowers have paid as high as 12.8% in interest (although a 2011 policy change caps its interest rates at around 9.8%).
Also see: Higher College Tuition? Look at Administrative Bloat>>
"While the government has helped Sallie Mae maintain its profitability, it is not nearly as generous when it comes to student borrowers," Warren said in her letter, while calling the government sanctions imposed on Sallie Mae for rule-breaking a "slap on the wrist."
Sallie Mae started out as a federal program 1972 but has been a private company since 1993 -- although its loans are still federally insured and it services more than $550 billion in federal loans.
"Given their role in creating the crash, it is reasonable to expect lenders to do everything possible to help borrowers with unaffordable loans. Distressingly, this has not occurred," says the Law Center report, referring to the Great Recession that began in 2008. It offers several stories from Sallie Mae borrowers, with a recurring theme being harassment, the tacking on of egregious fees and an unwillingness to work out an affordable payment plan.
When I put out my own call for stories from Sallie Mae borrowers about its collection practices, my inbox flooded instantly with angst-ridden messages. Many of the messages spoke of being called several times a day at all hours, every day of the week whether at home or work. More than one person said they set up a separate phone number just for Sallie Mae, and several said they filed Chapter 7 bankruptcy just to stop the calls. (Filing can stop the calls, but does not usually discharge the debt.)
"My interest-only payments [from Sallie Mae] were going to be about $1,200 a month. If I were to pay that amount I would have had to either be homeless, not pay any of my credit card bills and not buy food," said Greg, a 37-year-old media specialist from Virginia. "The people I talked to on the phone ... treated me like I was some kind of delinquent because I tried to ask for some type of assistance on my huge payment. They even threatened to sue me and garnish my wages."
Another borrower messaged me that she had her tax refund garnished for several years by Sallie Mae, but those garnishments weren't applied to her debt.
"I have a receipt from the IRS showing [my refund] went to Sallie Mae. Yet Sallie Mae has no record of the thousands garnished from my tax refunds," said Carole, whose original debt of $38,000 has ballooned to nearly $90,000, mostly due to interest and fees.
Also see: Occupy Movement Is Alive and Buying Your Debt>>
Carole was not the only person who reported payments or garnishments later discounted or lost by Sallie Mae, and others sent stories about being misinformed about paperwork or deadlines over the phone and later slapped with late fees and penalties that drove up their balance -- despite following closely the instructions offered by Sallie Mae representatives.
Sallie Mae sees it differently.
"Sallie Mae provides financial literacy tools, proactive outreach and guidance to help customers experience success. For those who need additional assistance, we work with them to identify a payment plan scaled to their financial circumstances," says Patricia Nash Christel, vice president of corporate communications at Sallie Mae. "Helping customers successfully repay their loans is our top priority. "
Christel also said that at the end of 2013, nearly 85% of customers in repayment were up to date with their payments and that federal loan borrowers serviced by Sallie Mae had a default rate below 30% of the national average.
But all of the responses I got from Sallie Mae borrowers expressed not only frustration, but an underlying desperation, with many arguing that they felt they had no recourse.
"There are few options for private loan borrowers because there are no comprehensive laws requiring private student lenders to offer any type of relief," said Deanne Loonin, an attorney with the NCLC and author of the Sallie Mae report. "As for bankruptcy, [the NCLC] supports restoring full rights in bankruptcy for both federal and private loan borrowers, but it's no secret that this is a difficult time to get protections and relief for consumers passed through Congress."
Besides extending bankruptcy to include student loan debt, the NCLC policy recommendations include increased legal and federal oversight and accountability of financial lenders such as Sallie Mae, as opposed to the bailouts and incentives that have mostly been lavished on them up to this point.
For those former students who feel they suffer from harassment or deceptive practices by Sallie Mae, Loonin suggests they visit the NCLC's Student Loan Borrow Assistance Project or consult with a lawyer to find out more about their rights and other resources available to them.
For many, though, there is another answer.
"Sallie Mae needs to go out of business," said borrower Andie, 46, of Scottsdale, Ariz. "They are feeding off of a national crisis in the economy and made a choice to not work with people. Their treatment is absurd, inhumane, unethical, greedy and frankly blatantly illegal."