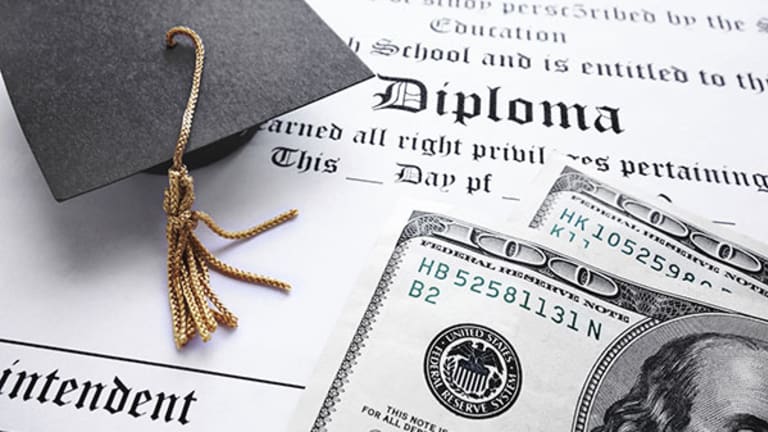 Relax, Graduates: The Class of 2017's Financial Future Isn't So Bleak
New graduates are still burdened with student loans and underemployment, but their future outlook is much brighter than that of recent grads.
Take a deep breath, Class of 2017: it's not as grim as it seems.
The student loan totals for this year's graduates aren't officially in yet, but college and scholarship site Cappex put the Class of 2017's student loan debt at an average of $37,172 per student. That's up 6% from 2015, with debt carried by 70.1% of all graduates. That's also up from $12,759 two decades ago, when just 54% of all students graduated with debt.
Meanwhile, the Federal Reserve Bank of New York notes that total student loan debt reached $1.21 trillion by the end of 2016. That's up $78 billion from a year earlier and is the second largest pile of U.S. consumer debt behind mortgage debt (at $8.48 trillion, up $231 billion from a year ago). More than one in ten student loans are past due. That's a worse delinquency rate than for credit card bills, of which 7% are past due. In March, credit bureau Equifax put outstanding student loan balances at $1.334 trillion, up 8.8% from a year ago. More than 1.2 million student loans were taken out in the first three months of the year, accounting for $10.17 billion -- a 22% increase over the value of those loans at the same time last year.
And, no, you aren't getting help with paying back those loans. The Department of Education has been wavering on its commitment to forgive student loans for public-service workers after ten years of payments. The federal student loan interest rate is set to rise by more than half a percentage point.
While the job market has markedly improved since, say, 2009, it's improving the most slowly for those just getting out of school. The Bureau of Labor Statistics puts the current unemployment rate at 4.4%, that jumps to 8.2% for people ages 20 to 24 -- or roughly the age of most recent college graduates. Only 70.4% of people that age are an active part of the workforce, compared to nearly 81.7% of those between 25 and 54. All of that is actually an improvement on what older Millennials faced just after the recession.
"Both the headline jobless rate, or U3, at 4.4% and the broader U6 now at 8.6% continue to make progress," says Mark Hamrick, Bankrate.com's senior economic analyst. "These are the lowest levels of the economic recovery and bode well for the college graduating Class of 2017 and their job prospects."
As a result, a survey by Accenture Strategy found that more of this year's graduates are interested in working for large companies than the Class of 2016 was (19% vs. 14%). New grads expect full-time employment in their field of study (71%) and expect to have on-the-job training (67%), shadowing (48%) or formal training (49%) in their first job. Some 88% of new grads considered job availability before selecting a major, with the majority choosing science, technology, engineering or mathematics (30% vs. 23% last year). Meanwhile, more new graduates who completed an internship, apprenticeship or co-op saw it lead to a job after graduation compared to 2016 (67% vs. 45%).
It helps that they'll do anything for a job. Seventy-five percent of new grads are willing to relocate to a different state, while the current economy will have them at least looking in a different city for a job (41%), commuting farther (38%), and/or accepting the first offer they receive (38%). For that compromise, 62% of graduates expect to be employed at their first job for three years or more.
"In recent years, college graduate eschewed large companies in favor of digital disruptors with a startup culture, but it looks like the tide may be turning," says Mary Lyons, managing director and global lead of talent and organization at Accenture Strategy. "New grads are beginning to place more value on what big companies can offer, appreciating the resources and development experiences inherent in sizable organizations. This shift in desired employment provides large companies a window of opportunity they should capitalize on while it remains open."
There's reason for optimism, but they need to rein it in a bit. Some 69% of the Class of 2017 expects to make more than $35,000 right out of school, but only 49% of 2015/16 grads do. Nevertheless, that's an improvement: 56% of 2016 grads expected to make more than $35,000, but only 33% of 2014/15 grads did. However, 54% of recent graduates feel they are in a job that doesn't require their college degree, which is up 13 percentage points over the past four years.
The estimated 1.8 million college students who will make up the U.S. class of 2017 may have a tough first couple of months to years, but the more recent grads who came before them can help steer them away from trouble with their own recession-marred experience. Finance site MagnifyMoney asked 1,000 recent college graduates what they most regretted about those first few years after college, and not being careful about debt/missing debt payments (48%) and not building their credit score up sooner (40%) topped the list. One in five graduates also said they wished they had been better about saving money.
Roughly 59% of all college graduates reported having credit card debt. but 67% of recent grads with student loan debt report having credit card debt, versus 44% of those without student loans. About 20% of recent grads with student loans report credit card debt of $10,000 or more, almost twice the rate of those without student loans (11%). Nearly one in four (24%) recent grads with $50,000 or more in student loans report having $10,000 or more of credit card debt.
As a result, more than half (58%) of graduates without student loan debt say they believe they are better off now than their parents were at their age, while only 52% of college graduates with student loans could say the same. However, about 64% of those with or without student loans feel they'll be better off than their parents in the future. That includes 60% of those with $50,000 or more in debt and 68% of those with Master's degrees.
However, the Class of 2017 is, in many ways, far better equipped to succeed in the workplace than their predecessors. Roughly two-thirds of this year's graduates (66%) welcome the use of artificial intelligence and believe it will enhance their work experience. That said, they still prefer interacting with colleagues face-to-face (42%) rather than with web tools (21%), e-mail (15%) or social media (10%). Nearly three-quarters of new grads (73%) have taken digital, coding or computer science-related courses in college, but most know their problem solving (52%) and communications (50%) skills need work before they reach their full potential.
"This new generation of graduates has grown up in a constant stream of new technologies," says Katherine Lavelle, managing director of talent and organization at Accenture Strategy. "For them, adapting to technology is less daunting than mastering the softer skills, such as communication, interpersonal skills and management."
Editors' pick: Originally published May 18.