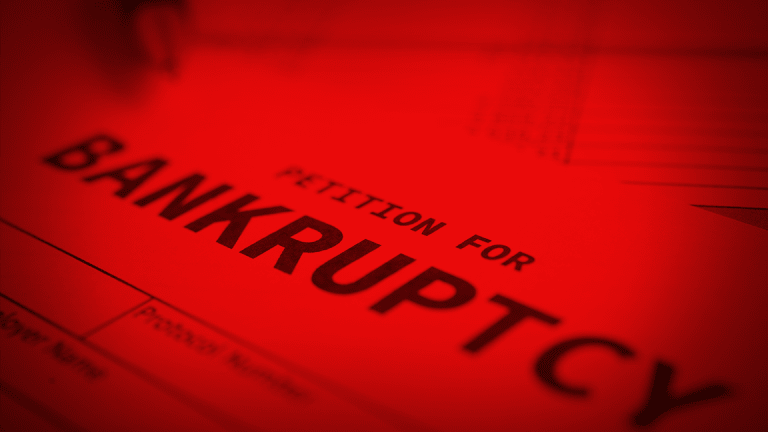 Back on Track: Recovering From Bankruptcy
Facing bankruptcy is an uphill climb, but there is a robust financial future to those who make it back to good financial health.
Let's face it -- nobody plans on becoming bankrupt.
But for one reason or another -- job loss, medical bills, credit card debt -- an increasing number of Americans find that bankruptcy is the only option left to them, in a truly dire financial strait.
The good news is that personal bankruptcies are down 50% over the past few years, as Americans, on average, have fully recovered from the Great Recession. According to U.S. Bankruptcy Court figures, 766,000 U.S. adults declared bankruptcy in 2016.
For those who are in that group, or who are heading toward that downward financial direction, finding a path out of bankruptcy and back to financial stability is a necessity.
"Bankruptcy can be overwhelming and scary, but it's not the end of the world," says Emily Stanley, a financial expert at Business.org. "There are a few moves you can take to get back on track."
Here are several forward-moving steps to take to successfully battle bankruptcy, recommended by Stanley and other money experts:
Get educated -- It's important to understand that there are two kinds of bankruptcy, Stanley says. "In Chapter 7, you likely won't have to repay most or all of your debts depending on your ability to pass a "means" test, while in Chapter 13, you'll likely spend three-to-five years on a repayment plan."
Get help early -- "It's hard to admit that your financial situation may require a bankruptcy filing, but for many in debt, it's actually better to get professional help and make a plan rather than continue to dig a deeper hole," Stanley notes.
Continue to monitor your credit and identity -- As scary as finances can be, bankruptcy is a good reason to pay close attention moving forward. "Use a credit monitoring and/or identity theft protection service to keep track of your credit scores/reports and all the places your personal information lives/is shared," she adds. "While these services aren't free, recovering from I.D. theft or additional issues with your credit can be even more costly. Prevention is the best protection."
Dispute accounts included in bankruptcy with the Credit Bureaus -- When you file for bankruptcy, all of the negative accounts remain on your credit report for seven years, says Randall Yates, founder and CEO of The Lenders Network. "These negative items have a significant effect on your credit score for several years," Yates says. "Start shedding negative credit report items by disputing the derogatory accounts with each of the three major credit bureaus." Yates says that, on average, between 30%-50% of negative items included in a bankruptcy will be removed just by disputing them.
Target selective credit accounts -- Get back on track by opening personal financial accounts, says Harrine Freeman, author of the book How to Get Out of Debt: Get an "A" Credit Rating for Free. "Open an account with a bank that has programs to help consumers re-establish credit (Bank of America and Wells Fargo do so). "Also, apply for a small personal loan and pay it off in six months." The idea is to prove to creditors you're a good credit risk as soon as possible, Freeman says.
Hit the reset button -- Finally, understand that bankruptcy is not the end of the world. "Most people actually see their credit score go up as soon as they file," says Jen Lee Law, owner of Jen Lee Law in San Francisco. She advises people in bankruptcy to continue to set goals: "For example, it's possible to buy a house while in Chapter 13 bankruptcy, or just one year after a bankruptcy discharge."
Declaring bankruptcy doesn't have to be the negative experience it's cracked up to be.
Get ahead of the issue by taking direct, positive steps to get on your feet financially, and start living a normal, healthy life as you put bankruptcy in the rearview mirror.